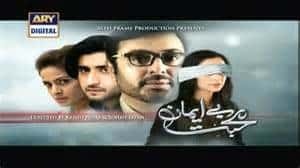 Some people never learn and Dania happens to be one such person. She continues throwing herself a pity party as if she was the victim and Sobia was the one who brought this upon her. The episodes are getting really slow and it's frustrating to sit through them and not really have the story move forward. I've noticed that there are many dramas that would do well if they were wrapped up in under 20 episodes but I'm beginning to think that no one's interested in what the audience wants!
After last week's encounter with Babar, I had hoped Dania would have the courage to move on but it seems she's into a spiraling downward decline. Hell hath no fury like a woman scorned in love but I get the feeling this isn't even about Babar anymore- she's just unable to accept the reality that Sobia is married to him. Her contempt for Sobia is overshadowing everything else. And during this time of self exploration, she develops a close connection with Nabeel. Nabeel is your classic exploiter- he senses an opportunity and ceases it. Initially tough on Dania, he has taken a 360 degree turn and has not only starting appreciating her, he has also managed to get her to trust him. By playing her saviour when she suffers a nervous breakdown, he manages to get close to her. So much so, that despite the obvious discomfort she felt when he brought her home, she ended up pouring her heart out to him over the phone. Does this woman not realize that she's an easy target for any man willing to take advantage? Dania was clearly impressed by his lavish home but made a run for it when she sensed danger. I would hate to see Nabeel take advantage of her while she's trying to sort her life but sadly, she is responsible for her misery.
Dania's mom tries to get her daughter to confide in her but the disconnect is pretty obvious. I have to wonder, didn't her mother realize what a spoilt brat she is early on? Sometimes her concern seems genuine, at other times, it's almost as if she herself has given up on her only child. I never had an extraordinary expectations from this drama- I started watching it since I liked the cast, namely Noman Ejaz but 15 episodes have elapsed and I do wish they'd get on with it and have a point too. What did you think ladies- you know who you are!!!
Yours in watching,
Kanwal Murtaza