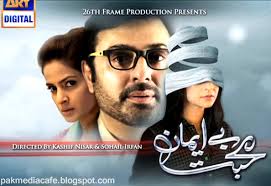 For reasons unbeknownst to me, ARY has decided to change the timings of this serial- it will now air on Fridays at 7pm. As if I didn't have enough to watch on Friday already! One of the main reasons I tuned in was the fact that it aired on Sundays when hardly anything else was on. Episode 16 and I was conditioned to being in a stupor until surprise, surprise, Naeem Bau is back- and this time- with a vengeance. Insaan jab apni nazron se girta hai toh uski jalan uska dukh kya hota hai… Seeing Dania getting into Nabeel's car, our sleuth Naeem is able to deduce that Dania ne bara lamba haath maara hai… Healing is never easy especially when the relationship ended before it could actually take off. Naeem worshiped Dania- she was way out of his league and that felt like an achievement. Being dumped by her broke his heart but also opened his eyes to the reality that he would never have his happily ever after with her. Which is why seeing her with Nabeel triggered the psycho button and he's no longer the silent stalker but a very vocal one.
Nabeel is giving her mixed signals- he takes one step forward and two steps backwards and this confuses Dania. The two of them continue growing closer but Nabeel panics when he senses Dania wanting more and puts her in her place. His quick retracting is out of fear of losing everything he worked so hard to gain. Nabeel's life is as bland as can be- he's clearly miserable and what is the point of having all that money if you can't enjoy it with someone? His wife, though she tries her best to keep him company has her limitations but this is the path he chose for himself. He's well aware that he's aging and doesn't like being referred to as old. Dania is clearly on a rebound- she just wants to get away from her horrible situation of living next door to Babar and Sobia and move on with her life. Dania thinks she can have any man she wants but the truth is, she's plain stupid. She's conceited and shallow and doesn't realize she can get herself into some real trouble. She's an easy target for any man wishing to exploit her since she's so desperate and it shows. And Nabeel can't get her out of his head- pretty clear where this is headed.
I can't help but wonder, how many people are actually tuning into this drama that it deserves to air on a Friday??? Except me and my faithful four, that is… Have your say- were you expecting Naeem to show his true colors?
Yours in watching,
Kanwal Murtaza