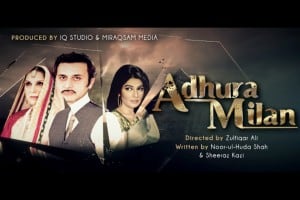 In a battle of wits, Dilawar knows only too well that it isn't Tabrez he's up against- it's the raani– Bibi Jaan. Like a seasoned chess player, Dilawar likes keeping tabs on his opponents next move. The news of Tabrez Alam rescuing a damsel in distress is quickly twisted by the media and sensationalized into a story of a maroof jaagidaar and businessman kidnapping a young girl from a neighboring village. Such is the power of media- they have the capacity to influence people's perception. Dilawar basks in the glory of knowing he has caused unrest in the lives of his adversaries- to toh gaya Tabrez Alam. While Uzma, Tabrez's second wife throws a hissy fit, Bibi Jaan retains her composure because she knows she can mold Tabrez the way she wants. She sternly reminds Tabrez that he should maintain a distance from this young girl- yeh tumhari thaam ne ki cheez nahin hai! Tum ek mard ho, sirf ek mard! What a perfectly flawless rendition of the nature of man. Easily swayed, weak in the face of temptation and sympathetic- is it any wonder that Bibi Jaan is overly cautious?
Alishba is furious and embarrassed by the news of the kidnapping and talking to her mother only instigates her further. But she mellows down after speaking to her father- a man she looks up to and who loves her dearly. I love the father-daughter relationship here- probably the only real bond Tabrez has in his life. His relationship with Bibi Jaan is one of respect and honor and the one with Uzma is a painful compromise. Uzma's frustrations can be explained due to her awkward living situation- with Bibi Jaan's constant control over any and everything and her husband's lack of interest in her. She resorts to pills to keep what is left of her sanity intact.

Alishba befriends Nayyab and is shocked to find out the circumstances that led her to her father. She understands her father's rationale at being her savior and seems genuinely compassionate. Meanwhile in Dilawar's world, he is anxious to keep Tabrez in the limelight- for all the wrong reasons, of course. His subordinate Ishtiaq informs him of an upcoming dharna that pleases him immensely. Agar mein apney subordinates ko moun laganey mein believe karta to yakeenan tum mere dost hotay… Dilawar is an expert at manipulating people and getting them to do his dirty work all the while maintaining a safe distance- similar to Bibi Jaan. Both of them know their maqaam in society and know that getting too close to people can jeopardize their position. Tabrez belongs to a completely different school of thought which causes him to clash with Bibi Jaan- aap Bibi Jaan hai aur mein sirf ek insaan!
Did you watch this episode? What did you think? Who has been your favorite character so far?
Yours in watching,
Kanwal Murtaza