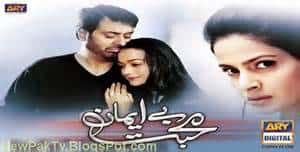 I'm beginning to think that Dania is schizophrenic. How else can she justify her behaviour and her repeated affirmations that she cares about her parents izzat? Mere apney gharwaley mujhpe aetebaar nahin karte– umm, not very long ago, she was having an affair with her best friend's mangaitar– Babar! I understand that somewhere along the lines, we may lose track of the storyline since it tends to drag on endlessly but I doubt we can forget what started this whole mess.
After talking down to her and destroying her self-respect, Nabeel finally succumbs to izhaar-e-mohabbat and the two of them reconcile. But just as the lovebirds are planning their future, Naeem informs Dania that Nabeel was the one who was responsible for her father's condition. But thankfully, there was no misunderstanding as Dania immediately sorted it out with Nabeel and admitted that even if he was at fault, she's just too involved with him to care- hmm, so much for putting family first.
The private investigator is back in the scene- he approached Naeem with a proposition. Naeem is only too eager to help since he has a score to settle with Dania Ji. Nabeel senses that he is being followed and also discovers the CD recorded with a conversation that took place between him and Sumbul. He gets worked up and asks for his office to be tapped so he can monitor everyone's phone calls, movement, etc.
Dania does what she does best- being pushy to the point of making men run far, far away. She did it with Babar and now she's putting Nabeel in the same spot. Why can't they show women as positive role models? Yes, she made a blunder by trusting Babar, but she should have redeemed herself by focusing on building a life for herself instead of rushing into the arms of the next man she found.
Dania's parents are completely helpless when it comes to reasoning with their daughter. They try to make her realize that even if Nabeel ends up marrying her, he will not be too keen on publicizing the marriage which will make things very difficult for Dania. But Dania is desperate to get married and she is seemingly upset when Nabeel voices his concern. However, he reassures her parents that he will accept their demands- whatever they may be! Dania always dreamed of riches and it seems like her dreams are about to come true- unless Maria returns and wreaks havoc.
18 episodes have gone by and at this rate, I see another 10 episodes before the story comes to an abrupt end. I don't know why actors like Noman Ejaz and Saba Qamar agreed to taking up this drama- they can do so much better! I know that the budget was minimal but seriously, couldn't Saba Qamar at least change outfits once every episode if not more frequently? I'm sick of seeing her in the same clothes since the past 3 episodes now- it makes me think the scenes never end! Are you still watching? Thoughts?
Yours in watching,
Kanwal Murtaza