Tonight's episode of Bela Pur Ki Dayan was storytelling at its best, it was the perfect blend of mystery and confusion which keeps you guessing and looking forward to more. Fueled by gripping performances by all the actors involved, this recent episode gave the viewers tons to speculate about. Inam Hasan's script is turning out to be more complex, unpredictable, innovative and compelling than I had expected it to be! Honestly speaking, I am pleasantly surprised and quite impressed by the approach the writer has taken. The direction, the visuals, lighting and the background score has always been perfect right from the get-go which gives this drama the right atmosphere and you are effortlessly drawn into the world of all these characters who are fighting their own wars. All the leading characters whether they are alive or dead have a story to tell and keep you at the edge of your seats. Perfectly shot and edited, this was definitely the best episode of Bela Pur Ki Dayan till now even though it didn't have any horror scenes but one glimpse of the Dayan was enough to remind you what and who Aziz is dealing with!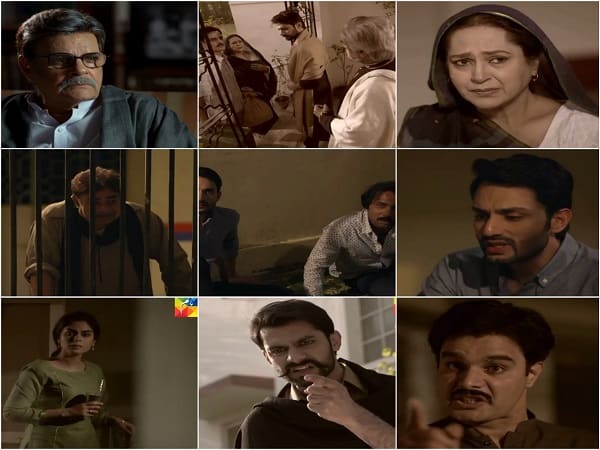 This recent episode showed the aftermath of Rameez and Gainda's adventure in the previous episode. The most interesting element of tonight's story was the different versions of the back story given by Aziz and Rehmat . Irfan Khoosat is such a remarkable actor, loved every second of watching him play a character which has finally come into its own and looks like he has tons to offer. While Aziz made it sound like he was the victim right from the time he found out that Rameez landed himself into trouble, Rehmat's story was completely different. The viewers found out today that Aziz's taya/stepfather and rest of the family members, possibly his mother and Neelo were murdered by someone. Although Aziz is a shady character who is definitely hiding something but right now it is impossible to think that he would murder his own family or even someone else. Rehmat's story however suggested that he was a greedy man who would have done anything for money! Right now, it seems like both the men might be exaggerating the truth but then why is Neelo after Aziz? The back story so far has shown Neelo as a sweet girl who genuinely loved Aziz's mother but after tonight the viewers should expect to be shocked over and over again!! Aziz's mother was shown calming Neelo down when she was about to do something extreme but she is out of the picture now and so far Neelo has killed two people.
The fact that the back story is not just being narrated verbally but is being shown, adds to the confusion. Both the versions are believable and hence keep you wondering who is telling the truth! This show so far is suspenseful and well-put-together. The real story has just started, hopefully Bela Pur Ki Dayan will continue to be this exciting in the upcoming weeks as well.
How many of you watched tonight's episode? Which version of the back story do you believe is true? Do share your thoughts.