Things are getting more serious with every passing episode and gradually even those members of the family who were not convinced that there is paranormal activity in the house are being forced to change their mind. Until the previous episode, I felt for the Dayan since it seemed like there was a genuine reason why she could not rest in peace but after tonight's episode my thoughts about her have completely changed. She is pure evil just like any other demon who comes back to take revenge. The fact that she didn't hold back and killed the person trying to restrain her went to show that she wasn't going to take it easy on anyone who will try to stop her. This latest development added to the scary element in the drama because so far Neelo's ghost hadn't done anything so extreme. Irfan Khoosat's character is still a mystery, tonight's episode also focused on the present unlike the previous few episodes which also showed the back story.
Alia is the only one right now who is seriously trying to do something to deter the dayan, although Rameez went to see his friend but so far he hasn't done anything tangible. All the scenes which showed what the dayan was capable of doing were terribly scary especially in this episode. Some of the scenes also suggested that she is trying to scare the children as well so that they also team up with her since Rameez's friend explained how these creatures operate. Amar Khan is brilliant as the dayan, her expressions, body language and dialogue delivery has never failed to impress so far. Even in the flashback scenes she translated Neelo's character flawlessly on screen. Sarah Khan is also faultless as a possessed girl who has no control over herself. Osama Tahir and Nazr-ul-Hassan are also doing complete justice to their characters. The director Saife Hassan has done a remarkable job shooting the horror scenes which is why they always have the right effect on the viewers.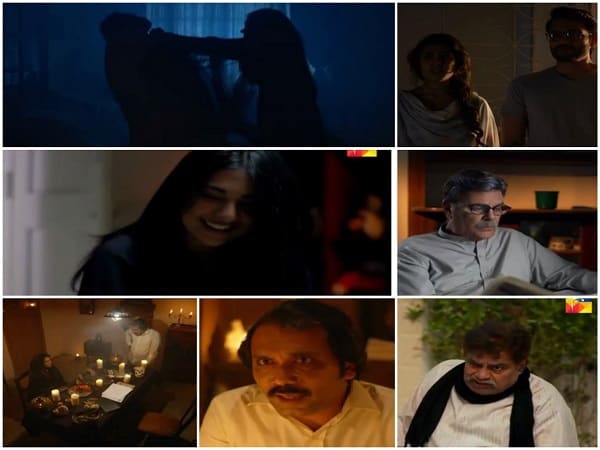 The opening scene of this episode was one of the best scenes tonight. I don't remember watching such a scene executed this brilliantly in any other Pakistani drama. Aziz sahib's reaction to everything so far however hasn't been covered properly since he didn't seem alarmed even after this incident or after the conversation he had with Neelo in one of the previous episodes.
Rameez's encounter with Rehmat Chacha and later on everything that his father said to him showed that he knew something which everyone else didn't and also that Aziz did not trust his brother at all. Aziz is someone who is hiding many secrets, he keeps you guessing. The last scene of this episode was just as scary as the first one. This was one of the best episodes of Bela Pur ki Dayan which was so terrifying that I had a difficult time watching it alone!
The preview of the next episode was really promising. Rameez is finally convinced that he needs to do something about the situation and now the viewers will also find out all the details about this family's history. Was Neelo killed by her own brother? How will this family get this demon out of their lives? I am waiting to find out.
How many of you watched tonight's episode? Don't forget to share your thoughts about it.