The story is finally moving forward and even though just like every other episode I couldn't help but question many of the latest developments yet this was one of those very few episodes of Beqasoor in which there was a great deal of character development. Sheheryar's attitude towards Hira changed altogether and it was good to see that even with all his flaws he wasn't going to let someone take his daughter's life. He is of course responsible for everything that has happened till now because had he not abandoned his daughter and disowned her later on when she came to him, things would have been very different but watching him trying to save her was somewhat refreshing since so far all the characters in this play have been very black and white. Shehryar's showed a different side of his character today. He is a very stubborn man who will do anything to have his way and now that he has decided to save Hira's life there is some hope for her. However he is definitely not in the position to blame anyone. He still doesn't feel bad about the way he left his wife and daughter but he will do whatever it takes to prevent further damage. I won't be surprised however if he backs out once Hira is perfectly fine.

While I could totally relate to why Sadaf would think Hira was better off dead, I found it very hard to believe that a mother would give poison to her daughter but would not drink that poison herself. It was a very desperate situation because the way Waseem plotted to make this nikkah happen led to circumstances which Sadaf could not foresee also she was under the effect of the medicines which Hira's phupo gave her therefore she was probably incapable of making a sound decision. Even then the 'zehr ka pyala' was a little too clichéd. Until now the fact that Hira is incapable of making any decision on her own is well established. She went ahead with the nikkah when she was pressurized by her step-father and she drank poison when her mother asked her to. Both these things did not solve any of her problems! For the first time tonight I felt for Hira's character because it seemed like she was just a child who was raised to please everyone. She is someone who was never taught to say no and she cannot change her personality now. Saboor Ali didn't have a lot of dialogues in tonight's episode, that helped too! Since she tends to overdo every emotional scene and makes it impossible to feel for her character.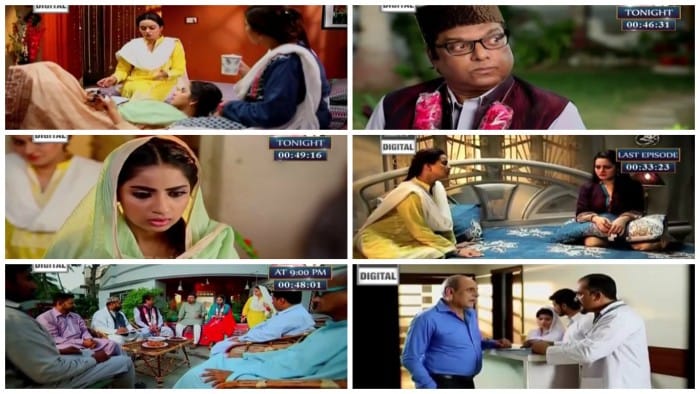 Babar's happiness was short lived but nevertheless it was good to see him happy even if it was for a little while. I don't even remember the last time we saw his character so happy with his life. All the plans he made with his mother and his excitement showed what an ideal life Hira could have had with this man but she chose to make those people happy who don't care about her happiness at all. Sehr's phupo yet again planted an idea in her head and then waited to watch her react. She always enjoys creating drama and then when she thinks that things might get out of hand she asks Sehr to take it easy. She wants Sehr to stay with Sheheryar because that way she can continue helping her financially but she doesn't want her to feel happy or secure. She is one of those people who like causing situations which give rise to stress and then she sits back and enjoys the show! She is definitely someone I want to see being punished in the end. Waseem also proved yet again that he is a heartless man who only does what pleases him. He is incapable of loving anyone at all and he is a very bad judge of character. Hira's phupo said Babur and his mother were coming in the evening but somehow Babur was planning to come the next day, that part was confusing.

Salahuddin Tunio is absolutely brilliant as Amin; there is nothing remotely likable about this man and he is in no way Hira's match. Now that Amin knows that he is Hira's husband, he will make sure that he asserts his authority. Will he get Sadaf arrested? Will Sheheryar help Sadaf out of this situation or he is there only for his daughter? For the first time I am waiting to find out what happens next! I must say that I was glad that I didn't have to watch Saboor Ali's over acting in this episode. All the other actors are doing their part well.

Did you watch tonight's episode? Do share your thoughts about it.

Fatima Awan