Unlike the last two episodes this episode was not very happening and there were plenty of filler scenes in tonight's episode. The opening scene of tonight's episode was the first filler scene which did not add anything new to the story. Even after witnessing what was going on between Shehryar and Nuzhat, Hira very conveniently fell for the lie her Phupo told her and could not do much except for showing her displeasure. This scene did not lead to any new developments and it took a lot of screen time, more than 11 minutes to be precise! We saw Hira warming up to Shehryar's friend's son and it is quite obvious now that the primary reason Shehryar wants Hira to get a divorce is that so she can marry his friend's son. The conversation between Hira and the boy showed that Hira did like him a little after all! This relationship of course is not meant to last therefore these interactions will ultimately lead to nothing.
Sehr proved yet again that she is not someone who gives up easily. Even after Nuzhat tells her to get a divorce from Shehryar she decides to do something entirely different. This particular scene was extremely confusing because when Sehr was talking to her phupo about the dinner and what she did it looked like she was talking about the past but later on we saw Shehryar coming back home after the dinner. Perhaps she was talking about the last time Shehryar and Hira went out for dinner but the scene was very puzzling. I felt like there was a lot of talking in this episode but not much happened.
Shehryar treated Sehr like an old toy which he no longer wanted to entertain himself with. The recent developments were definitely in line with his character. Shehryar is still the selfish man he was before, the only difference is that he wants Hira in his life now. Nuzhat has convinced herself that she will have a much better present and future if she gets married to Shehryar or if she chooses to be his 'friend'! Sajjid Hassan is brilliant as a selfish man who only looks after his own interests and Javeria Abbasi has nailed her character in this drama.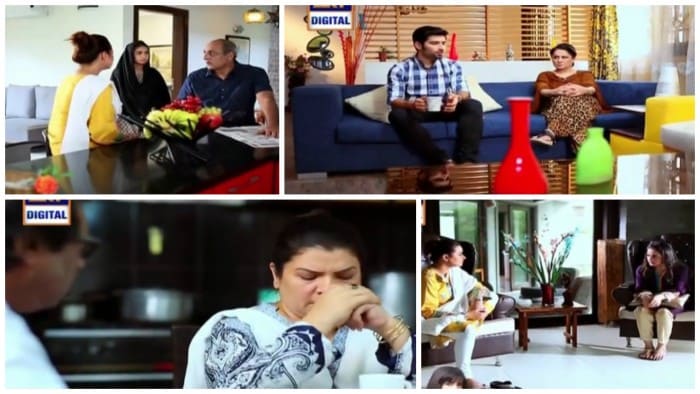 There has been absolutely no character development in this play so far which makes it look like the story will be wrapped up in the last one or two episodes. The characters that were black are still evil and those that were white remain loyal to the people they were loyal with right from the beginning. Many of the scenes in tonight's episode were stretched without a reason. Waseem continued to mistrust his wife and Sehr still has him wrapped around her little finger. The scenes between Amin and his wife are monotonous to say the least Two weeks back it seemed like it was the ideal time to end this drama but now it is quite clear that the story will go around in circles before it finally comes to an end.
Saboor Ali always has been and still is the weakest link in this drama. Her dialogue delivery is unimpressive and she has definitely not been able to breathe life into her character. All the other actors are well-suited for their roles except for Samina Peerzada whose presence keeps on reminding me of her strong character in Rehaii and her sensible character in Durr-e-Shahwar. Samina Peerzada's acting is brilliant as usual but an actress like her has so much more to offer than to play the role of an utterly helpless woman. She is graceful and she is an outstanding actress but her role doesn't have much to offer. The actress who played the role of Sadaf's neighbor however stood out like a sore thumb! I have always felt that the negative characters in this play always stand out more than the positive ones because they are the ones who usually take the story forward.
How many of you watched this latest episode? Don't forget to share your thoughts about it. If you missed tonight's episode, watch it on http://dramaonline.com/
Fatima Awan