This episode was full of confessions and confrontations. It showed how women are made to feel responsible for things that are beyond their control and how men manage to get away with so much only because they know that these women whether it is a young wife like Sehr or an old one like Sadaf do not have a choice but to put up with whatever is part of the "baggage" called marriage!!
Sadaf's worst fears came true in tonight's episode solely because of her wrong decision to tell Hira the truth. Hira kept on going back to her father looking for a closure but every time she went there she was rejected in the worst manner possible. The fact that Sadaf had to prove to her daughter that she had done nothing wrong in the past was actually very sad to see. While I understand that there are many women like Sadaf in our society I must say that I can't help but wonder who really is responsible for the kind of circumstances they live under. We saw Sadaf holding herself responsible for something she had no control over because she knew how unreasonable her husband was but she does not have the courage or the choice to question him in any way! Hira keeps on loving her step-father unconditionally even though he does not really deserve all that love, concern and respect.
Shehryar told Sehr the truth because he could not care less what she does as a reaction or how it will effect her. Shehryar is the most villainous villain we have seen in dramas lately and Sajjid Hassan is always brilliant in every role he plays. Aiman Khan has a very powerful screen-presence therefore even though her character is negative but she always manages to overshadow Saboor Ali in all the scenes. And you can't help but see her character as that of a naive girl who does not know any better. She is greedy and selfish without a shadow of doubt but she is still young and these tough lessons that life is teaching her are bound to change her perspective.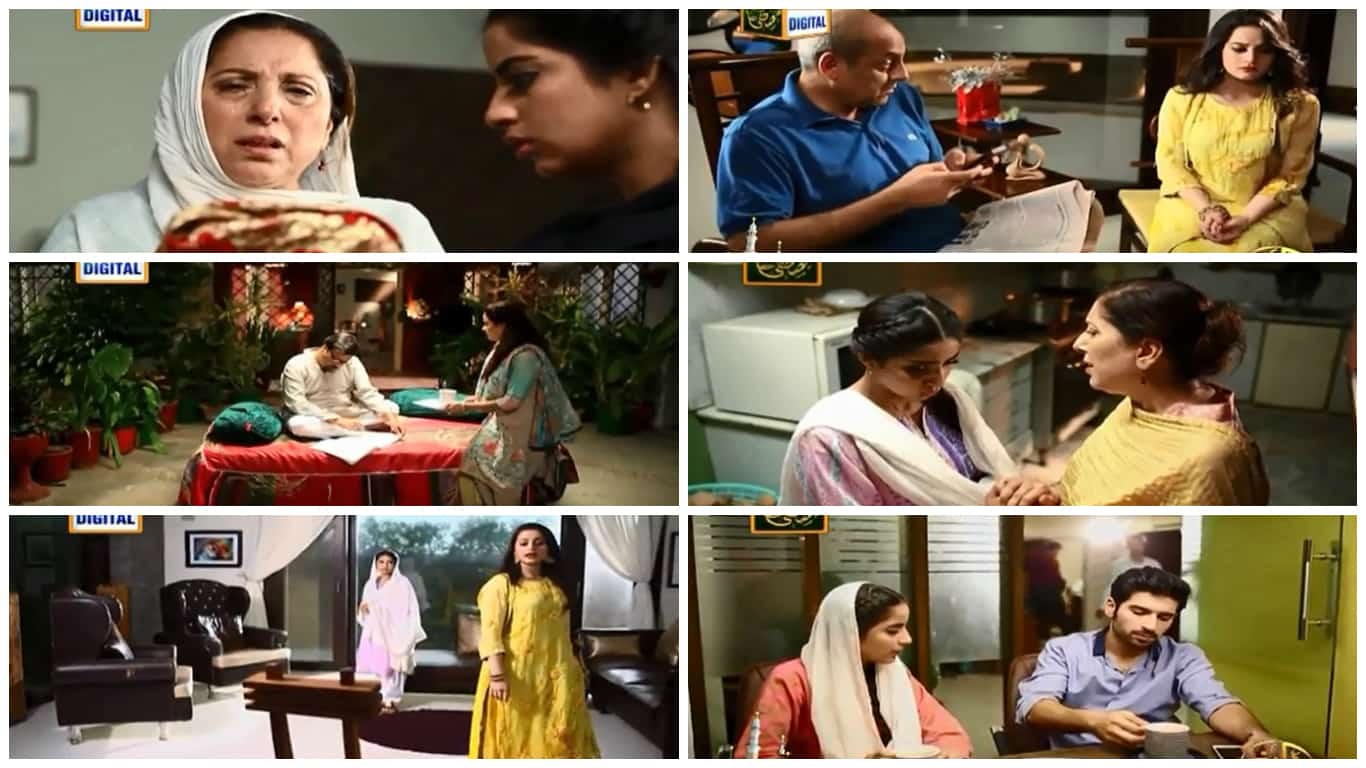 I must say that every time I see Javeria Abbasi's character on screen, the first thing that runs through my head is that people like her must have a very long life!! The woman does not believe in worrying about anything in life. She enjoys watching people fight and everything bad is actually exciting for her!! She does not think a lot about the future as long the present is good. Even when she was divorced, she did not give it a second thought!! I am really enjoying watching Javeria Abbasi in this role. She is playing one of those insensitive negative characters which are actually amusing maybe because you don't take them very seriously.
Saboor Ali was the weakest link in this episode too because she has been overdoing everything. Her dialogue delivery is a little too intense!!! The director too believes in stretching the scenes which show women being tormented in some way or the other. Just like all the previous episodes in this one too Sehr and Shehryar's track kept my interest alive in the play. I cannot praise Aiman Khan enough for her brilliant performance. I feel for Sadaf but her helplessness is not pleasant to watch at all. All the negative characters are much more "entertaining" than the ones who have been portrayed as flawless individuals. You want all those characters who are playing with other people's life to pay for their mistakes at some point but this drama would have been a complete snooze-fest without them.
Did you watch this latest episode? Do share your thoughts about it.
Fatima Awan