This was another episode of Beqasoor with a lot of rona dhona, sad background music and one which promised very little character development for our scapegoat Hira in particular. While it was great to see Sadaf taking a stand for her daughter, it was just plain annoying watching Hira play the victim when she had the choice and the perfect opportunity to live a happy life! Hira's obsession with making her father happy is like a mental block which she needs to get over if she wants to be happy.
In one of the previous episodes we saw Hira telling her mother that she will not tolerate it if her step-father made her mother suffer but in this episode she completely lost track of who she wanted to please! Her insane decision to get married to Amin was meant to make her father happy at the cost of her mother's happiness. Hira obviously has complexes, she wants a father figure in her life at all costs even if it is someone like Waseem but making this kind of a 'sacrifice' when she knows that it will only bring more pain to her mother is not in line with her character. Maybe if she stops crying and sobbing, makes herself a cup of tea and sits down to reflect upon things, she can reach a better conclusion! Waseem knew only too well that the 'divorce card' was bound to work in his favor therefore he used it over and over again.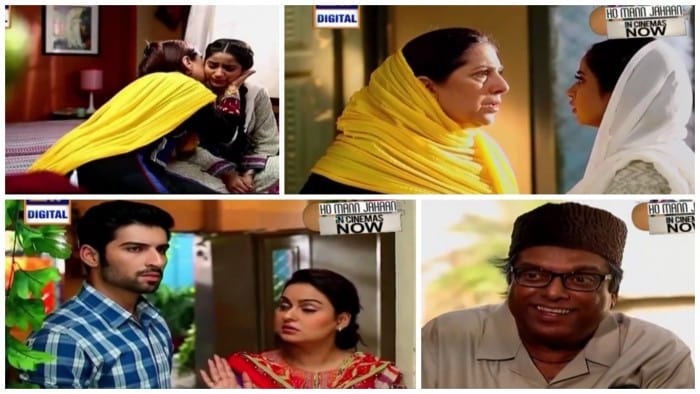 Sehr on the other hand takes her phupo's advice and is happy with her luxurious life even if that means putting up with a husband like Shehryar. Sehr like her phupo does not think much about the past or the future and likes to live in the present. She wants to be happy and does not really care about anyone's happiness. The phupo is as negative as a character can possibly get. Even though Hira's future husband is clearly a nightmare come true but even then she makes sure he knows what Hira's ties with Babar were like to make matters worse. We also found out today that even though Hira and Babar spent a lot of time together in the office but Babar knows nothing about Hira'a family dynamics.
I must say that the director has definitely banked on Hira's becharapan a lot. The flashback scenes have been used extensively and the sad background score just makes it look like the director is trying too hard to make people feel for Hira's character. Hira's obsession with pleasing her step-father does make sense but the way it has been translated on screen has killed any sympathy that it could have generated from the viewers. Afia Begum and Zulekha's circumstances in the play Mera Naam Yousuf Hai were somewhat similar too but everything was shown in such a way that you couldn't help but feel for the characters. At this point there is absolutely no hope for Hira and I can't even imagine how her life would be with that man. Honestly speaking the very thought of it makes me sick! Saboor Ali's acting remained quite unimpressive in this episode as well. Samina Peerzada was absolutely brilliant tonight and I must say, so was Waseem Abbas.
Beqasoor is getting even more depressing with every passing episode. The only good thing about tonight's episode was the way Sadaf put her foot down otherwise all the characters remain black and white.
Did you watch tonight's episode of Beqasoor? Do share your thoughts about it.
Fatima Awan