Bilal Abbas Khan is a Pakistani model and an actor. He has established himself as a versatile actor in a few years. Bilal Abbas Khan however worked really hard to get where he is today. He always felt he was destined to perform. In the past few years, he has been part of some of the most hit drama serials. In every single role, he has played in the past one year or so he has made his presence felt and the viewers got to watch a completely different side of him.
He is constantly trying to reinvent himself by experimenting with different roles. He has the capability to play positive and negative roles with utmost precision. He has the looks and talent to make it big in the industry. He has already worked with the best people in the industry. This is only the beginning of his career and already he has achieved so much. Bilal shared in an interview that he makes a conscious effort not to repeat the roles which he has already played. He finds challenges enjoyable since they give him a chance to show a different side of his acting abilities every single time.
While most actors his age are busy playing the 'hero' roles Bilal Abbas Khan has already shown that he does not want to be stereotyped. He is also loved by the fans because of his off-screen personality just as much as he is for his on-screen performances.
He got formal acting training from NAPA. He always dreamed to be an actor but he never thought he would get where he is today. He keeps himself grounded even after getting so much fame.
[lwptoc]
Bilal Abbas Age
Bilala Abbas was born on 4th June 1992 in Karachi. He is 27 years old. He joined the showbiz industry formally when he was 24 years old.
He is one of those few celebrities who hardly ever posts celebration pictures from her birthday parties. The only time he did post a picture, was with his family members.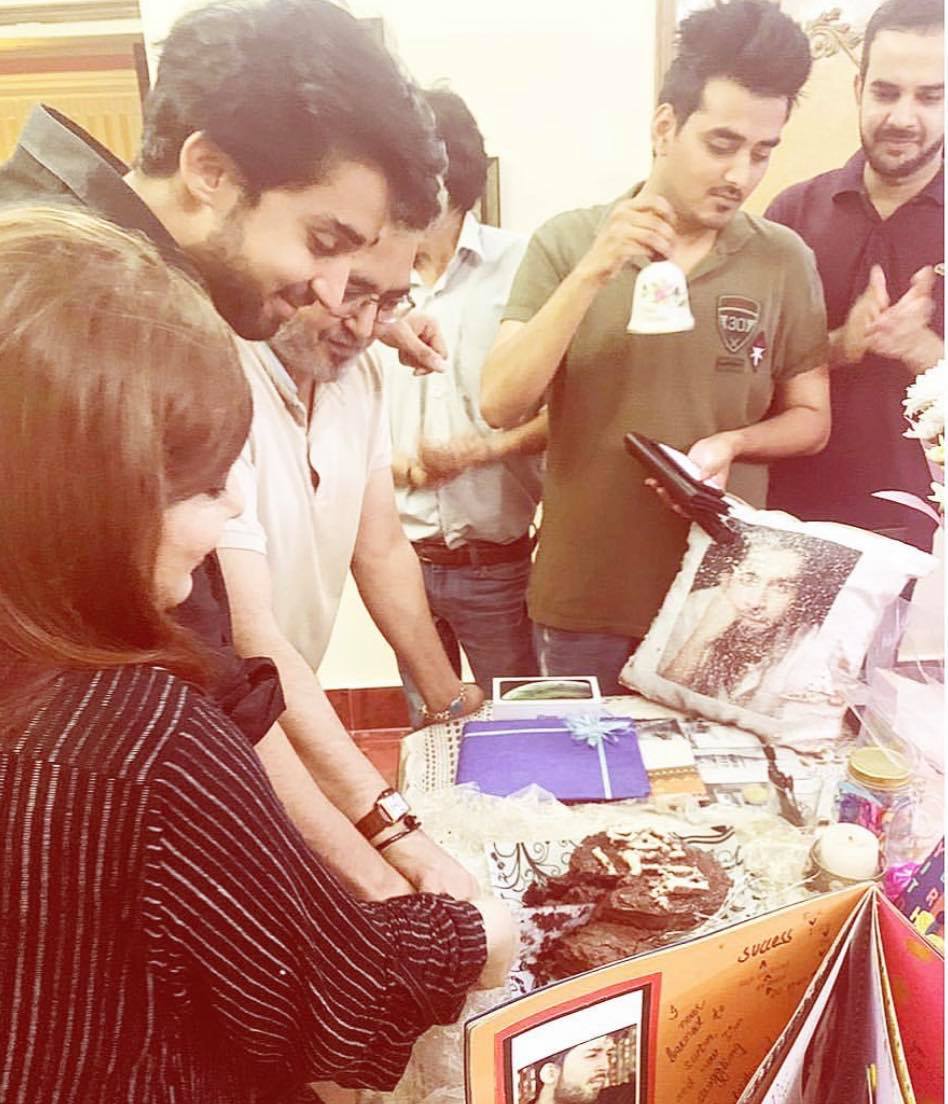 Bilal Abbas Khan Childhood Pictures
Bilal Abbas shared his childhood pictures every now and then. These pictures gave his fans a glimpse into his childhood.
Bilal Abbas Family
Bilal Abbas considers his family his lifeline. He has 2 brothers and a sister. His brother and sister are older than him and he has one brother who is younger than him. He keeps on posting pictures with his family on his social media pages.
It is quite apparent from Bilal Abbas' captions and pictures that family comes before everything else for him. He shared in an interview that since he is the middle child, he can get away with a lot with his other siblings cannot.
He was an introvert ever since he was a child. Although he loved to perform even as a child, he did not like to socialize a lot. He shared this video from his childhood in which he is enjoying performing at a wedding. As is seen in the video, he is happy performing all by himself.
He was brought up and still lives in a combined family system. His father always wanted to be an actor but he couldn't make his dream come true. Therefore he wanted his son to go into the field of acting for the realization of his own dream.
His mother is a fashion designer. When he stepped into showbiz, she told him that she was going to design his outfits for him.
Bilal Abbas Brother
Bilal Abbas has two brothers. One of his brothers is older than him and the other one is younger. Their names are Umair Abbas and Shahbaz Abbas. His younger brother likes to sing but has no plans to take up singing as a profession. He is the closest to his younger brother.
Bilal Abbas Sister
Bilal Abbas sister is older than him. Her name is Sana Tauseef and she runs her own business. She has her own pret and fashion jewelry collection. She is married and she has a 10-year-old son. Her son's name is Kabeer Tauseef Ali. He even has an Instagram page of his own which is run by his mother.
His sister also wants to pursue writing. She has always wanted to write and now that her brother is in the showbiz field, she wants to write a script for dramas. Those her plans in the long term.
He often shares his love for Sana on her social media pages. Apart from his mother, his sister is really close to him.

Bilal Abbas Drama List
He has worked with the best directors and producers over the years. Bilal Abbas drama list shows his versatility and dedication as an actor.
Here are the dramas he has acted in.
Saya-e-Dewar Bhi Nahin – 2016
Dumpukht – 2016
Saanp Seerhi- 2017
Rasm-e-Duniya – 2017
Qurban – 2017
Baykhudi – 2017
ORungreza – 2017
Balaa – 2018
Cheekh – 2018
Pyar Ke Sadqay – 2020
He shared in an interview that drama serial ORungreza was a game-changer for him. Currently, the viewers are looking forward to his upcoming web series in which he will be starring alongside Noman Ijaz, Savera Nadeem, and Sarah Khan.  He is playing the leading role in the drama serial Dunk which is also a fan favorite.
Bilal Abbas Khan Dramas 
Bilal Abbas Khan dramas have won the viewers over again and again, in the past few years. Through his dramas, he tries his best to show the viewers a different side of him every time. He has had the opportunity to work with the best. Even a superstar like Mahira Khan wishes to work with him.
Bilal Abbas Khan Wife 
He is single and he intends to stay that way. In an interview, he shared that he had big plans for his career therefore he was not even thinking about getting married right now. He said that he wanted his showbiz career to be the main focus of attention.
He shared in another interview that he was not romantic. He understood and liked the idea of romance but he wasn't romantic by nature.
Bilal Abbas Instagram
Bilal Abbas is active on Instagram. He usually uses this platform to share pictures of his family and to keep the fans posted about his upcoming projects. Bilal Abbas has a little over 2 Million followers on Instagram.

Bilal Abbas Pics
Bilal Abbas is a good-looking actor who often does photoshoots for leading brands. He looks dapper in Eastern and Western wear. His fans look forward to the pictures he posts on Instagram. Here are some lovely pictures of him.