Ah, I had expected quite a bleak episode with Ameena moping endlessly at her mother's house and Urwah basking in Saiqa's attentions and impending arrival of Azra but thankfully it was not just all that. While Urwah does take Ameena to her parents' house and rushes off quicker than a delivery man (literally), he does seem to miss her on some subconscious level. I am glad Ameena's parents also decided to be sensible and spoke to her and tried to gauge what was wrong. And honestly thank God for Taya Abba. Such a positive character and influence – it is heart warming to see how he takes matters into his own hand and puts things right.
Saiqa was annoying, we had established that a while ago but seriously I am a bit taken aback at Naani's attitude. With Saiqa so openly showing her affections for Urwah, Naani's gentle rebukes are obviously not working and I would have thought that she would have strictly scolded her by now and the only reason I can think of for her not doing that would be to keep the whole underlying tone of the drama light as it has been uptil now. While Saiqa's desperation is annoying, thankfully nothing objectionable has happened between her and Urwah – yet. But it does make me wonder how Naani can be so relaxed about Saiqa's attitude and even though she is aware that Saiqa wanders off to Urwah and the tutions etc, I would have thought she would have made real her threat of calling her parents to come take her back with them by now!
Anyway, at least Naani is not encouraging Saiqa and tries to make Urwah realize that Ameena's place is with him. Although Urwah protested, he did not look too upset with Ameena's return. I would have liked to have seen more of scenes showing that Urwah missed Ameena's presence in his home but I guess with Saiqa lurking around, university and work he did not get too much time! It was nice though to see how he seemed to be 'behaving' when Ameena returns but I am a bit wary yet for Urwah switches from being nice to mean often so will have to wait and see.
And then – the khush khabri. Yeh damaagh mein nay dhoop mein one track nahin kiya, Pakistani dramas dekh dekh kar one track kiya hai haha, where only once I have been misled into thinking that vomiting and feeling nauseous can mean anything else than a pregnancy (which was Maria Wasti's role in Teri Chah Mein where she was genuinely sick). The talk about Amna Baji's child and Ameena being unwell and then next week's preview all hint the same. The doctor that announces he does not have the 'treatment' for what ails Ameena alarmed me for a moment but I am thinking Doctor Sb was just being cheesy. Will have to wait and see.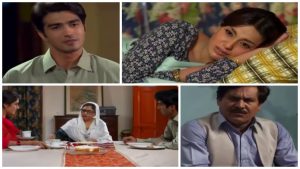 I have a feeling there will be less focus on Saiqa now and I can only hope Azra does not return and even if she does I hope she does not shake things up too much. In fact, let's hope Azra does not return and we can enjoy a few decent episodes showing Urwah and Ameena grow close before the drama ends. I know what I look forward to the most in this drama is when Ameena and Urwah are together so I am definitely looking forward to next week's episode. There was far too much focus on Saiqa in this episode and while the actress playing Saiqa has done a good job because I find her character truly annoying and mind boggling – I would prefer to see more of Ameena and Urwah. What did you all think of this episode – would love to hear your thoughts!
Kunwal Javid