Aise such ka kya faida jis se ghur tootey aur yahan tu meri du du bachiyon ke ghur barbaad ho rahe thay…Rameen's mother once again gets full marks for letting her daughter down and ruining her life single-handedly without even giving it a second thought! I thought I had seen everything but Chup Raho never ceases to shock you! Rameen's mother asked Numair to hold her daughter when she was "having a fit" …. how could she do that?? How could she ask the man who raped her daughter to even touch her under any circumstances at all? Rameen's mother is so focused on making sure that Numair and Azar don't leave her daughters that she has forgotten completely that it is not easy for Rameen to move on especially now when she knows that there is no hope for her. I must give Samira fazal due credit for penning down the mother-daughter conversation perfectly but I must say that the screen-play could have been far more convincing.
How could Rameen's mother allow Numair to be with her daughter in the room like that? Yes, she was helpless but that was before Azar came, she could have knocked on the door and said that Azar was there after he left! Just standing there and giving this man the perfect opportunity to rape Rameen again was beyond ridiculous. Like I said she is focusing on something entirely different, she wants Rameen to forget the whole thing like it was a bad dream while she is living with Numair under the same roof! She is not even trying to convince Azar to move out of the house because Rameen needs a different environment. She can easily do that without telling him the truth. There are many possible solutions to the problems that Rameen is facing especially now that her mother is around. Now only if her mother will use her brain to get her daughter out of this situation rather than forcing her to stay in it and pretending as if all is hunky-dory.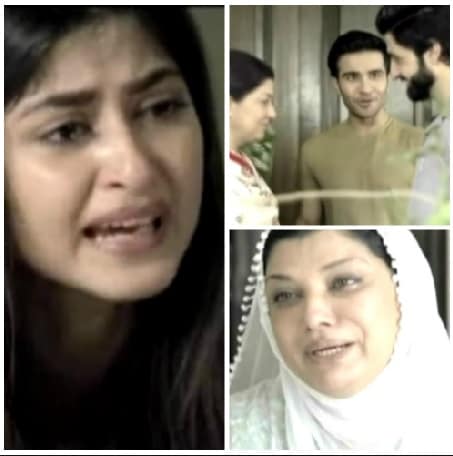 When Numair slapped Rameen and no one reacted I was in shock and yes I had to watch that scene twice because I had a tough time believing my eyes – did that just happen?? was my first reaction! No one questioned Numair, not even Rameen's mother. I think the slap was totally unnecessary, the whole scenario is ugly enough as it is. I felt for Rameen every step of the way while watching tonight's episode, this girl has been violated over and over again in the worst way possible. She does not expect anything from anyone now except her God because when your own mother fails to protect you then you have no reason to have faith in any other relationship.
I felt like Azar started having second thoughts about the entire situation when he saw Numair's reaction to Naila's reference. The director made the viewers looks forward to the confrontation between Numair and Azar which wasn't even going to take place – wise move I would say! The scene reminded me of Bari Apa, we were dodged by the writer/director many times like this! It remains to be seen what Azar is going to do. I am surprised that given the circumstances all these people are still living in the same house. If Azar chooses the more practical route then he has the option of moving out without getting into a confrontation with Numair but that is not going to be easy for him.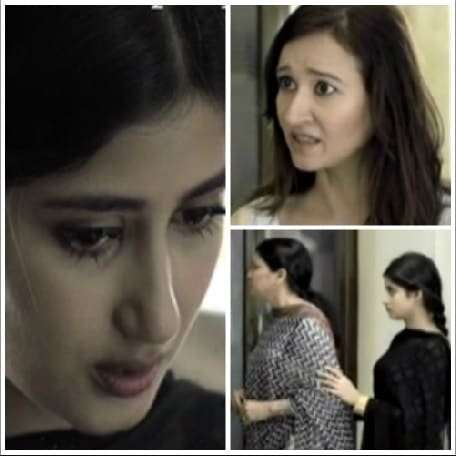 I must say that this episode belonged to Sajjal Ali, she owned her character every step of the way. Her expressions and dialogue delivery was perfect in every scene. In fact all the actors always give their best performances. Feroze Khan, I am certain has a very bright future ahead of him.
This episode definitely gave the viewers a reason to look forward to more, I am sure many of us are waiting to find out how Azar reacts in the upcoming episode but I am sure many viewers who wanted to see the confrontation between Numair and Azar must have been disappointed as well. My favorite part of this episode had to be everything that Rameen had to say to her mother and the change in Rameen's character. Like I said before Azar could have found out the truth in a much more convincing way. I would have liked it more if he overheard Numair talking to Rameen's mother as opposed to the present scenario. However, I appreciate the fact that the writer Samira Fazal does not bank on eavesdropping the way she used to.
What do you think Azar will do next? Do share your thoughts about tonight's episode.
Fatima Awan