Aur kitney musibiton ke pahar tootey gay bechari Rameen pe was the first thought that came to my mind after watching tonight's episode. Ever since this play has started I have always wondered what worse could happen to Rameen but there is always something new in store. With every passing episode those people who are supposed to be our heroine's near and dear ones tend to let her down in the most terrifying way.
Like all the previous episodes Numair managed to get away with everything. Azar, Manal and Numair are apparently part of the "Torture Rameen" club now and everyone is doing their bit to perfection! Before it was only Manal who trusted Numair blindly but Azar's failed attempts to divorce is his wife and all the physical and verbal abuse he subjected Rameen to clearly go to show that he does not trust his wife any more. The way Azar judged his wife did not come as a surprise to me at all, many men out there are quick to judge women but give men all the benefit of the doubt they need to get away with such things. Azar has always been immature and he has always looked up to Numair too therefore sooner or later he was going to listen to him. Numair knows how to cover up his tracks and he used whatever other tactics he could in order to have things his way. The phone call he made in front of Azar in the office was clearly an intimidating tactic. Numair is the perfect husband otherwise, he cooks for his wife, compliments her, provides for her and expresses his love for her over and over again! I have said it many times before and I will say it again that Manal is justified in being fooled by this "perfect man"!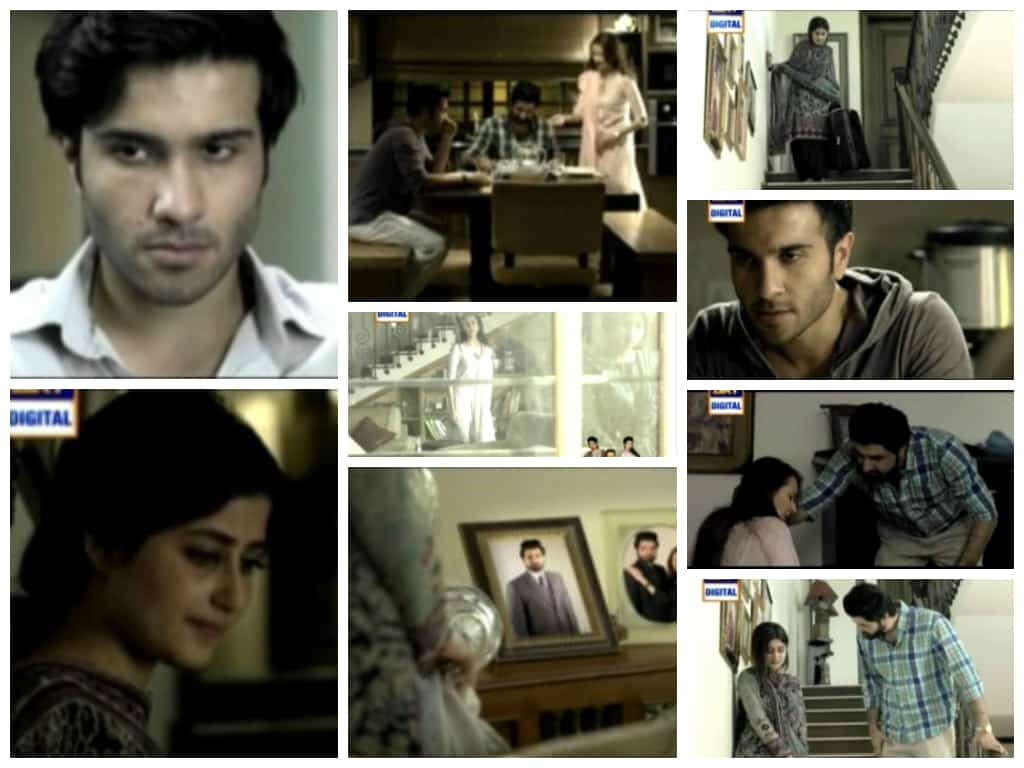 I find everything that Rameen is being put through extremely disturbing more so because I don't have a difficult time believing that this could actually happen to someone. There are of course some serious loopholes here and there which make you think that there are times when things are exaggerated. For instance in tonight's episode when Azar called Manal and Numair and not Rameen I was slightly surprised because calling Rameen could have answered all his question. Secondly, Rameen did not have to shift to the quarter at all because she could have very easily stayed in the hospital with her mother who is no longer in a position to destroy her life further but she will be safe with her. Probably much safer than she is living in the servant's quarter. It is of course difficult to be brave or even sensible in such difficult times but the way Rameen is being shoved left, right and centre is very upsetting. There is more abuse in this drama than one person can handle, the poor girl has already been raped, she does not need to be physically abused in some way or the other in every single episode.
Yasir Nawaz should get an award for dodging the viewers through the promos by making them think that the next episode will bring a big twist! I usually watch the play online so I miss the preview of the next episode therefore I do not look forward to the twists that are not meant to be but I wonder how people who actually look forward to them think when nothing substantial happens on those lines?
We have seen Rameen suffering a lot, I think it is about time that she does something significant to get out of this situation – I have a few very good suggestions if anyone's listening;) Feroz Khan was outstanding in tonight's episode, his performance was the best part of this episode for me. He portrayed the anger, confusion, hatred and being dead tired of it all part so aptly. The credit for bringing out the best in this newcomer goes to the director as well, so yes Yasir Nawaz I am giving you credit where credit is due. I am getting weary of watching Rameen being treated like the "choti" character, can we please move on??
Do share your thoughts about tonight's episode.
Fatima Awan