This was another powerful episode of Dar Si Jati Hei Sila which yet again got the message across with precision and was brilliantly directed and acted out. For the first time I felt that Sadia was at fault too because she was capable of being much wiser and more strong than she has been all along. Turning to Joi for help by doing him favours at the expense of her self-respect and her daughter's mental well-being wasn't the best course of action. Although, it is easy to understand why she felt that she had no choice but tonight especially Sila's reaction to everything she had witnessed over the years showed that there was a good reason why this poor girl felt so alone and scared.
Even though it was quite clear right from the start that Sila blamed her mother for a lot of things but her angry outburst in this episode revealed a great deal more. Sila's father had always been away therefore her mother was the only person who could have done whatever she could to make Sila feel loved and protected but Sadia failed to do so for multiple reasons. Although Sadia is a wise woman but she has absolutely no support in the house therefore turning to Joi for help seemed like the only way to avoid more problems in the house. Sadia's husband is to be blamed for not taking responsibility for his wife and daughter but she also failed to workout a more viable and long term solution to her problems. Joi has also been blackmailing Sadia which is another reason why she feels that "pleasing" him is the only way to ensure that he stays quite. Sadia's plan however has backfired in the worst way possible. Although she is doing all this to protect her daughter but Sila has clearly been more affected by everything she has seen than anything else. Sila is convinced that her mother is having an affair with Joi therefore she holds her responsible for everything.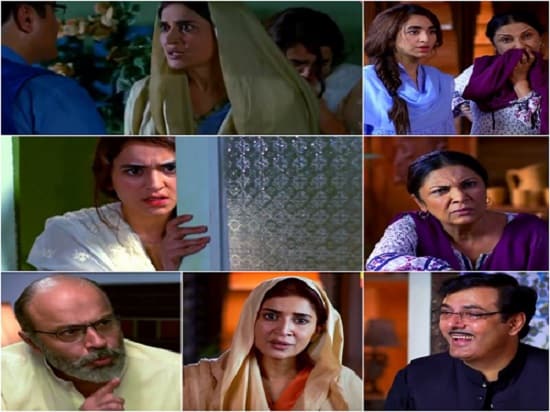 Everything that Sila said in tonight's episode when she confronted her mother was extremely poignant and made perfect sense. Bari Aapa and Sikandar have always blamed Sadia for everything, Sila has heard them say those things so many times and then she has seen her mother with Joi therefore there is a good reason why she is convinced that her life is miserable because her mother is emotionally and physically involved with another man. Getting married to this man would be Sila's way of taking revenge from her mother! Sila's character, just like all the other characters in this play, has been etched-out flawlessly. You completely understand the mental turmoil she is going through and the reasons why she fails to see things differently.
Zaini and Raheel's confidence even after all those lies Bari Aapa told everyone was the highlight of this episode. These two characters are completely different from Sila and Sadia's characters, they do not allow anyone to dictate anything to them. They are strong individuals who have been using their strengths to help Sila which is the best part of their characters. Aamna Malick has been faultless as Zaini, her dialogue delivery and body language is always on point. The turn Noshi's character took was somewhat unexpected and it is easy to tell who Zaini takes after! Zaini's father has to be the most sensible man in Noor Manzil but her mother is turning out to be a typical woman who desperately wants to get her daughter married to an "eligible bachelor".
Saman Ansari continues to impress as Sadia, I truly respect her for always choosing projects which highlight important social issues. Whether she is playing a posh wife of a corrupt politician or a mother of 3 daughters who couldn't give her husband a son, she always does complete justice to her roles. Yumna Zaidi is another actress who is young but is talented beyond her years. She has acted opposite some very versatile and experienced actors but she has always made her presence felt. Nauman Ijaz's superb performance in this serial cannot be appreciated enough because he has breathed life into a character which isn't easy to translate on screen. Normally, the roles he plays in dramas are very different from this one therefore those viewers who wish to see him nailing a completely different role should definitely tune into this drama. Sakina Samo has been exceptional as Bari Aapa throughout. I love the dialogues and the screenplay of this drama, we don't get to hear such beautiful Urdu in our dramas very often. The director Kashif Nisar has yet again brought out the best in all the characters and has translated the entire setting of the play perfectly on screen.
Dar Jati Hei Sila definitely has my undivided attention and keeps me looking forward to more. How many of you watched tonight's episode? Don't forget to share your thoughts about it.