This drama has some of the most amazing performances to its credit and although all the actors are doing complete justice to their characters but Yumna Zaidi clearly stands out the most and manages to steal the show every single time. Yumna Zaidi deserves an award for her performance in this drama because even when she has to translate Sila's feelings on screen without uttering a single dialogue she does so exceptionally well.
This episode showed that Sila was still in shock, staying silent was her way of protesting and taking control of a situation she had absolutely no control over. Raheel and Sila's scenes together were brilliantly directed and acted-out. Raheel has made up his mind and nothing his mother says will change his point of view. He no longer sees Sila as an annoying person who cannot even look out for her own self but he can see that she is someone who needs help and support. Raheel supports Sila not because he feels sorry for her but because he genuinely cares for her which makes his character truly likeable. If it wasn't for Zaini's lecture, Raheel wouldn't have seen things differently. I love the contrast between the old generation and the new one, they look at things in a completely different manner. While Bari Aapa spends all her time and energy belittling Sila and Sadia, Raheel and Zaini invest their efforts into understanding the reasons behind Sila's strange behaviour in particular and practically help out whenever possible.
Although Sila didn't say a single word tonight but everything that she was going through was easy to relate to and understand because of the way these scenes had been written and directed. Sila has definitely fallen for Raheel, the way she looks at him says a great deal about how she feels about him. After finding out the truth about Hatim, Sila's attitude towards him changed completely, something which Hatim sensed instantly. Hatim's scenes were very touching as well. He was being punished for something which wasn't his fault at all and he could only wonder why his mother never loved him. Sadia constantly took out his frustrations and anger on him making him a scapegoat because she blames him for all of her problems. The actor playing Hatim's role has also been performing superbly, he is well-suited for the role and unlike many other newcomers his age, his focus is entirely on his performance. Saman Ansari continues to impress as Sadia and Nauman Ijaz is beyond brilliant as Joi. Everyone's acting in this drama is completely natural.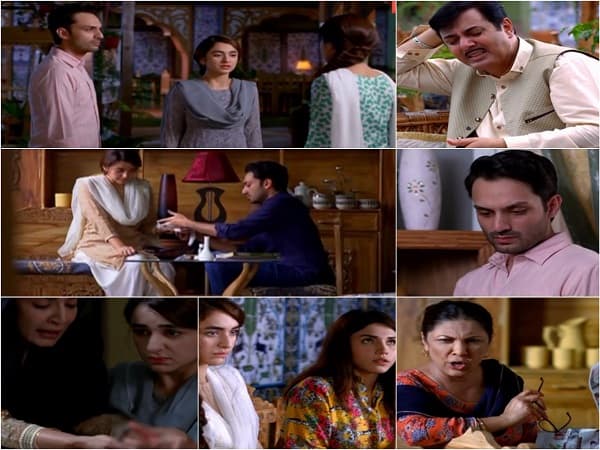 Bari Aapa has decided that Joi and Sila should not get married and she was shown busy finding the perfect match for her perfect brother! Bari Aapa is the one responsible for the closed and suffocating environment in Noor Manzil. She is the one who brought Joi to this haveli and she is the one he gets all his powers from. Bari Aapa's husband doesn't have a bigger role to play in the house, he is too busy running the business and is hardly around which is why he has never noticed what goes on around the house.
This episode ended at an interesting note. Overall, this episode was emotional and effective as usual. I must say that while watching tonight's episode I was thinking about all those girls who are abused on daily basis within their own homes. I absolutely love this show because it has so much going for it. Making such dramas isn't easy but team Dar Si Jati Hei Sila has done a commendable job so far. The preview of the next episode yet again suggested that Raheel might be the first one to find out what is going on between Joi and Sadia. Raheel and Zaini's characters have been etched-out brilliantly and translated on screen beautifully. They have to be the best on-screen characters of this season.
How many of you watched tonight's episode? Don't forget to share your thoughts about it.