Just like every other episode of Dar Si Jati Hei Sila, this one too had it all; powerful scenes, spellbinding performances, meaningful characters and Nadia turned out to be an interesting addition to the play. Like every other character in the play, Nadia's character too was introduced impressively and her relationship with all the primary characters was also well-established from the few scenes tonight. Her character is different from what I was expecting it to be, she is certainly not the submissive bahu which Bari Apa thought she was going to be and that is the reason why her character will make the story even more interesting! The pace of this show and the way everything has been executed has always been superb but I feel that with every passing episode it is getting more impressive.
Tonight's episode opened with Joi telling yet another lie which finally pushed Sadia to the edge. Bari Apa's blind faith in Joi continues to make him even more confident which is why he constantly gets physical with Sadia and flirts with whoever he wants to right in front of Bari Apa who is quick to judge everyone else. It is ironic how Bari Apa who claims to be so wise cannot see what Joi is doing! Sadia's failed attempts to explain herself coupled with the fact that even now after getting married Joi is still fixated with Sadia and Sila turned out to be the reason why Sadia decided to take her own life. Also, the fact that she is constantly belittled by everyone around her proved to be the final nail in the coffin. Hatim's scenes in this episode were my favorite because they were extremely touching. He is the only person in Noor Manzil who loves Sadia unconditionally, he is also a child who is desperately trying to understand why his own mother hates him so much. The pain which Sadia's rejection causes every time has been translated on screen impeccably by Sheikh Mubashir . Tonight his expressions and body language was phenomenal when he finds his mother hanging from the ceiling.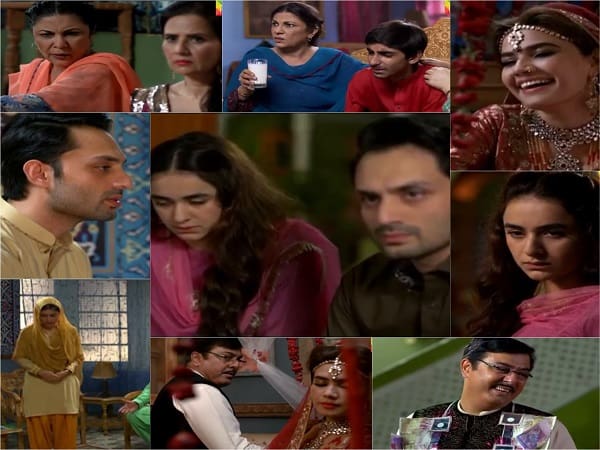 The dinner scene in which Bari Apa tells Sila to sit with Joi was one of the many impactful scenes in this episode. The director Kashif Nisar deserves tons of credit for making sure that every scene leaves the kind of impact which the writer wanted it to leave. After Raheel pointed out that Sila and Joi weren't really related everyone's expressions were captured brilliantly by the director. Raheel had said something which was true but no one had the guts to say it in front of Bari Apa. I absolutely loved Raheel's conversation with his mother as well, I am sure a lot of viewers out there could relate to it. Usama Tahir continues to give a solid performance and Raheel's character is turning out to be really meaningful.
Sila finally decided to talk in this episode and this time around it seemed like she was more willing to say what was on her mind. Even though she didn't say a great deal but whatever she said to Joi in the end showed that she was not as scared of him as she was before. Now that she has Raheel's support, she appears to be a little less timid. Yumna Zaidi has nailed this character right from the get-go, whether Sila has dialogues or not, she always delivers through her body language and expressions. Saman Ansari also portrayed Sadia's frustrations superbly on screen tonight. She was especially impressive in the scene in which she tells Hatim off. Saman Ansari always gives her best to every project she chooses to be a part of.
Nauman Ijaz deserves an award for his performance since Joi's character isn't an easy one to translate on screen but his portrayal throughout has been right on point. His expressions were remarkable in all the scenes tonight and he highlights all the negative qualities in Joi's character in every way he can. Sakina Samo has also breathed life into Bari Apa's character. It is almost as if all these actors put in extra amount of effort to make these characters appear as realistic as possible on screen.
The variety of characters in this show, the screenplay and the performances are some of the reasons why Dar Si Jati Hei Sila is one of the most brilliant dramas of this season. I cannot appreciate the hard work the entire team has put in to make this drama so convincing and easy to connect to. Also, it has a really strong message which is being highlighted in every episode without putting the viewers to sleep.
How many of you watched tonight's episode? Don't forget to share your thoughts about it.