The second episode of Dar Si Jati Hei Sila gave the viewers a more detailed insight into the family dynamics in Noor Manzil – a place which holds many secrets, one in which those who have power exploit other family members who are dependent on them. On the surface it looks like all these people living in Noor Manzil form a perfect family unit but that is clearly not the case. This episode showed why Sadia was so helpless and what was the reason behind Sila's lack of confidence which was the root cause of all the other problems in her life. The fact that I actually wanted to forward Joi's scenes because they were so disturbing goes to show just how brilliantly Nauman Ijaz has translated this character on screen. Sadia and Sila do not only have to live under the same roof with him but Sikandar also trusts him blindly! Sikandar has a life of his own in Canada and has no time for his wife and daughter which is why they are completely dependent on his relatives. Yumna Zaidi and Saman Ansari once again gave solid performances and Sakina Samo is spot on as the woman who is so busy judging others that she fails to see the wrongdoings of her own brother.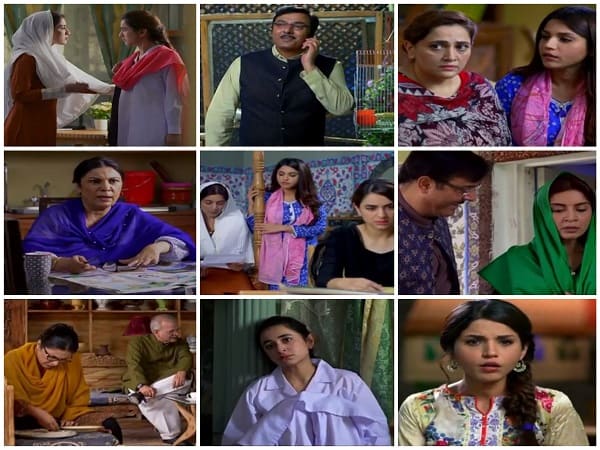 Raheel's conversation with his mother showed why she had to go ahead with this engagement even though her son did not want to get engaged to Sila. Zaini flirts with Raheel and also plays hard to get which is why he finds her even more attractive! Zaini and Sila are poles apart which is probably why Joi chose those women in the house who are weaker and would never have taken a stand for themselves. Zaini also tells Joi off every chance she gets. Even though Joi held Sadia's hand and harassed her openly but his Aapa and Noshi both failed to see what he was doing because of his "impression" as well as his position in the house. He is the brother of the woman whose husband runs the house therefore even if someone found out what was going on they are more likely to blame Sadia and Sila. This is the main reason why Sadia takes out her frustration and anger on Sila instead of finding a way out. Sila's breakdown and anger was shown superbly in this episode as well. The scene covering Sila's reaction after she sees Joi and her mother together was the most powerful scene of this episode. Bee Gul's plays always have at least one female character which does not conform to the norms and is strong, I am waiting to see if Sila will be one such character as the story progresses. Right now although Sila has been shown as a victim but she has not been shown as a lifeless character. She is quite outspoken and expressive whenever she is around her mother. Sadia and Sila both are completely different people when they are with each other, they are more submissive when they are around everyone else.
The Chaudhry Kashif Nisar scene showed that Joi's sisters ran the show in the house. She has been shown bossing everyone around including her husband, this is the reason why Joi knows that he can get away with everything. This second episode took the story forward, the focus was on the main characters and their relationship with each other. Tonight's episode had some exceptional performances to its credit. I am waiting for the story to take off but I am glad that the writer is giving the viewers time to warm up to the characters. Kashif Nisar is a brilliant director who delivers every single time and Bee Gul has given us a few phenomenal plays therefore I have high expectations from this drama. I am all for dramas which highlight issues that are usually brushed under the carpet and truly appreciate producers, writers, directors and actors who invest their time and energies into projects which are not likely to be commercial hits. Also, the team of Dar Si Jati Hei Sila promised that this play will also show a way out to all the Silas out there therefore that will be the biggest reason for tuning into this show from now on.
How many of you watched this latest episode? Do share your thoughts about it.