This was another brilliant episode of Dar Si Jati Hei Sila. Nadia's character is turning out to be one of the most significant characters in this drama for many reasons. Apart from giving a different perspective to everything, she also adds some lighthearted moment to a drama which is essentially dark. Nadia's "billi se daro gay tu wo sher ban jaye gi." dialogue aptly narrowed down the reason why Bari Apa controls everyone and everything Noor Manzil. This dialogue wasn't only true for Bari Apa but also for Joi. The only reason why a man like Joi has been getting away with so much is that he has successfully managed to intimidate Sadia and Sila. Joi and Sadia's conversation tonight also suggested that Sadia does whatever it takes to please Joi because that is the only way to save Sila. He often asks about Sila whenever she doesn't do what he says – it seems like that is his way of threatening Sadia. Kiran Haq owns her role completely and never fails to impress. Nauman Ijaz has been beyond exceptional as Joi throughout and Saman Ansari is doing complete justice to a really difficult role. Every scene of this drama carries weight and is executed superbly.
In this episode Raheel was more eager than ever to find out what exactly was going on. He is an intelligent man who can tell that there is more to this especially because of the way Sadia is reacting to this entire situation. Sila's dialogues in this episode when she told Raheel and Zaini what she went through and how she felt were brilliantly written. Yumna Zaidi's remarkable performance and the way Zaini and Raheel's reactions were covered made this scene impactful. Sila is a victim but like many other victims like her she feels that she is responsible for what happened to her because she couldn't stop her abuser. She also feels this way because she constantly hears what a nice person Joi is and how flawed she is. This scene was extremely touching and it highlighted the plight of a victim perfectly.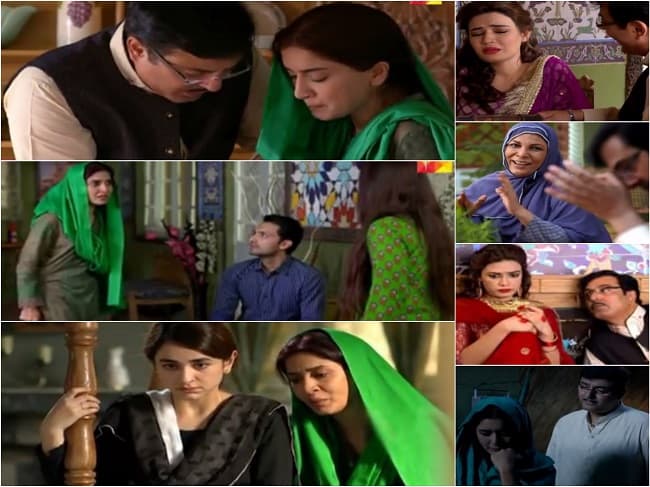 Sadia conversation with Sila this time too revolved around convincing her to stay quiet since she really believes herself that it is the only way they will be "safe". The biggest reason for this is that Hatim is Joi's son therefore no matter what they tell anyone about Joi, ultimately she is the one who will be ridiculed and punished. The fact that Nadia isn't expecting also raises a lot of questions about whether Hatim really is Joi's son but somehow Sadia is convinced that he is. Although Joi has convinced Sadia that she is the only one who will have to bear the brunt if their secret ever comes out but his reaction every time he hears someone coming suggests something different. Joi is a completely different person with Nadia because he knows he cannot dominate her the way he does with Sadia and Sila. I have a feeling that Nadia will play a positive role in this entire situation because so far she has been shown as someone who is honest and fair.
Raheel is gradually getting closer to the truth and I am waiting to find out what he is going to do once he finds out what is happening. Tonight, he also made sure that Nadia knew Joi couldn't be trusted. While Zaini's mother is still planning her daughter's wedding, the preview of the next episode suggested that Zaini might have other plans. Hatim and Sila's scene together in this episode as well was short but really touching. Hatim's love for Sila is unconditional and even though Sila is trying her best to change the way she feels about Hatim, the fact is that she loves him as well and nothing can change that.
The preview of the next episode showed Nadia confronting Bari Apa and saying exactly what needed to be said! Joi once again harassed Sila – will she be able to take a stand for herself this time? This drama shows how very often a little courage goes a long way.
How many of you watched tonight's episode. Do share your thoughts about it.