This was another mind-blowing episode of Dar Si Jati Hei Sila; poignant, meaningful and significant. The secret is finally out and this time around Sadia decided she needed to speak up. The writer laid down the perfect foundations for everything that happened today. I always felt that Sadia was giving Joi these "favors" to save her daughter because every time she told him off, he mentioned Sila and that's when she decided to "cooperate" with him therefore when Sadia told Sila just that, it made perfect sense and didn't come as a surprise at all. For Sila however this news was shocking since she had always thought that her mother was doing all this for her own pleasure, she never looked at things from this angle. Sadia's character and her circumstances couldn't have been translated on screen more impressively. I never had trouble understanding her character and I always felt that Sikandar was the one to be blamed for everything. Sikandar always plays the victim card whenever he is faced with such a situation. He takes up his manly role whenever he gets a chance to tell Sadia off or to put her down but he has never been there for his wife and children. Unfortunately, our society is filled with men like him, who know their rights really well but never try to understand their duties! This is a classic case of a husband expecting everything from his wife and giving absolutely nothing in return – not even respect or acceptance!
Joi continued to play his games and even this latest development didn't affect him in any way. He knows that he has nothing to lose and right now he is also confident that his aapa will go on supporting him therefore he continued to harass Sadia and Sila both. Joi is an evil man, he is so vile that it is truly upsetting to think how such men exploit women in joint families. Aapa blamed everything on Sadia mainly because of the fact that no one is there to plead her case. She has heard only Joi's side of the story and she trusts him with her eyes closed. This entire scenario goes to show how dangerous it is to trust someone so blindly. It is like giving such a man a license to do whatever he wants. Finally bare bhaiya decided to speak up and everything he said suggested that he was far more open-minded and fair than his wife. Whatever Zaini's father said to Sikandar was also on point but just like always Sikandar continued to blame Sadia for everything.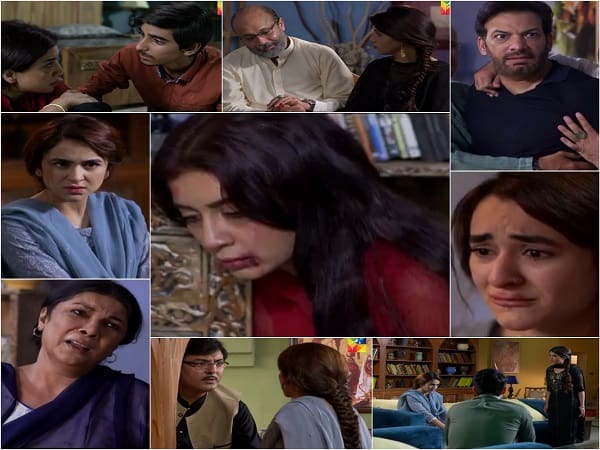 Tonight, I felt for Hatim more than any other character since he has just found out why his mother rejected and hated him all his life but he has no idea what he should do. Sheikh Mubashir's solid performance tonight made Hatim's scenes even more impactful. The scene in which he protects his mother was simply amazing, Saman Ansari and Sheikh Mubashir's acting and timing and the entire situation was extremely distressing as well as emotional. I don't have the words to praise Nauman Ijaz'a overall performance in this play and his brilliant performance in this episode. He definitely deserves an award for his performance. Zaini's character continues to impress, she is a perfect example of an enlightened woman who is strong, positive and caring. Yumna Zaidi and Amna Malick's performances were the highlight of tonight's episode. Yumna Zaidi's expressions in the last scene of this episode said so much about Sila's state of mind.
This episode was simply amazing, it was the kind of episode which leaves you distressed but at the same time gives you hope that things might eventually change for these women. Sila will finally speak up in the upcoming episode, I can't wait to find out what she has to say and how it affects everyone. The preview of the next episode also showed that Bari Aapa will finally see Joi for who he is!! Dar Si Jati Hei Sila is one of the most impressive dramas of this season which has been meaningful and faultless right from the first episode. We definitely need more dramas like this one.
How many of you watched tonight's episode? Don't forget to share your thoughts about it.