Like every other episode of Dar Si Jati Hei Sila, this one too had some amazing performances to its credit. I am especially impressed with Nauman Ijaz and Yumna Zaidi's perfect portrayals of characters which are not easy to translate on screen. Nauman Ijaz never ceases to impress the viewers with his versatility and performances which make you forget even his most impressive recent performances. Every time you watch him play a role on screen you think that he cannot outdo this one but he surprises you even more with his next project! Joi's character has many shades, he is a completely different person when he is with Sadia and Sila and someone completely trustworthy and decent when he is around Sikandar especially. One thing about his character which stands out more than any other is that on the surface he appears to be a completely harmless man who one wouldn't expect to be smart enough to blackmail and mentally torture someone. Sila's character is especially difficult to translate on screen because she doesn't have a lot of dialogues. Most often Yumna Zaidi has to convey Sila's feelings through her body language and expressions and she is doing so remarkably. Yumna Zaidi is a powerful performer who puts her heart and soul into all her projects and this one isn't too different either.
Sikandar's character played by Saleem Sheikh was introduced in this episode. The way Sadia and Sila reacted to his arrival was strange even though Sadia told her husband that she felt more secure when he was around but Sila and Sadia somehow looked fearful when they learned that he was there. Sikandar's attitude towards his wife and daughter is the main reason why Joi is so confident. Sikandar did not even acknowledge his daughter and does not even respect his wife therefore they have absolutely no support in the house. Sikandar continuously implied that Sadia had the ideal life and cannot even remotely relate to how life must be for his wife and daughter. The scene in which the entire family was taking a picture and Sadia was standing behind the curtain watching them reminded me of the scene in ORangreza in which Sassi, Khayyam and Sonia Jahan were taking a picture and Mumtaz was looking at them like an outsider.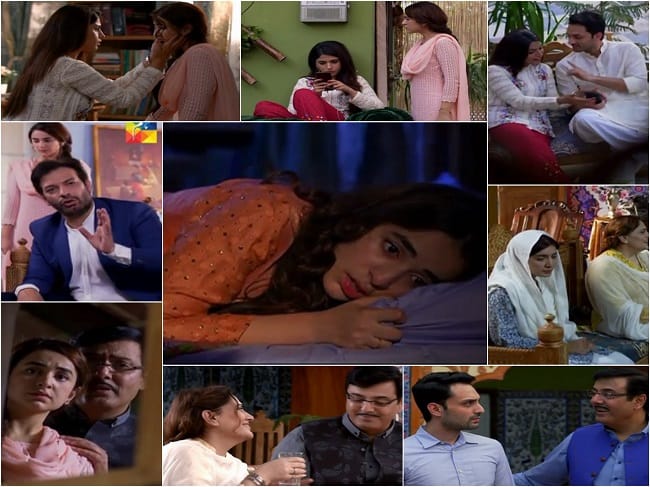 The way Raheel pressurized Sila to do something to stop this marriage from taking place was terribly sad. Although it is understandable why he feels he can never be happy with Sila, I didn't expect him to pressurize Sila the way he did. There were few scenes in which it looked like Zaini actually cared for Sila. Although she clearly flirts with Raheel and belittles Sila every chance she gets but there were a few scenes in which she looked genuinely concerned for Sila. Some of the scenes covering the family politics tend to be clichéd but other than that the overall feel of the play is different.
Right from the first episode Joi has been trying his best to ensure that Sila does not get married. In the previous episodes he was trying to prove that Sila was mentally unfit and tonight he kept on telling Sila that Raheel was in love with Zaini. The preview of the next episode showed that Sila will finally succumb to the pressure.
Saman Ansari and Sakina Samo have also been performing exceptionally well. So far, the family dynamics have been shown in such a way that you clearly understand why it is so easy for Joi to exploit Sila and Sadia. Sila's character represents every girl like her out there who has no one to turn to and absolutely no one who understands her. The pace of the drama is slow but it has enough substance to keep your interest alive. I do hope however that the story picks up pace in upcoming weeks. The overall feel and the way this drama has been directed is superb so far.
How many of you watched tonight's episode? Do share your thoughts about it.