Nida and Sikandar bid farewell to each other on a relatively positive note. Sikandar wasn't looking forward to going back to Shama but his parting lines indicated that he was at least going to try not to hurt her. Although I didn't really understand the logic behind what he said because Nida never said that her fiancé loved her but their farewell was covered well. It would have been odd if Nida left without this last meeting between her and Sikandar. Nida's relationship with Meesha and Sikandar both has been handled well throughout and their last meeting together was also covered flawlessly. Nida's conversation with Meesha tonight was meaningful because it reflected her frame of mind. Shama's efforts to ensure that she was able to stand up and welcome Sikki were covered in detail as well. Although these scenes did not have a lot of entertainment value but they were definitely needed. Had Shama not been shown trying over and over again, her welcome to Sikki would have been as surprising for the viewers as it was for Sikandar! It was great watching Shama back to being her old self. When she talked to Sikandar tonight she was a lot more confident and full of life. Mira Sethi gave the scenes in which Shama was shown trying to walk her best. Although these scenes were difficult to direct but the director managed to do justice to them.
Hina Bayat's character once again brought a smile on my face. Her obsession with Phupo's bag and her over enthusiasm was too cute for words. I simply love how all the tracks and characters get appropriate screen time in every episode unlike many other recent dramas with a star cast and top directors in which some of the primary characters vanish every now and then and are back only when they are needed! Although there was nothing new about Phupo's rants but anyone who has a close extended family would have been able to relate to the conversation we heard in tonight's episode between Phupo and her brothers. The preview of the next episode also indicated that there is a good reason why Phupo is so keen on getting Nida married to her son and why she wants her brothers to sell the house. I felt for Zahra when she was overjoyed to hear that Nida had brought her a saree but her mother snubbed her. I am completely into all the characters in this play and am actually enjoying the slow pace of this drama because I am tired of watching dramas which are more rushed than fast paced.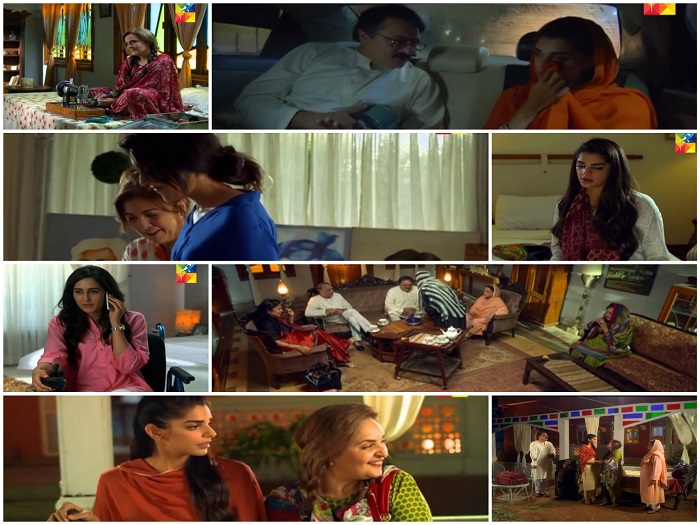 Nida's feelings and her breakdown was covered impeccably in tonight's episode. Tayee's willingness to cook for Nida was one of my favorite scenes from tonight's episode. I love how Tayee is so judgmental and authoritative at times but it is only because she loves Nida. Also, Taya Abu's reaction when Taye talks about Ayaz's rishta was an interesting conversation. Like every other script written by Faiza Iftikhar this one too has plenty of meaningful conversations to its credit which might not be as powerful or deep as the ones we saw/heard in Dillagi but they always have a context and they resonate with the viewers. Most importantly the reactions and these conversations in general do not have a done-to-death feel to them. Hina Bayat is absolutely brilliant in the role she is playing, I can watch her scenes over and over again! Dil Banjara is a relatable play which makes you look forward to more. It is getting even more interesting with every passing episode and I am just as interested in Sikandar's track as I am in Nida's.
How many of you watched this latest episode? Do share your thoughts about it.