"Mohabbat mei agr insan ki mut na mari jaye tu samjho use mohabbat nahi weham huva hai." This episode was less filmy but it definitely had tons of substance. For the first time the characters stood out more than the actors and some of the conversations and dialogues were so impactful that they stayed with me even after I was done watching this episode. It has been a long time since I heard such powerful dialogues in a drama therefore for me this episode of Dil Lagi was a complete winner. Mohid is not going to give up on Anmol, he will do everything it takes to convince her that no one will ever love her as much as he does. He wants Anmol to fall in love with him even if it requires some effort. Anmol believes "mohabbat hone aur mohabbat krne mei buhat fark hai" but Mohid sees things differently.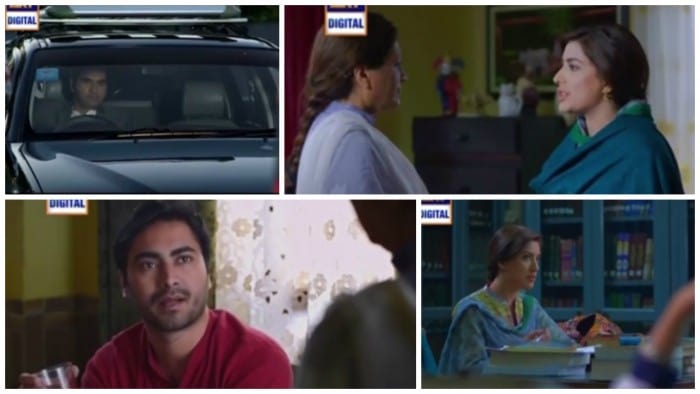 The fact that Anmol is a very strong individual was reinforced yet again in tonight's episode in a much more realistic manner. Anmol believes in moving on, finding solutions to problems and not dwelling in the past therefore we did not see Anmol giving what had happened a second thought. She also told her mother to consider it a "maslihat" and move on but at the same time she tried to fix the problem by meeting Mohid. However, Mohid's meeting with Dastagir after he met Anmol went to show that nothing she said had an effect on him. He was under the effect of meeting the woman of his dreams in person and did not believe a word of what she said until Dastagir gave him the news that she was engaged to someone else. Anas is clearly darpok and nazuk therefore his reaction to his encounter with Mohid was very believable. The logic Anmol gave to Mishaal for getting her engaged to someone like him was rather ironic since Anmol herself is such a brave person but at the same time it went to show how practical Anmol was. She is brave but she also knows that how vulnerable they are because of the fact that there is no man who can support them.
There were many conversations in this episode which were meaningful and very well written. I loved the conversation between Mohid and his mother in which she asks him questions about Anmol. It clearly went to show that Mohid did not fall in love with Anmol's looks but with her bold personality. Anmol's dialogue "dur mere liye gali hai aur mujh se gali bardasht nahi hoti"  was totally in line with her character and this is exactly what Mohid loves about her. Deep down Anmol also knows that Mohid is much more than just a 'barsati mendak' but she keeps on telling herself that because if she thinks on the same lines as her mother she might be afraid of what this person can do to have her in his life.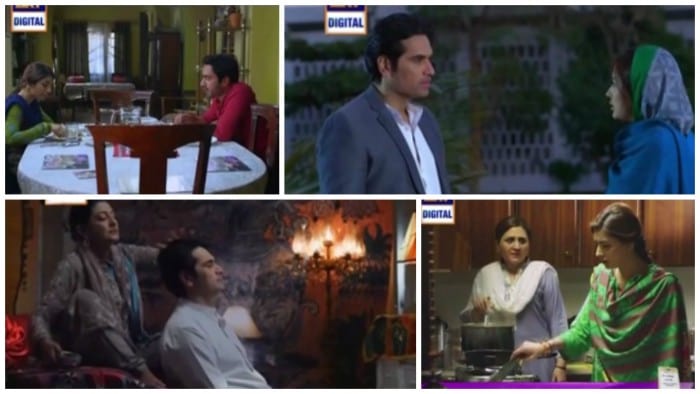 The way Mohid's mother summed up everything she had observed about Anmol's family was hilarious. I absolutely love Mohid's mother's character and the way Saba Hameed has brought this character to life on screen is commendable. I am watching her play a very different role in drama serial Guzarish and she is equally convincing in that drama as well.
"aao mujhe daryaft karo acha laga tu fatah kur lena" … I found the references of this kind in tonight's episode quite interesting. These witty dialogues made otherwise cheesy scenes more meaningful and added some depth to Mohid's character as well. I have been complaining about the leads till now but I must say that in tonight's episode there was definitely more of Anmol and Mohid – two equally interesting characters – than just Mehwish Hayat and Hamayun Saeed. Imran Ashraf was once again brilliant as Dastagir, he nailed every single scene! I can't believe that this is the same actor who is playing Asher in Gul-e-Rana.
The preview of the next episode suggested that Mohid will send his mother to Anmol's house once again. I am really looking forward to the next installment and hope that it will be just as enthralling as this one.
How many of you watched this latest episode of Dil Lagi? Do share your thoughts about it and if you missed it, watch it on http://www.dramasonline.com
Fatima Awan