This was another happening episode of Dil Lagi which surely gave me a lot of reasons to look forward to more action! I watched this entire episode waiting for that one scene in which Anmol is seen entering Mohib's house and it came at the very end!! Not fair!! I must say I loved loved loved Mehwish Hayat as Anmol tonight because in this episode apart from her jah-o-jalal we saw another side of her character. Anmol was scared of getting married to someone like Fareed and clearly fascinated by Mohid although she is too stubborn and practical to admit that just yet! In her attempt to run away from Mohid, Anmol ended up on his door step but we still don't know if this marriage will take place or not!! Anmol did not go to Mohid's house because she is in love with him but because she thinks he is the one responsible for Fareed's accident and she does not want anyone to get hurt because of her any more. Anmol has made a lot of impulsive decisions in these 5 episodes and this was yet another move which was a result of anger and frustration. I must say that Hamayun Saeed (Mohid) was the star of the show tonight because I felt for him and wanted to see him happy more than any other character in tonight's episode. All his scenes were written, directed and acted out flawlessly.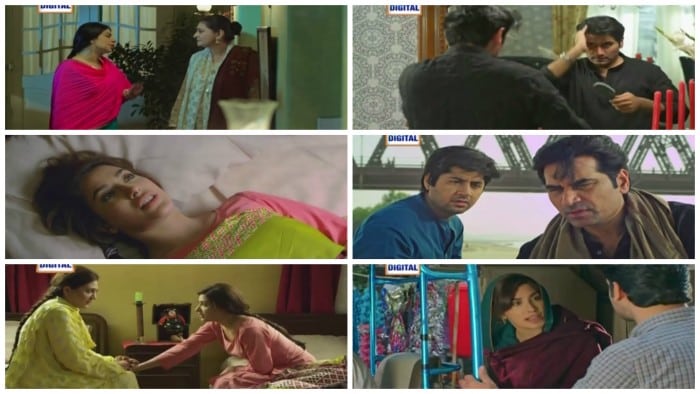 "Qabza sirf cheezo per kiya jata hai, malkiyat ka dawa jaidad per kiya jata hai magar dil sirf jeete jate hei." Mohid's conversation with Dastagir in his office showed that he had finally realized for the first time that he could not make a living and breathing person do things according to his own will. Anmol has taught him a lesson about life and people which he never got the opportunity to learn before. He is however still very sure that one day Anmol will realize just how much he loves her.
Anmol's attitude towards Fareed clearly showed she could not stand to be near him and she decided to marry him based on the same thinking that was behind Mishaal's engagement with Anas. She wants someone who she can intimidate, keep at bay and live her life the way she wants. Is that because this is the only way to live her life according to her own terms and conditions? Even with all these 'rules' she has set for herself and her sister she finds it really hard to be around Fareed and the thought of spending the rest of her life with him makes her depressed! Mishaal understands how Anmol feels because she has been engaged to one such man. Mishaal's dialogues in this entire conversation were spot on! The way Mehwish Hayat showed Anmol's disgust for Fareed was beyond brilliant. Her acting was top-notch in tonight's episode and her make-up artist deserves due credit for making sure she looked fabulous on the wedding day and all through the scenes in which she wore her mayu dress. Mohid's sister's scenes in tonight's episode, except the last one, showed only one side of her personality. She feels ignored and she also rightly thinks that her mother has completely different standards for Mohid. So far her character is the least appealing character in the play.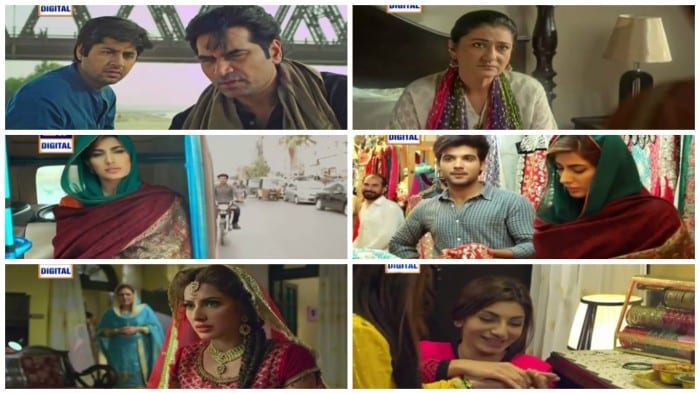 Mohid's mother's character has to be the second most appealing female character in this play after Anmol. Her double standards show her love for her son and even though you know she is being unjust you can't help liking her character. She will do the impossible to make sure that Mohid gets what he wants. She has a very friendly relationship with him and so far she is anything but the typical mother of our heroes in every other drama. Saba Hameed always makes all her characters stand out and she has managed to dojust that in this drama too. Dastagir's role in the play also has been a breath of fresh air unlike Bia in Mann Mayal whose over enthusiasm starts getting to you after a while! Imran Ashraf has been faultless in every single scene of all the episodes that have gone air till now.
This episode was filmy to the core; dialogues like "us jesi aik bhi mil jai na ama, mujhe bataye ka zarur" and so many more coupled with the way these scenes were directed gave it a very filmy feel. The comic dialogues and situations in the play are definitely an important part of  Dil Lagi which keep things from getting too serious.
I found the preview of the next episode slightly frustrating and my first reaction was what now???? Why does Anmol say no to maulvi sahab and why is Mohid not willing to marry Anmol instantly? Why does she have to argue with him, threaten him to make him go ahead with this nikkah? Waiting to find out the answers to all these questions.
How many of you watched this latest installment? Do share your thoughts about it. If you missed it, watch  it on http://www.dramasonline.com
Fatima Awan