It did not take Anmol long to make Mohid miserable! Mohid however remained patient and knew that the only way to win Anmol's heart was to give in completely! This episode opened with Mohid's mother trying to cover up for her bahu's latest adventure. Later on while Mohid's mother gave Anmol a lecture on sharm o haya, the news of Sabiha's disappearance came as a rude shock. Anmol obviously has no attachment with anyone in that house and she is there to make these people miserable therefore whatever she did tonight was in line with her character but it was sad to see a strong woman like Anmol who till now had used her strength for all the right purposes waste her time doing something that will not help anyone in any way.
Anmol was a working woman who was a pillar of strength for her family in every way possible but now she is just another sazishi aurat who is trying to bring people down to get back at them. Yes! Mohid made her life hell but Anmol is not doing herself a favor by wasting her talent and investing all her energy into making someone regret what they did to her. Anmol despised Mohid because he was a ghunda, which went to show that she did not have a high opinion of people who used unlawful means to get what they wanted. All of Anmol's principles went out of the window the second she took this decision. Anmol is no longer the woman who knew the difference between right and wrong. Although she disputed the notion that everything was fair in love and war in one of the previous episodes but in this episode she proved that indeed everything was fair in love and war!!! This is Anmol's war, she got married to someone only to make him suffer – is that really fair? Everything Anmol did tonight and even in the previous episode went to show that Mohid and Anmol really are not that different. They are both equally stubborn and they will do anything to achieve their objectives. Anmol blamed Mohid for pushing her to the point where she was left with no other choice. Right now she is seen justifying her actions because she thinks Mohid was responsible for that accident, I am wondering how she will feel when she finds out that Mohid had nothing to do with Fareed's accident.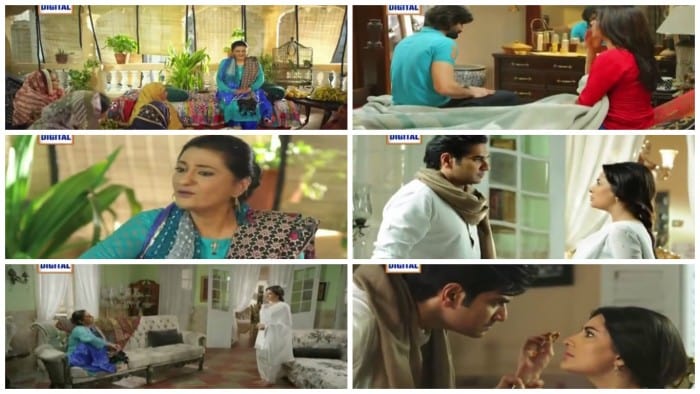 Fazal and Sabiha's track got a lot of screen time in tonight's episode and the viewers found out why Sabiha's mother did not let her go back to her husband. We don't know yet what exactly happened with Fazal after he was threatened of dire consequences but it was definitely something so terrifying that even today he is not willing to take his wife back. Sabiha does not blame Fazal for not taking a stand for her but she only blames her mother. The actor playing Fazal had wooden expressions and his dialogue delivery wasn't very impressive either. Mohid did not have to try very hard to take Sabiha back home. Mohid's conversation with his sister in the car went to show that he was only following orders and didn't really want to do all this.
Dastagir's scenes and his presence like always proved to be a good distraction from all the anger and hurt which seems to have taken over everyone's life ever since Anmol decided to take this bold step. Imran Ashraf has been very impressive in this role right from the first episode. It is very difficult to make people laugh and it is even more difficult to make the viewers fall in love with a character like the one he is playing but he does it effortlessly.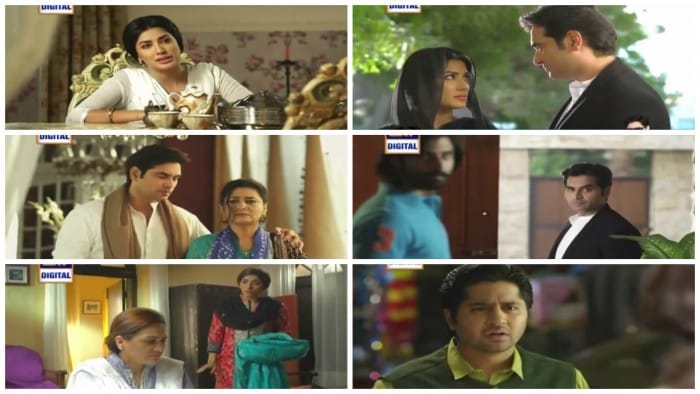 Mehwish Hayat's performance and her make-up was faultless in tonight's episode. There wasn't anything appealing about the fact that Anmol kept on judging Mohid and his mother while what she was doing wasn't very right either but Mehwish Hayat nailed every single scene in tonight's episode. Hamayun Saeed was very convincing as someone who had admitted his defeat without any reservations and was willing to surrender everything for the person he loved. Uzma Hassan is a very talented actresses but her character isn't very interesting so far. I am however waiting to see how Sabiha's mother 'welcomes' her when she goes back home.
The preview of the next episode showed that Anmol has met her match – Mohid's mother made sure put Mehndi on her hands even if she was not willing to change her dress! It also showed that Anmol will meet Fareed in the next episode – will this meeting clear the 'misunderstanding' due to which Anmol got married to Mohid? Mohid's miserable condition however suggested that things will not get better between these two even in the next episode.
How many of you watched this latest episode? Please share your thoughts about it. If you missed it, watch it on http://dramaonline.com/
Fatima Awan