Opening Thoughts – Lack of Clarity:
Ohkay so, this episode of Dil Mom Ka Diya had quite a lot of content to its credit but then if I have a look at the entire episode in general, I am forced to wonder if the story progressed or not? I totally get that the writer has established the main plot & everything that is wrong with Ulfat, but after watching everything that happened in this episode of Dil Mom Ka Diya, I don't think the writer has made it obvious as to what Ulfat actually wants from her life? Does she do all of this to derive some fun out of her one-dimensional well-settled life or she is habitually unhappy with everything? What is it that the writer is trying to show through her character here because I do understand that she has some issues but her reasoning is still not clear!?!
Black & White Characters:
Ulfat has a problem with everything & the series of new problems began after she started finding out about the things Afzal gifted to Kausar on her wedding – be it her furniture or jewellery. It is again unconvincing that Afzal kept everything a secret from Ulfat because they have shown that he literally shares everything with Ulfat & he clearly told her that he was selling the house for his business & Kausar's wedding, so he must have given her some more details, isn't it? Anyways, did Ulfat really think that Afzal would have sent his youngest sister away without giving her the basic gifts that she deserved? To be honest, even though Dil Mom Ka Diya is more like a guilty pleasure sort of a drama that you just tune to in order to see Ulfat & her antics but I am seriously getting put off with her one-dimensionally black character. I get it, she is negative & too blunt for people to like her but then is there something else? I am also getting tired of seeing Afzal too, yes, he is the white character here but then my question is, does he actually have a character? A personality? A stand of his own?
In the beginning, the writer did set a good example by showing a husband like Afzal who was always forgiving of his wife & her misconduct with himself as well as his family because I assumed there would be a shift in her character but now it is getting monotonous to the point of being boring because there is absolutely no change in the scenario. Afzal should have taken a stand on different situations because Ulfat has been pushing her luck for so long now & to be honest, she gets the edge to repeat her mistakes because she knows that Afzal will never bat an eyelid & will still treat her as a queen. Being considerate & soft-hearted is one thing but being a pushover is another & Afzal is a perfect pushover of a husband.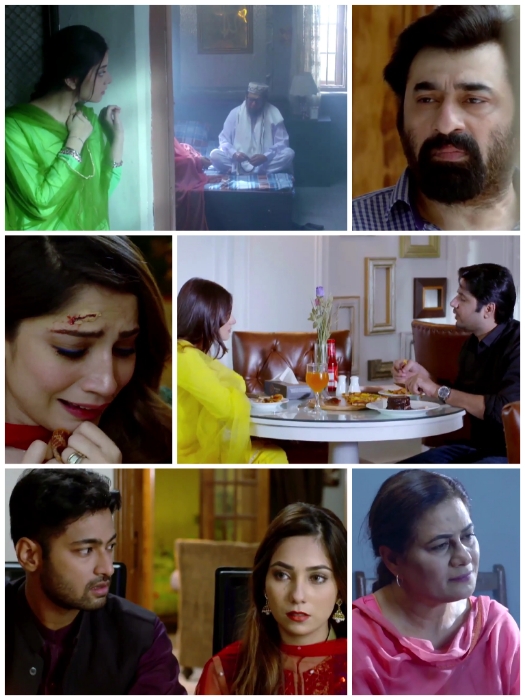 After everything that Ulfat said to Kausar's mum in law, Afzal distanced himself from her for a short span of time & then again went back to being normal without giving her any warning that she should not cross the line again. That was a perfect & a high time to draw the line but Afzal blurred it out & didn't bother saying what needed to be said.
Everything else is okay, Ulfat's bluntness, her misbehaviour but I don't agree with the writer's perspective of showing Ulfat cold & aloof towards her children. I guess the writer should have matured Ulfat's character in this aspect that Ulfat puts her children before anyone else because that is something that comes naturally to a woman & is in-built when she becomes a mother.
The entire Afza getting sick & Ulfat not bothering about her daughter scenario was pushed & dragged a bit too much. Also, they didn't make it clear whether Afzal assaulted Ulfat or she was making it all up because this is what I felt. I really think the writer took it too far by showing that Ulfat was ready to file a report against Afzal? I mean seriously? This is why I feel the writer has failed to establish the real deal regarding what Ulfat actually wants? Why would she do something like this against her husband whom she has decided to stay married to despite not wanting to? Ulfat seems to have a good time with Afzal, like their relationship has been nice & is a result of two-way effort where Ulfat does like spending time with him & shares whatever she feels like, so why would she go to such an extreme? It is all a bit fuzzy & not too well-established.
Also, considering Ulfat's father being a Molvi, it looks like he has never really sat down with her to guide her, in fact he himself gets involved & becomes a spectator every time Ulfat comes to his place after fighting with Afzal. In the beginning, Molvi Sahab seemed too concerned for his daughters that is why he got Ulfat married to Afzal in a jiffy, but ever since their wedding, he hasn't made any effort to keep Ulfat & her behaviour in control by telling her that she won't be entertained in this house if she keeps coming back after fighting with her husband especially.
Closing Thoughts – Zero Growth In Characters:
Overall, this episode just for the sake of viewing was quite interesting – yes, I will agree that Dil Mom Ka Diya in general is a decent watch but the zero growth in the characters – be it their mentality, attitude or be it their dressing sense is really making it unimpressive. Also, now that Azhar & Tamkinat had their Nikkah, why aren't they planning on the Rukhsati, like why is Azhar not in a hurry like he was before? Also, the preview of the next episode didn't really appease me, I mean Azhar has spent a lot of years with Ulfat to know that she can never wish well upon others, so to see him falling for everything that she will say against Tamkinat is a huge flaw in my opinion. Well, I am glad that in this episode there was one less girl in those unflattering coloured, cheap looking Chuuridar & Kameez – yes, talking about Kausar there but oh yes, even though she had herself covered with the dupatta, a sleeveless suit just didn't go with Kausar's personality that too when it has been shown that she comes from such a conservative background. Also, to make things look realistic I wish they had shown a decent sized house that Afzal was renting because this one was even bigger than the house he actually owned. Just some basic observations. Anyways, please share your thoughts about this episode of Dil Mom Ka Diya.
Keep Supporting,
Cheers,
Zahra Mirza.