Opening Thoughts:
Ohkay so, this episode of Dil Mom Ka Diya was decent enough to tune to. So far nothing special has happened but the focus on Ulfat's character as well as the message that the writer Saira Raza has tried to convey through it has been pretty clear. Dil Mom Ka Diya is the kind of drama that is easy to watch but doesn't really give you much to talk about because what you see is situational & nothing too deep to be discussed.
Developments:
Ulfat made it very clear that she won't allow Azhar to get married to Tamkinat. Ulfat surely has issues & they need to be sorted. It is appreciable that she is unapologetically herself, at least that is better than being a hypocrite but then the way she is trying to interfere in Azhar's life doesn't really suit her. The more we get to see Ulfat, the more it becomes hard to like her. There is nothing wrong in being straight-forward but there is nothing right in being rude & vile & sadly, Ulfat comes across as that now. Ulfat has always been vocal about how she doesn't & wouldn't tolerate anyone's interference in her personal affairs so why is she doing the opposite when it comes to Afzal's family members?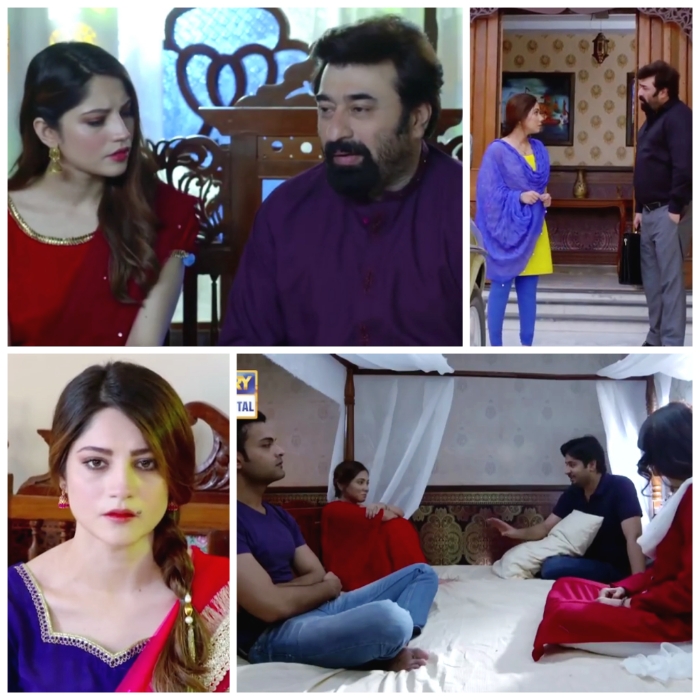 Ulfat has everything going for her, she has a well-settled husband who loves her, she has a roof over her head, a son & a family who takes care of everything around her, plus acceptance & tolerance that everyone has shown towards her, so the things that she says or reacts on basically make her look like a bored housewife who finds cheap thrills in twisting things & then reacting on them only to kill her boredom. It seems since Ulfat can't do much with her life & mostly has nothing better to do, she creates troubles for others especially Afzal as a time pass. The reasons that Ulfat mentioned where she didn't want to see Tamkinat at the same spot as her were shallow & baseless. Ulfat is also not even ready to let Farhat, her younger sister get married to Azhar which clearly tells that no matter which ever girl Azhar would've chosen, Ulfat would've had problems with her. Ulfat already knows that no one in Afzal's family holds high opinion of her, so it might be that she is scared of the constant comparison or competition she will be put through if Tamkinat becomes a member of her in-laws' family – but then has she ever bothered about what they think about her before? Not really!!! Ulfat herself has never really paid heed to anything that Afzal's family goes through so just because Tamkinat happens to be her cousin, she thinks she is entitled to react & oppose even though that's not her place to have a say anyways.
Afzal has really treated Ulfat with utmost kindness but she still chooses to stay aloof to his feelings. It is quite interesting to see that even so much of patience & positivity has had zero influence on Ulfat. I guess it has a lot to do with her own mentality & perspective where she thinks she is this trophy wife that Afzal has scored & he should worship it like some idol. Afzal's kindness is definitely being taken for granted but I am not sure what will happen IF Afzal will ever run out of patience.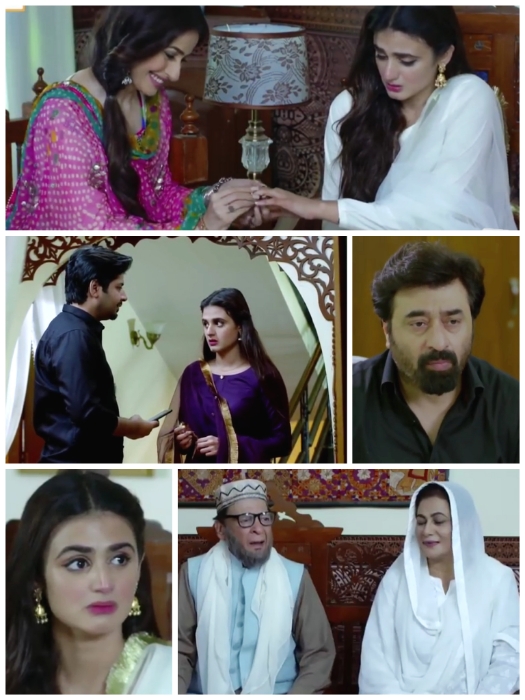 Azhar had to actually convince Tamkinat & even though she liked him, she was too scared of Ulfat & the consequences she will have to face because of her. I liked that scene where in one moment, they showed two different perspectives – Azhar confessing his feelings to Tamkinat was taken differently by Afzal as well as Ulfat, it showed how they both are poles apart. Afzal respected Azhar's choice & supported his decision & it was good to see him not letting Ulfat's objection cloud his judgement. All the things Afzal said about Tamkinat went to show that he had formed his own opinion about her because of which he was being supportive of Azhar's decision.
I really think Salma's character gets a lot of screen-time & it looks boring & monotonous because Salma has nothing new to say apart from dissecting everything that Ulfat has done so far. I liked how Kausar tried to make Salma & Aqmal understand that they should respect Azhar's choice & support his decision of getting married to Tamkinat because she is definitely better than Ulfat. Even in reality at times younger ones happen to be the voice of reason & this time around it was Kausar which was nice to see. This episode of Dil Mom Ka Diya ended on a positive note with Azhar & Tamkinat's engagement but looks like Ulfat won't sit still & do everything in her might to call it off.
Closing Thoughts:
Overall, this episode of Dil Mom Ka Diya was decent. This drama in general is the kind that one can tune to for good acting, direction, an eccentric central character & well executed family politics/dynamics. So far there's nothing new to the story but the overall treatment does make it a decent watch. I think all the actors have done a fab job in portraying their characters. There's a very real feel to this drama minus the overall styling of some of the characters. Please share your thoughts about this episode of Dil Mom Ka Diya.
Keep Supporting,
Cheers,
Zahra Mirza.