Whoop! It was such a power-packed episode which ended at such an intense note. I love love love the flow of scenes in each episode where the director exactly knows how to treat us. We get some light-hearted moments, some realistic conversations & then in the end we get a showdown which will change the course of everyone's life.
'Apna kaffan bohat shandaar chahti hoon, aj tak kaffan mai itna haseen koi na laga ho, itni haseen lagna chahti hoon'. Arjumand has very well come to terms with the fact that she is now married to Suhaib. Yes, she is hurt & yes, she is shattered, she also knows that she & Suhaib can never have the sort of relation she imagined to have with her husband but just like Suhaib has submitted to Agha Jaan's wishes, Arjumand has as well. For her, this relation is just a farce that she has to deal with for the rest of her life. I liked the fact that she was persistent on convincing Suhaib to face her & more than that, face the reality they both have to live with till they are alive. Even though Suhaib has gotten married to Arjumand, he still is lost & is struggling within. Even though he is Arjumand's husband & even though he knows that, he is still escaping all the responsibilities he has towards her. I liked Arjumand's approach that instead of giving him a silent treatment she decided to break the ice, obviously she doesn't want anything from this relation but she felt Suhaib needed that reality check to wake up & smell the coffee. They both are a husband & a wife & nothing can change that but what can change is the way they look at it, how they accept it & what they make out of it.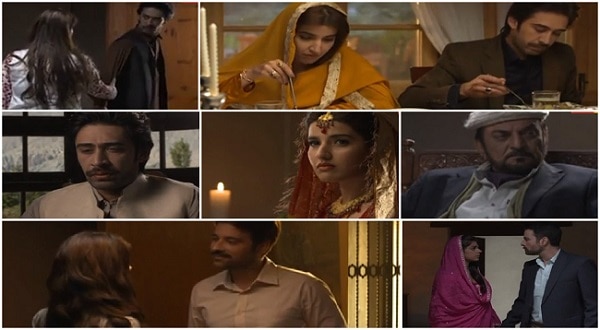 Yes, Behroz & Ruhina are completely in love with each other but I enjoyed all the conversations they had which revolved around the realities they have to face in regards to their limited resources. For a change it was a treat to watch a normal couple on screen sharing a very realistic relationship where they romance with each other, compliment each other & share the minute details, problems & their solutions with each other as well. Even though they both have had a rocky start financially but when they are together, they know how to push each other & they make all the tough circumstances look so easy just because they are ready to stand by each other. In this particular episode, I really felt that Ruhina's character got the coverage required for us to get to know her better so she opened up & made me actually like her. I like her for the unconditional love she has for Behroz. The way she motivates him & sheds off the burden he might feel due to the added responsibilities actually shows that she is an emotionally strong & an optimistic person.
To be honest, I was relieved to hear Behroz talk about Agha Jaan. At least he isn't as selfish as we thought he was. I like this story for the fact that we actually get to understand both the side of the stories & we actually feel for people on both the sides as well. I actually like Behroz & Ruhina's couple & I still feel they both were entitled to choose their life partners for themselves & I also understand the pain Agha Jaan is feeling because of Behroz's betrayal. Even though Behroz seemed completely lost in Ruhina's love, it was good to know that at the back of his mind, he always was conscious of how much he must've hurt Agha Jaan & Suhaib. Obviously, they all had a very small but close-knit family, so Behroz is completely aware of what he has done just for the sake of his love.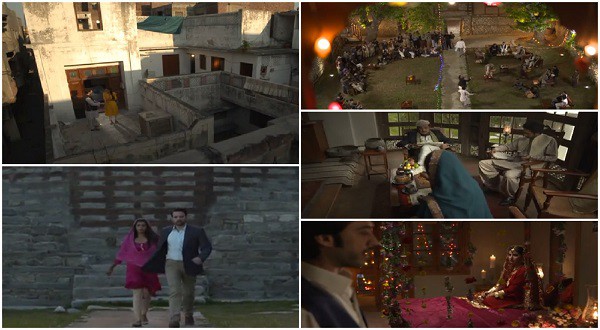 Sadly for Behroz, just when he decided to come to meet Agha Jaan, he came to see his dream of Agha Jaan going far away from him materialize. Ruhina actually really thought that she would be able to convince Agha Jaan & earn his apology but she wouldn't have imagined the sort of welcome she will receive. I knew it would be very tough to make Agha Jaan understand but for a moment I really thought he might soften up because we have seen him suffering too. We have seen how he misses Behroz's presence in his & Suhaib's life but just a sight of Behroz with Ruhina was enough of a reminder of the insult Behroz has inflicted on him all because of his lady-love Ruhina.
The showdown between Agha Jaan & Behroz was intense & was well written, directed & acted as well. Even though Suhaib, Arjumand & Ruhina didn't have a nerve to utter a single word, their expressions said it all. The way Agha Jaan insulted & belittled Ruhina was only to hit Behroz emotionally because he knew what Ruhina meant to his son, so he decided to get back at him using his weakness & concentrated solely on his wife. 'Ye kitni moa'zzaz aur kitne aa'la khandaan se hai, siwaye tumhare, sab hi dekh sakte hain'. For Agha Jaan, the criterion for someone to become his daughter-in-law is very high. We really thought that he just wanted Behroz to get married to Arjumand because she was his brother's daughter but for Agha Jaan, Arjumand didn't just qualify to become his family member because she was just his niece, for him, she is a blue blood who is modest, has good morals & values & comes from a strict yet decent background. Ruhina lost all her credibility just because her family chose to marry her off with Behroz without his father's support. Agha Jaan knew just exactly what will hurt Behroz the most & he carefully chose his words because like he said, he really doesn't want to have any sort of relation with him & he made it official that he has cut ties with him. 'Meinne appna dil mazboot kar liya hai, tum bhi kar lo', by saying this Agha Jaan sealed the deal & pretty much said what was left for him to say. He hasn't forgiven Behroz & he has decided that he will never forgive him. It is official, Behroz can never earn his way back into Agha Jaan's life & Suhaib has to learn to live without his brother too.
So, this was it from this episode. It was directed beautifully. I loved the way that they didn't only show how much Ruhina & Behroz were in love, but they actually took a time to show us that they were planning a life together. They wanted each other as their life partners & the love they have plays a pivotal role in their lives. I really felt that Sanam Saeed did an amazing job in this particular episode because until now, she didn't get enough chance to shine but now when she got it, she proved herself. I liked the way she projected her mindset through her body language. She is comfortable, she is ecstatic & she is happy just when she is around Behroz & it was so evident just by looking at her. I really liked how they added a softer side to Agha Jaan's character through the respect her has for Arjumand & how he was making an effort to make her feel special. Just because she is his daughter-in-law he felt she needed all the love, care & attention & he made sure she feels loved. I feel Hareem Farooq was just the right face for the character of Arjumand, the innocence she has & the difficulty she is facing was well executed by Hareem & I must commend the makeup artist for not burying her innocence beneath the deep layers of makeup, her makeup is spot on & was all that she needed to look her best. Abid Ali has given such a strong face to the character of Agha Jaan & he has done complete justice to this character's demeanour. I can't wait for the next episode already & I can't wait to see what Behroz & Ruhina's reaction will be, however I do feel after this incident, they both will grow closer to each other because Ruhina will now understand what Behroz has left behind all because of her & she will value his love more & Behroz will cherish her more than ever as he'll know she's the only family he has as of now. Please share what you felt about this episode & let me know your thoughts as well. :)
Keep Supporting,
Cheers,
Zahra Mirza.