I am loving this drama so far because of the realistic portrayal of all the ups & downs people go through in their lives. This is something I feel makes this drama unique in its own way because all the tracks & characters are offering us things which we all can understand & relate to in a certain yet different way. I enjoy watching Diyar-e-Dil for the fact that all the episodes have had a perfect pace & the story is moving forward swiftly & not to forget, the amazing performances are nothing short of a bonus.
I found it uber sweet of Bedaar Khan to set his elder brother Bakhtiyaar free of any guilt he thought he might be feeling because of what his son did. I actually thought Bedaar Khan mustn't have forgiven Behroz for how he left Arjumand in the lurch & ran away but the way he assured Bakhtiyaar actually showed that he was pretty satisfied with Arjumand & Suhaib's marriage. Being a father, all Bedaar Khan wanted was to see his daughter settled & when that happened, he had no reasons to hold a grudge of any sort against Behroz, which is why he tried to make Bakhtiyaar understand that he should let go of his anger by forgiving Behroz & accepting him wholeheartedly but what Bakhtiyaar said was enough to understand that talking him out of his firm decision was out of question as he had pretty much made up his mind & had decided that he was estranging Behroz for good & that wasn't due to what he did with Bedaar & Arjumand but because of how he let his father down.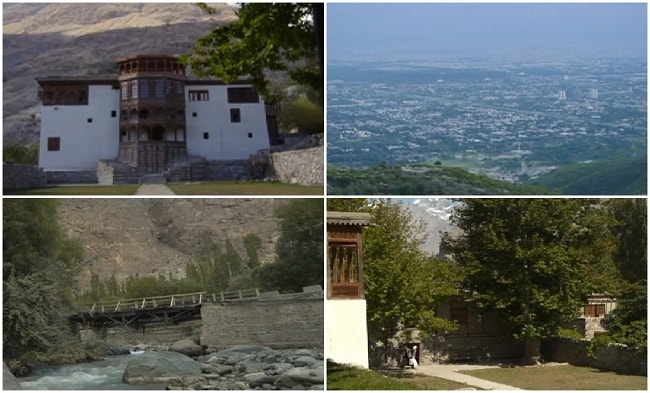 The way Behroz & Ruhina's return was shown was another highlight of the episode for me where they both tried to walk past what they had just experienced & tried to show each other that everything was normal which was totally opposite to what they both were feeling. Later what Ruhina said about Agha Jaan & Suhaib was completely out of the line because she couldn't see that no matter what Agha Jaan said, Behroz didn't complain & didn't discuss anything with her. Ruhina couldn't see that Behroz holds himself guilty & for all the right reasons because he betrayed Agha Jaan's trust so he was in no position to negate whatever Agha Jaan said. I liked the fact that Behroz drew the line straight away & set the limits for Ruhina. I think it was wise of Behroz to let his wife know that no matter what she means to him he will never give her an edge to say whatever she feels like about his father & brother because he still loves & respects them. Behroz has taken a stand for her but that doesn't mean he has forgotten his family; his father Agha Jaan & his brother Suhaib.
Even though I feel for both Arjumand & Suhaib, I think Suhaib is being unfair to his wife. Yes, he still hasn't accepted this marriage & Arjumand as his wife; I believe he is letting his submissiveness take a toll on this relation. Just because Suhaib didn't have a nerve to take a stand at the right time, he thinks avoiding & running away from his responsibilities & to be more precise; his wife is the only best solution to his problems. It is pretty obvious that even though Arjumand may now detest Behroz for his disloyalty, his presence still affects her. She still hasn't been able to convince herself that Behroz never loved her which is why just like a teenager she tried to comfort herself by comparing herself to Behroz's wife & his love Ruhina. Both Arjumand & Suhaib are tied in such a strange situation where nothing seems right for them. Just when I feel that Arjumand is trying to break the ice, just so that at least she can be in a comfortable zone around Suhaib, she taunts him giving away an impression that she likes to punish him for getting married to her. Agha Jaan's visit was something that they both weren't looking forward to because right now, they both haven't been able to convince themselves & each other that they should give this marriage a go. Suhaib only spent some time with Arjumand just because he took another one of those orders from Agha Jaan which he couldn't refuse obliging to & that makes him look like a very weak person, who only does what Agha Jaan orders him to do.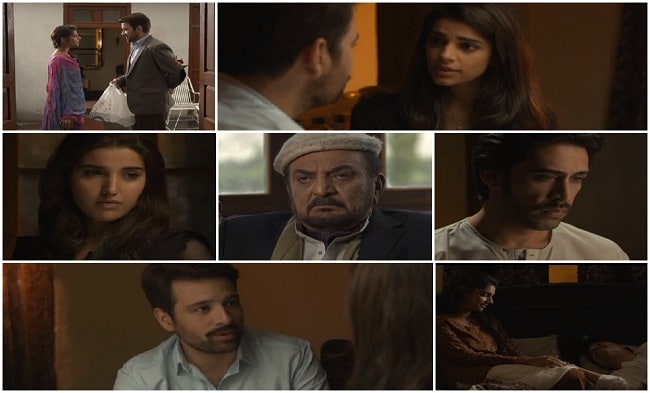 As much as I like seeing Behroz & Ruhina together, I also like the kind of beginning they both have had which is full of highs & lows because it depicts how real life is & how every couple starts from the scratch. To people, it may seem that they both are living a picture perfect life but if they take a closer look they will see that the only perfection they have is the love they both share because other than that, the circumstances & the situations they both have been through are far from being perfect. It was sad seeing their little happiness being short-lived where Ruhina ended up blaming herself & Behroz for hurting the people that meant the most to them both. Even though Behroz tried to calm her down, the following scene showed that what Ruhina said hit him as a reality check too because of which deep down he also ended up thinking that he lost his baby because he let his father down the most & he hurt him for which he now was regretful.
So, this was it from tonight's episode. I thoroughly enjoyed watching it & I feel gradually they have increased the intensity & intricacy of each & every situation with each passing episode. Both the couples are going through a tough time but as far as Ruhina & Behroz are concerned, it is too obvious that good times will roll in for them soon as they both have decided to stand by each other through thick & thin but when it comes to Suhaib & Arjumand, I am kind of more eager to know if they both will ever have a normal & healthy relation because the preview suggested something entirely different. I feel all the actors did an amazing job in this episode as well & everyone got a fair share to shine but in this episode Sanam Saeed stood out for sure & she actually made us feel the pain & heartache of Ruhina. I absolutely loved this episode & I hope you guys did as well. Share your thoughts & let me know your comments about tonight's episode of Diyar-e-Dil please. :)
Keep Supporting,
Cheers,
Zahra Mirza.