The ending of any drama reflects the kind of message that the writer wanted to convey through the story. Dobara's "happy ending" was extremely unexpected and perhaps not too convincing either since most of us are not as kind-hearted as Mehru ;) Yes, I had a difficult time forgiving Mahir and was not sure if he really deserved a woman such as Mehru. But there was definitely a hidden meaning there which I believe holds true even for such situations and people such as Mahir. While watching this ending, a part of me felt "cheated" especially because Mahir's redemption was the last thing on my mind. Honestly speaking, I tuned into this last episode hoping to watch Mahir lose and pay for how he went behind Mehru's back and said all those things about her. However, the last scene of this finale summed up the actual message of the drama which I feel most of us "missed". Mehru's kindness was her biggest strength throughout and in the end, it was this kindness that changed her destiny altogether. This show was never about Mehru turning into an independent woman but it was a love story after all! It was about Mehru winning in the end even though she was more than willing to let go and "lose".
I must say however that in the last scene Mehru and Mahir did not come across as a married couple; this scene could have been executed in a better way. Last week, I termed whatever Mahir did as irreparable damage but in this last episode, Mehru proved that love can repair even people such as Mahir. Mahir was after all a broken person who never received love and perhaps believed that he did not deserve to be loved.
Unexpected Ending
Mehru's meeting with Naheed was one of the highlights of this episode. We have seen quite a few strong women in Pakistani dramas over the years but I don't remember watching a protagonist such as Mehru lately. Her niceness and genuine affection for other people never came across as a weakness. It was always her strength because it came naturally to her. Mehru was always an empath who felt for others and the only time she put her feelings above someone else's was when she got married to Mahir. Naheed's question about whether Mehru's kindness really was genuine or not, is one that the viewers never had to ask. I think that is what makes this character a success even though there were many times when Mehru 'disappointed' me. But after watching this episode, I truly understood the message the writer wanted to convey through this character. I accept the fact that my expectations from Mehru were different altogether and the character itself was not meant to be "strong" in the way most of us wanted her to be. While we were all waiting for Mehru to take a stand for herself, the writer showed that she had a completely different viewpoint altogether. Hadiqa Kiyani was amazing as Mehru; she was especially convincing as a woman who could feel other people's pain. She carried her character so well that even when Mehru's actions were not in line with my expectations, I always liked watching her on-screen.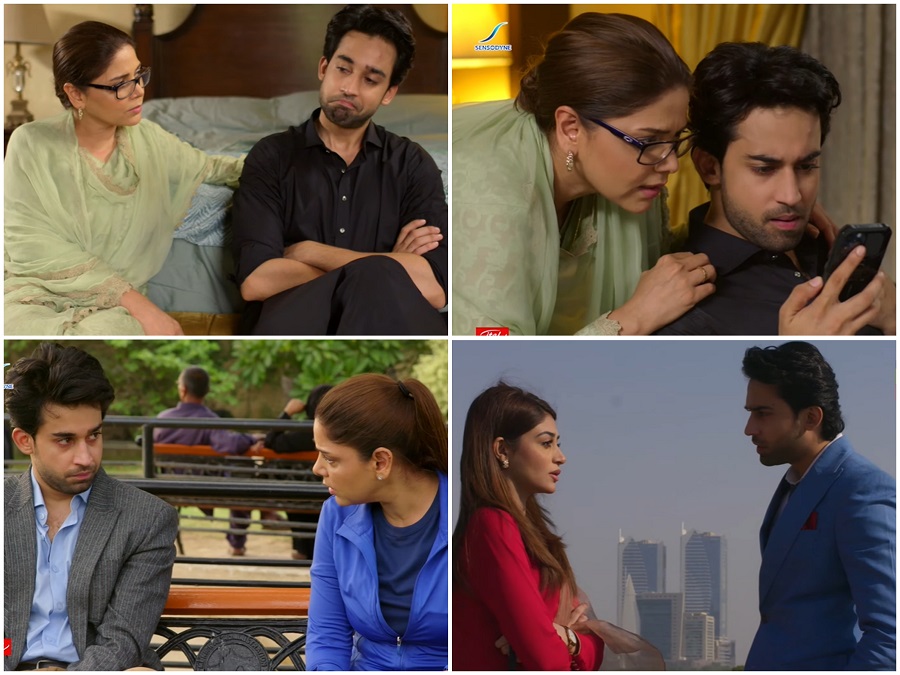 Mahir and Narmeen's track throughout this last episode suggested that they were both confused about this decision. I am glad that the writer did not show Narmeen as a completely heartless and selfish individual. Mahir's change of heart and his dialogues about how much he loved Mehru were hard to believe. The way he changed after 10 years was definitely more convincing since he was always in search of a mentor and he found one in Mehru. Minal's conversation with Mahir perhaps made him change his mind somewhat since no one had ever trusted Mahir the way Minal was putting her faith in him now. This character definitely came a long way and watching his journey was wholesome. The previous few episodes were not the best, it would have been better if this part of the track was covered in a different manner. I am finding it difficult to imagine Mahir so in love with Mehru and still going ahead and doing all that he did. For the longest time, Mahir was the star of the show. Bilal Abbas Khan's effortless performance throughout the drama won me over multiple times. I am glad he chose to play this character.
Final Remarks
Dobara had a decent ending and I felt that the final message of the drama was nothing short of a pleasant surprise. However, overall, some of the dialogues and situations could have been much better, especially in the last few episodes. The way Mahir's changed feelings for Mehru were shown in the past two episodes, made it difficult for me to accept that he loved her in a way that he could never think of living without her. All through the drama, I found myself wondering why the story was more about Mahir and not Mehru. However, this ending definitely belonged to Mehru because she kept her dignity and love for Mahir intact right till the end. It was all shown in such a manner that even someone like me who wanted to see Mehru doing something extreme, felt that it was good that she did not do that.
Dobara was not "perfect" but overall it was a well-put-together and meaningful script. Sarwat Nazir and Danish Nawaz make a good team; however, I feel that the production houses should stop pressurizing creative individuals to prolong projects only because a certain drama gets attention and ratings. Each one of the actors performed their respective role so well that the person who chose these actors for these roles deserves special appreciation. The supporting cast was just as impressive as the actors who played the lead roles.
Special thanks to all those awesome readers, who read the reviews every week and shared their views here. What are your thoughts about this last episode?