Akbari Asghari; adapted by Deputy Nazir Ahmed's Urdu novel Mirat Ul Uroos, produced by Samina Humayun for her production house Six Sigma, written by Faiza Iftikhar & directed by Haissam Hussain. What a combination. :)
It's a story depicting the very basic concept of 'never judging a book by it's cover'. 'Appearances are meant to be deceptive', this is another example which defines Akbari Asghari for me. I can't begin to tell how much I have enjoyed watching this drama twice & I think I can give it a go again & again because the main factor is, you can never get bored. All the actors have enacted their characters brilliantly & I am sure they themselves wouldn't have known what they were doing for our entertainment & how grateful we would be to them. :)
The list of the actors & the characters is:
Ali Aijaz as Kareem Fazal Chaudhru (KFC)
Nasreen Qureshi as Bay Jee
Ashraf Khan as Luqmaan
Nayyar Ejaz as Peer o Murshid
Nargis Rasheed as Shaheen (Sheen)
Rehan Sheikh as Hatim
Amna Ansari as Kulsoom (Kim)
Imran Abbas as Akbar
Humaima Malik as Asghari (Sara)
Fawad Khan as Asghar
Sanam Baloch as Akbari (Becky)
Humaira Ali as Batool Pupho
Kiran Haq as Shabbo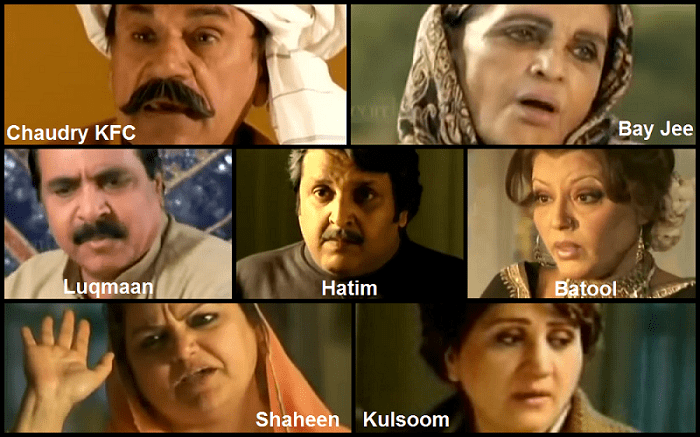 The Family:
Yes, it was a family of Chaudhry KFC, with Bay Jee as his sister, Luqmaan, Hatim & Batool as his childern. Luqmaan was married to Shaheen & had two sons Akbar & Asghar, who lived with Chaudhry KFC in a small village in Punjab – Pakistan. Hatim was married to Kulsoom, had two daughter Akbari & Asghari, he was settled in UK, ran a cab & Kulsoom had a catering stall she looked after. Batool was married to the industrialist in Sialkot & had the only daughter Shabbo.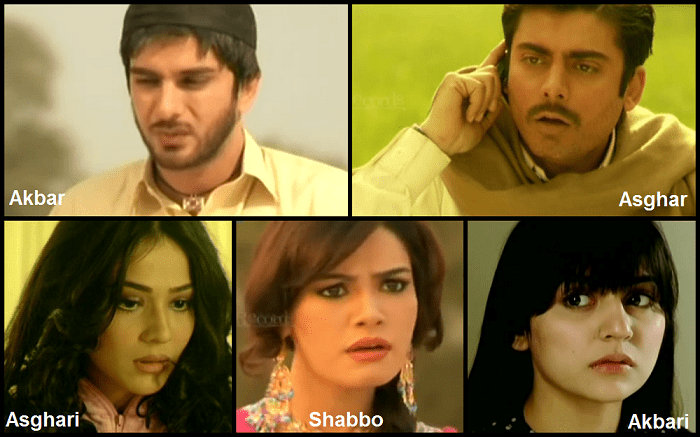 The Story:
Story was about everyone having an ulterior motive except a few elders of the family. Some had them for the betterment of their family members while the others spun them for their own selfishness. Akbari Asghari is a story of two sisters, Becky & Sara. Becky was manipulative, loved to be in everyone's good books, pretended to be innocent & very sweet but deep down she was very sharp & knew how to mold situations for her benefit; whatever the cost may be. Sara on the surface might come across as a girl with very liberal values & no morality but in actual she was more upfront, straight forward & always had the accurate argument backing with logic to prove herself right. It was just about the time when Becky almost elopes to be with her non-Muslim boyfriend Roger but just in the nick of time her mother Kulsoom finds out about it. Becky heart-broken after finding out about Roger's marriage then promises her mother that she will go to her father's hometown & get married to her cousin Akbar.
Akbar who had left everything worldly thinking he was doing everything right for the sake of his Deen spent his life following the footsteps of his peer o murshid. Asghar, the youngest, everyone's favorite & Gaon's Casanova was always in a search for someone suitable who'd benefit him materialistically. So, finally the moment arrives when the promise has to be materialized. Promise that was made years ago at the birth of Akbari & Asghari when they were verbally engaged to their first cousins Akbar & Asghar.
Kim & Hatim who have high hopes for Becky dread marrying her away to Akbar – the fundamentalist of the family. Akbar on his own tries to walk out of the marriage because he thinks modern khatoon was way out of his league. Asghar being the opportunist senses Akbar's distress & gets ready to be sacrificed for the sake of his brother. This is how Akbari & Asghar get married. I loved the fact that even though they were shown as two different people, they were totally the same; manipulative, & dishonest but the only difference that set them apart was Becky being more mature & clever whereas Asghar was gullible & naive. Things spice up a lot when Batool & Shabbo come in the picture because Asghar has made some promises to Shabbo as well but very easily he ditches her & gets married. Akbari keeps on manipulating Asghar because she wants out of this marriage & spend her life free from any obligations. She loves being loved & appreciated because she can't tolerate being in anyone's bad books. Asghar right after his marriage earns the title of Zan Mureed by being totally smitten with his wife, he obviously does it thinking this way he'll be able to go abroad with her & settle there on the expense of his FIL's business.
After Asghar Akbari's wedding, Akbar accompanies Hatim because everyone tells him to take care of Hatim & his business after his heart attack so that his Chacha could rest. After finding out the reality of his Chacha & Chachi that they owned nothing which they flaunted about – Akbar tries to bring them out of their complexes & earns their respect because of his modesty. This paves the path of Asghari's likeness towards Akbar because she finds herself getting attracted to such a humble person like him. Becky now ups her plan & starts fabricating the lies against her in-laws so that her family helps her walk out of her marriage but things go totally unexpected when Sara agrees to get married to Akbar thinking she will be with Becky & would undo the zulm going on with her sister. Akbar agrees to this marriage because according to his peer o murshid, he'd be doing this girl a favor by bringing her back to her long lost path of the Deen.
At first Akbar finds it hard to cope with the be-baak Asghari but as he gets to know her, he finds her submissive, practical, logical & falls in love with her. Asghari who has prejudices against him also after understanding him better knows that he is honest, down to earth & is a gem of a person but has been trapped by a fake peer o murshid because of Akbar's blinding trust in him. Asghari jumps into a situation just for Akbar to rescue her from his peer o murshid & that's when they confess their love for the first time. Akbari who later finds out that Asghar was in an awe of getting such a perfect wife feels guilty & rest Shabbo's clinginess to Asghar does the trick of surfacing her deep etched love for her husband where she rectifies her mistakes & promises to be a good wife & daughter in law. Finally & last but not the least, Asghari takes the situation in her hand & sends Bay Jee away to her actual home – the home of her husband which she rejects going to at the day of her marriage for the sake of her brother's dignity & in the end they all live happily ever after.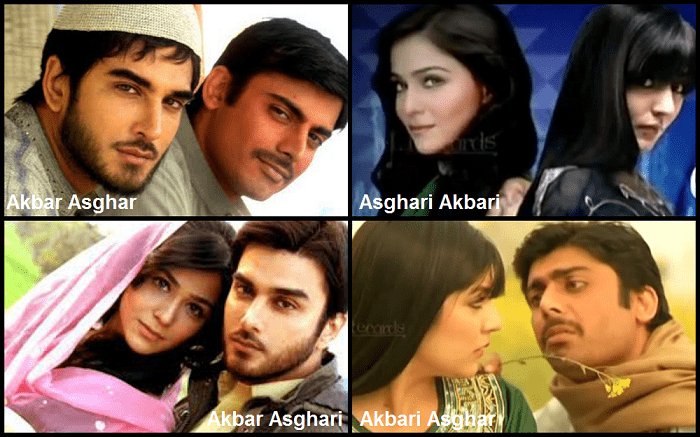 The Brilliance of Akbari Asghari:
I loved Akbari Asghari for the fact that it highlighted thick issues very lightheartedly such as complexes, insecurities, ulterior motives, misunderstandings, family politics & what not. Each & every episode was like a roller-coaster ride of laughter along with emotional moments. I can convincingly say that this drama was entertainment personified because even though they tackled things with humorous, the underlying issues still remained the focal point & were handled brilliantly. Undoubtedly, for people like me who like to tune into lighthearted realistic dramas, this was actually real because people in their daily lives do have such fun moments too which were portrayed with perfection in Akbari Asghari.
I loved all the characters of Akbari Asghari but I must say the star of the drama was Nargis Rasheed as Shaheen or Sheen as Bay Jee called her. Not only Sheen but all the female characters in this drama were perfect examples of how ladies of the family should be – strong, confident, like a binding force & forgiving on tops. I must especially mention the bit where Shaheen & Akbari come to a closure with seeking forgiveness & apologizing to each other was the best moment for me, it went to show how easy is it to let go of the past mistakes & work towards the better future. This is exactly what we need to see in our dramas, some strong headed but bighearted females who know exactly how to run a family. Apart from Shaheen, another interesting character was of Batoolan Pupho played by Humaira Ali brilliantly. I loved her fixation to English & her translations were just perfect. Kiran Haq was adorable as Shabbo & I think she did justice to her part as well. Well, what can I say about Nasreen Qureshi. I love love loveeee her Punjabi fluency & she made me love Punjabi more, she was adorable through out the drama & it was a treat to watch her as Bay Jee.
I loved this drama mainly for the reason because Akbar & Asghari's characters went to show that how exactly religious matters can be handled. Akbar thought he was just doing things right – which he undoubtedly was, but just the little input from Asghari made him tackle his religious side logically as well. There were some amazing dialogues that targeted the mindset & notions of people which they might have towards someone who is trying hard to adapt the religious way of life. No one could've ever thought that a broad minded girl like Asghari could actually have a religious side to her as well but what stood out the most for me about her character was the logic that she always presented in each of her discussions.
I loved Akbari Asghari for the fact that each & every character had an important role to play, starting from Chaudhry KFC to Peer o Murshid, there was not even a single character which seemed boring, forced or someone who had nothing to contribute to the story. Every character was just as important as the other because together they made this drama a master piece.
I loved the Gaon touch, the use of Punjabi, the direction, the screenplay, the dialogues, the story & every thing about this drama & I must say that Humaima Malik & Imran Abbas outdid themselves & they stood out the most for me. Sanam Baloch & Fawad Khan were great as Akbari & Asghar as well & all the other actors were brilliant as usual because the director brought out the best in them.
I loved this drama, hence I label it as a complete package of entertainment. Do share your views about Akbari Asghari if you enjoyed it as much as I did & those of you who have missed this drama, go watch it NOW! ;)
Keep Supporting,
Cheers,
Zahra Mirza.