Expressions are the only weapon that can make or break an actor. The only way for any actor or actress to convey the crux of their character is to be expressive. We have always praised a lot of actors for their memorable performances because they didn't hold back when it came to the expressions but sadly, we can't say that about all the actors of our industry.
Here, when we talk about expressionless performers, we are speaking about them resorting to similar sort of expressions in all of their performances, making the viewers confused about what they actually want to convey. Here's a list of few of those respected actor & actresses who have been a bit skeptical in letting go of the appropriate expressions that are needed given the situation:
Mahnoor Baloch
The pout must stay everything else is secondary!
Mahnoor Baloch is very pretty, there is no questioning that but sadly her acting has never been impressive. The constant pouted expression on her face remains the same no matter what her character is going through. She looks cute as a button but the cuteness does not fit into all the scenes and every character that she plays.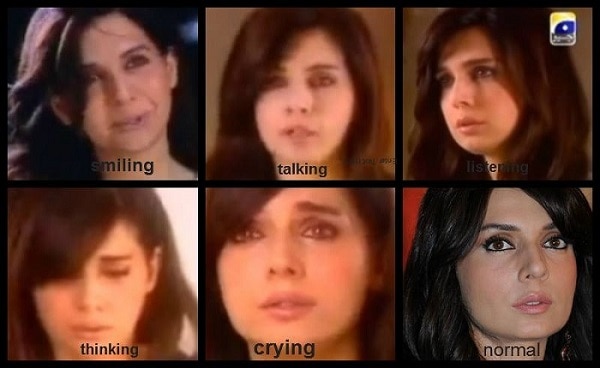 Suhai Ali Abro
Why So Serious?
I must say this girl has deceived all the viewers every single time. In all the title tracks of her dramas she comes across as a chirpy, happy-go-lucky girl who lives her life to the fullest but the moment drama begins she endorses the never-ending pain on her face as if her life has never offered her anything apart from miseries. I am sure you're capable of smiling & laughing as well Suhai, so do give it a try once a while, it's a nice exercise for the face too. ;)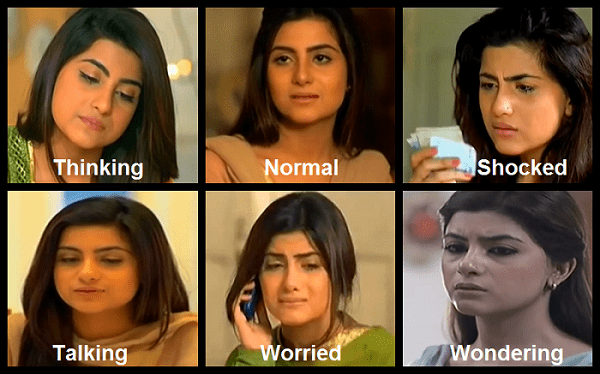 Faris Shafi
Acting is a VERY serious profession. ;)
This gentleman takes his acting very seriously! how do I know that? Well, it is quite evident from the chronic anxiety on his face! Faris Shafi has a very expressive face but the problem is that those expressions remain the same in all situations.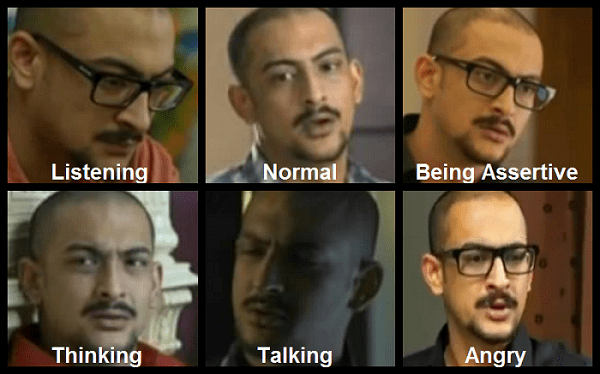 Mawra Hocane
It's time to wake up!
She is such a pretty face & her selfies on her FB page do tell that she can pull off all the humanly possible expressions but not sure what goes into her in front of the cameras. The typical 'mai-so-rahi-hoon' face is burdensome to watch in all the dramas & now when I come to think of it, I have never seen this girl laugh, as in laugh like a proper laugh. Prove me wrong sweety, prove me wrong.
Life is tough!!!
If you press the mute button while watching one of Faizan's plays, you will never know what his character is going through because Faizan looks very upset with life all the time! He is also one of those actors who need to be more generous when it comes to expressing themselves.
I hear a sad song in the background.
I know she has grabbed a lot of compliments for her performance in Ullu Bara-e-Farokht Nahi & even I became a fan of her elegance in Kahi Unkahi but I don't know why I never see a change in her expression. She seems like a sad sculpture whatever the scene may be. Despite the fact that she is one of the most graceful ladies of the industry, I would appreciate if she uses her expressions a bit more casually & doesn't hold back.
I am cute and I know it!
Tipu Sharif fails to show his emotions in an impressive manner through his expressions perhaps because he is another actor who is very conscious about his looks. Most of the times he concentrates on looking cute, which in my opinion does not count much.
If only singing could help!
Yes, I think it's totally cool if a person wants to explore different domains but when it comes to the acting, it's not an easy feat. Acting needs a lot of hard work & lot of expressions too yes, I insist A LOT which have never made it to our screens through this young & fresh self-proclaimed actor.
Earth, Country, City, Suburb, House, Room for improvement!!!
Yes, we have seen her play the oh so daring role of a sister's husband snatcher BUT I wish I could see her eyes express what her expressions can't. Even though she is doing a considerable amount of work in the industry & is seen on our TV screens every now & then, her expressions are yet to be revealed. I say that because I feel her expressions never make it to her eyes making her acting very bland.
Plastic surgery limits a person's ability to make full facial expressions!
Nadia Hussain's facial expressions are always very stiff, as if she has trouble giving a full facial expression. I can't help but think that the reason for this stiffness maybe because of botox and all the surgeries she has undergone. The lack of expressions definitely does not help her acting career in any way.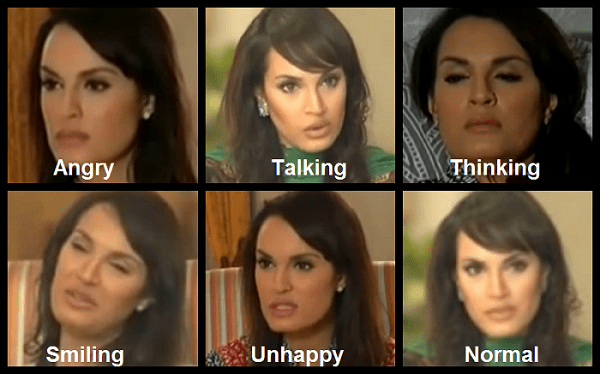 Mikaal Zulfikar
I am bored & I show it!
Despite the fact that he has worked in so many dramas but he still has to make a mark in terms of expressing his real emotions. Whether it's the expression in the dialogues or expressions on the face, this fine gentleman is definitely guilty of being skinflint in this department.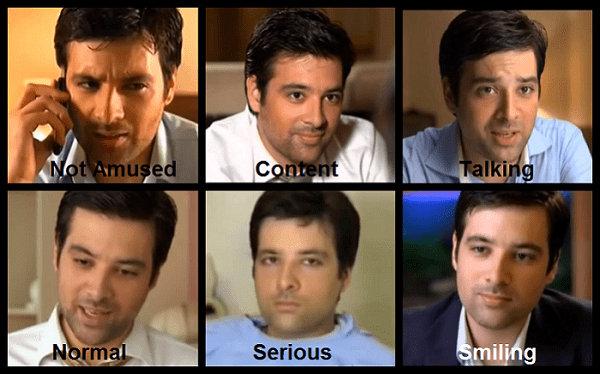 So, yes, this was our list & as a little disclaimer we want all the readers to know that this article was meant to be funny so there's no need to take it seriously at all. Share your opinions with us about the actors who you think must up their game in the expressions & yes, trust us, no pun, only fun intended. ;)
 Zahra Mirza & Fatima Awan.