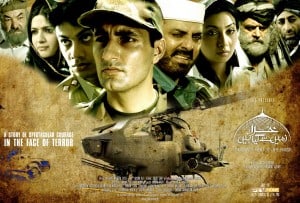 So many dramas; so little time! This is quickly becoming the story of my life. I find myself trying to catch up on as many recommended ones as I can and more often than not, I am not disappointed. My pick for the Drama Of The Week segment is Khuda Zameen Se Gaya Nahin Hai.
Background
Written by Asghar Nadeem Syed, directed by Kashif Nisar and produced under the banner of CRS Public Relations, the drama aired on both HUM TV and PTV Home in 2009. Some of the main actors are Ayub Khosa (Khaista Gul), Noman Ejaz (Zargul), Sara Chaudhry (Palwasha), Rasheed Naz (Rahman Gul), Syed Jibran (Captain Asfandyar), Captain Zeeshan Malik (Captain Taimoor), Najeeba Faiz (Zarghoonay), Aisha Khan (Gulbano), Azeem Sajjad (Major Rashid), Faizan Khwaja (Salman), Tipu (Bilal), Erum Akhtar (Dr. Maria), Kamran Mujahid (Ditta), Rashid Mehmood (Molvi Allah Baksh), Taifoor Khan (Dr. Sher Jan), Sophia Khan (Ayesha).
A Tale of Two Brothers
Khaista Gul and Rahman Gul are brothers who lived a destitute existence. After the death of their mother and father, they both went their separate ways- Khaista Gul headed to Afghanistan while Rahman Gul went to Peshawar. Rahman Gul strived to improve his life by seeking an education- he was an established businessman, married and father of three children- two sons, Dr. Sher Jan and Captain Asfandyar and a daughter Zarghoonay. Khaista Gul became a self-proclaimed jihadist leader and fueled by his rage against the privileged and infidels, waged war against anyone who opposed his beliefs. Using religion as his basis for dispensing justice, he seized control by exploiting the minds of the impoverished residing in areas of the frontier province. He had a son, Zargul, who was tasked with the responsibility of driving back and forth to conduct business and a daughter, Palwasha who lived in the chaar deewari as a slave.
Perception: Homegrown Terrorists vs Shaheed
Khaista Gul became a terrorist warlord funded by unknown sources. His network comprised like-minded fundamentalists who opposed the government and wanted to form their own government and establish their interpretation of Islamic Law- Shariah. Khaista Gul's men spread fear among the people- they shunned women into their homes and executed those who stepped out. They bombed girls schools and openly warned women to wear burqas. Zargul was skeptical of his father's ways and pondered over the purpose of his existence. Listening to a tape his father used to 'educate' his army of militants, Zargul became restless in his quest for seeking heaven- he wanted to become a Fidayeen. Khaista Gul's network was widespread- starting at the grassroots level was Molvi Allah Baksh. It's interesting to note that they used madrassas (Islamic schools) as a breeding ground for suicide bombers by tactfully controlling young minds by interpreting Islamic verses that suited their 'cause'. Many of the villagers in the neighboring areas who lived in abject poverty felt their sons would stand a better chance of survival in an institution where they would not only be educated, but also obtain the basic necessities of life. Little did they know, the molvis would instill extremist ideologies and encourage freedom fighting against their own brethren. These khudkush hamla'awar (suicide bombers) were under the false impression they were shaheed (martyrs)- those who sacrificed themselves for the true cause. The motto they lived by was Margayein toh shaheed, wapas agaye toh ghazi. Sarfaraz Ahmed was a survivor of the Afghan Jihad– he selected students from the madrassas and took them to their training camp to complete their militant training. Bilal was the Deputy Commander who was engaged to Palwasha. Salman, an IT expert joined hands with Khaista Gul seeking some form of retribution against the west. Ditta was the 'chosen one' who was training to become a suicide bomber and pave his way to heaven.
The real shaheed- our brave soldiers
Pakistan Army was faced with the dilemma of regaining control of the areas that were under siege by Khaista Gul. Working in collaboration with the Frontier Corps, they tried relentlessly to fight back and restore the area to it's previous harmonious state. In the line if duty, many lives were lost- one of them being Captain Taimoor. Others were civilians- Gulbano, a Swat resident, widowed with two children who was kidnapped and killed for refusing to quit her job and stay at home. A German school teacher who was on a visit to Pakistan and countless innocent lives that were lost as a result of the various suicide bombings. After many attempts, the soldiers managed to successfully penetrate the difficult terrain and clear out the terrorists. But this was no single victory, it is an ongoing battle and there are many out there who are led astray and take on extreme measures to make sense of their existence.
Final Verdict
This drama brought out the covert patriot in me- I silently cheered for our heroes and I cringed at every defeat. I was in awe of the magnitude of the production. Probably for the very first time, after watching 16 episodes, I was craving for more. I loved the sleek direction, the spot on editing, the impeccable acting and most of all, the though-provoking storyline. I loved the locations, the uniformed men, the many unforgettable moments like the soldiers performing namaaz praying for victory before setting out on their mission, the narey takbeer, the do-or-die determination. Ayub Khosa made a very convincing and ruthless Khaista Gul; Noman Ejaz didn't fail to deliver as Zargul; Sara Chaudharay was innocence personified as Palwasha; Syed Jibran brought immense strength to the role of Captain Asfandyar; Aisha Khan was commendable in a support role. The supporting cast complemented the main characters resulting in a superior finished product. One of the strong suits of this serial was that it stayed true to it's core focus- there were many characters and multiple story lines but the message was never lost. Each episode or chapter as it was called, had enough drama and tension to keep you wanting more. The soundtrack deserves a special mention. Sung by Rahat Fateh Ali Khan with music by Sahir Ali Bagga, the soundtrack is deep and meaningful with soulful lyrics and soothing melody. Have you watched this serial? What did you think? Did it make you appreciate our Army or empathize with those that are exploited in the name of religion? Did the message resonate? After all, asal jihad apney nafs pe qaboo pana hai!
Yours in watching,
Kanwal Murtaza