La Hasil, writing of Umera Ahmed which was dramatized by the production of Momina Duraid & direction of Angeline Malick. I remember it was one of those few dramas I watched when HUM TV had just started & this one remained with me for years. I loved watching it from beginning till the end because of the message this drama carried, backed by some brilliant performances.
The cast includes:
Noman Ijaaz as Mazhar Adaab
Angeline Malick as Katherine/Khadeeja Noor
Fahad Mustafa as Zain Adaab
Faiza Hassan as Maryam
Seemi Pasha as Nuzhat
Khalid Ahmed as Shuja
Yasir Akhtar as Firoz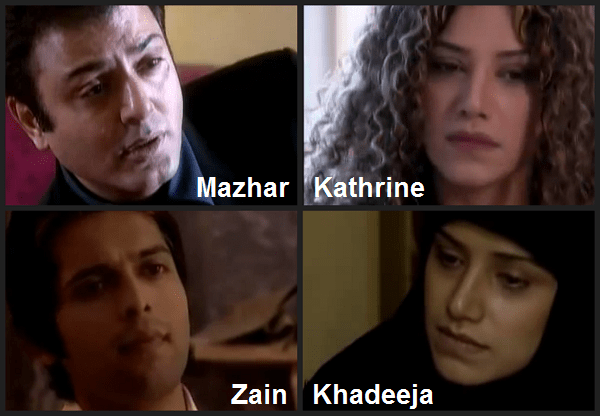 La Hasil:
It's a story of redemption of someone & regrets of someone else. It's a story of bringing out yourself from filth & then walking on the path of self-rectification & self-righteousness. It's a story that tells when someone finds the light by the Grace of Almighty then nothing else matters anymore. It's a story of Katherine who becomes Khadeeja Noor. Story of an escort who in the later years of life elevates herself to the level of piety & puts the rest of those self-proclaimed pious people to shame.
Katherine who grows up to see her British mother being deceived & ditched by a Pakistani father always had detested Pakistani men until she meets Mazhar who instantly falls in love with her. Because Kathrine never had seen a father figure in her life who would be protective of her, who'd set the limits of right & wrong for her, she chooses the easiest way of earning money but always feels she needs to come out of it. In the form of Mazhar she gets that leading figure, someone worth leaving all that for & she decides to set herself free from everything she was involved in. Mazhar promises to spend the rest of his life supporting Kathrine but even though she wants to tell him about the past, Mazhar always insists her past doesn't matter because he knows that to which social background she belongs, having meaningless affairs is a norm. Mazhar accepts her wholeheartedly but even though he lets her know in the very initial stages of their married life that he is conservative & would appreciate if Khadeeja would accept everything he tells him, Khadeeja surprises Mazhar when she molds herself according to Mazhar's liking & proves herself to be a sincere & devoted wife.
While Khadeeja learns & explores more about Islam, she finds it necessary that nothing must remain a secret between her & her husband but because the Mufti tells her not to disclose her past as Allah forgave everything she used to do the moment she embraced Islam, then there's no point in letting the past haunt her present, she chooses to remain silent because she doesn't want to hurt Mazhar. Khadeeja's life shatters when an acquaintance from her past & Mazhar's best friend pays a visit to their home. That night Mazhar finds out everything about who Khadeeja was as Kathrine & because he chooses to overlook her present over her past, he divorces her straight away & leaves her alone taking their 3 year old baby boy Zain along with him.
Khadeeja even stumbles upon her best friend Samantha who tells her she needs to let go of the values Mazhar taught her because he's gone but just because the Khadeeja finds herself attracted to the path of righteousness, she decides that nothing will make her go back to what she was. Khadeeja gets married to a man twice her age in Pakistan in the only hope that she'd ever be able to meet Zain.
Shuja her current husband finds out everything about Khadeeja because she chooses to tell him everything & waits for his decision of leaving her but Shuja surprises her when he tells he can see her present & it doesn't matter what she was before. Khadeeja & Shuja then adopt a baby girl Maryam & raise her as their own child. Maryam never finds out that she Khadeeja & Shuja rescued her from a garbage bin near their home & always degrades Khadeeja for spending a life way too simply despite belonging to the UK. She dreams high & big & the moment Zain approaches her for marriage, she agrees. Khadeeja because of Zain's surname finds out who he actually is & agrees to their marriage.
Zain happens to find out that Khadeeja is his mother but after finding out everything about her, he not only forgives but accepts her & tells her that he loves her because of who she is now & not who she was before. Khadeeja's lifelong misery ends when she spends the last days of her life with Zain.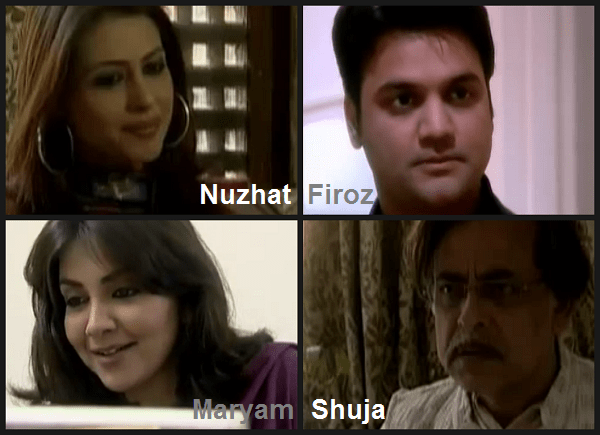 Brilliance of La Hasil:
La Hasil has been one of my favourite stories written by Umera Ahmed because of the obvious reasons. She touched a very complex topic in this writing of hers but opened a window of new thinking. The experience of La Hasil gives us an insight about how weak people can get when it comes down to judging others. Mazhar who had promised Khadeeja a lifelong togetherness & support leaves her just like that because he can't see himself coming to terms with the fact that Khadeeja was an escort. Even though Khadeeja never gave him a reason to doubt her after their marriage but Mazhar, a weak chauvinist felt he was being wronged & was deceived.
One thing that is marvelous about La Hasil & makes it a unique story is the fact they have shown brilliantly; that a human being can never forgive but it is only Allah, Who not only Overlooks but Forgives, not only Accepts but grants Respect too. Khadeeja who chose to come to the path of Islam was abandoned but the way her life was shaped up because she remained on the right path went to show the power of faith.
I feel Angeline Malick directed & enacted the character of Khadeeja brilliantly. Drama does have a slow start but the moment it picks up the pace, everything falls perfectly into its place. Through the character of Maryam they told what actually the value of a human being is. A girl who thought she has conquered the whole world actually didn't know that her life started off in a garbage bin & the woman she doubted & detested was the one who may not have given birth to her but gave her a shelter, an identity & a meaning to her life.
Fahad Mustafa was beyond amazing in his character of Zain because he questioned Mazhar for his values rightly so. I feel this has to be one of the best performances of Fahad Mustafa till date because he breathed life into this character. Faiza Hassan left no stone unturned in making us hate the character of Maryam by the end of the drama. I must give a special mention to the soundtrack of La Hasil which was written by Khawar Kiyani, sung by Hadiqa Kiyani & composed by Imran Ali. It has a feel to it & the whole experience of this drama would've been incomplete without this soundtrack.
I think this has to be the very first drama that I cried while watching because of the suffering of Khadeeja Noor, someone who could've easily gone back to where she came from, could've left the rope of Allah but just because she tasted Imaan, she knew that she wanted nothing more from her life but just the acceptance of her repentance from her Creator; Allah. La Hasil emphasized on the fact that one can never judge a person & one should never try to judge a person either because it is Only Allah who can fill the hearts with His Love & The Faith. I could't resist feeling overwhelmed because there were some really heart-touching moments like when Khadeeja goes back to her home to get her belongings after she gets divorced, the first time Khadeeja meets Zain in Pakistan, the time Zain finds out Khadeeja was his mother & the ending when Khadeeja's on a death bed & Mazhar seeks her forgiveness. Those were some brilliant but emotion-stirring moments which make you understand that Khadeeja's life met a perfect ending & just because she elevated herself & retrieved her soul from the filth, she wasn't left alone. I have a very high regard of this story & feel that the dramatization did justice to it.
Share your thoughts on La Hasil.
Keep Supporting,
Cheers,
Zahra Mirza.