This was another fun episode of Farwa Ki ABC which had its high and low points. The opening conversation of Changez and his friend in which he tries to convince him that he had to get that certificate from the psychiatrist for him was very comical especially because of the way Changez explained to his friend why he had to do him this favor!! Changez's English is amusing and the actor playing the role is very comfortable playing a character which isn't easy to translate on screen. I can't say the same about the actor play the role of Changez's friend, I find his eye color extremely distracting. If it is his natural eye color he should have worn lenses to make it more camera friendly and if he is wearing lenses then it was a really bad idea because I find those eyes so distracting that I can't focus on the acting or anything else!! The friendship between the two would've been far more appealing if there was a little more chemistry between the two actors playing the role. Changez is your typical rich boy who knew right from the beginning that he could get on with life without having to study. He has money but money cannot buy class therefore Changez has to work extra hard to get "bachis" to like him!!
Once again we saw Farwa's parents mulling over the fact that how different things would have been if their daughter was more like all the other brilliant people in the family. I must say that I haven't been able to warm up to Irsa Ghazal playing this role but Khalid Anum seems to be the perfect choice for playing the character of Farwa's father who would do anything to make his daughter pass BA if nothing else. It was especially funny when Farwa's parents discussed how embarrassing it was that she failed in English! The scenes with Farwa's parents in them would have been much better if they weren't so melodramatic.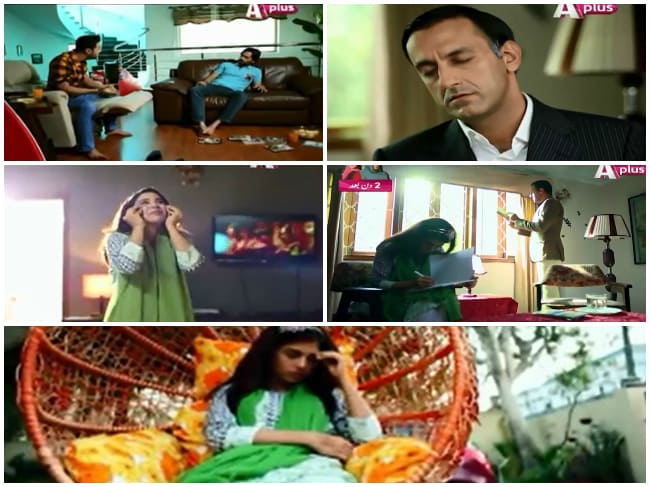 Sonya Hussain has nailed her character especially the bits in which Farwa is dying of boredom while her teacher reads the novel to her. She cannot understand symbolism at all because Farwa probably has never looked at life with such depth! The conversations and interactions between Farwa and her teacher were the highlight of this episode. On the one hand we have a dedicated teacher who will leave no stone unturned to ensure that his student gets the best grades and on the other hand we have a student who will do anything to make sure that all his efforts go to waste!! Essentially this drama so far is all about who will win – those people who want Farwa to pass or Farwa who would much rather get married! The scene in which Farwa does her victory dance would have been even better if it was shorter – sometimes less is more!!
Overall, this was an entertaining episode but it would've been even more so had some of the scenes been chopped down. I must say that it does feel slightly odd watching a play like Farwa Ki ABC on Friday nights since I am so used to watching some very serious and intense plays on Friday nights! I am hoping that the play will gain momentum and get more interesting in the upcoming episode until then I am keeping an open mind and enjoying watching Sonya Hussain in a different character.
Do share your thoughts about this latest installment.
Fatima Awan