This had to be the best episode of Farwa Ki ABC so far; it was hilarious and there wasn't a single scene which seemed out of place or repetitive. I couldn't help but laugh out loud so many times while watching this episode particularly because of the brilliant script, perfect comic timing and Sonia Hussain's flawless acting. I haven't been so thoroughly entertained in a very long time. The story is definitely not turning out to be the way I was expecting it to be since I thought that this was the start of realization at Farwa's part that she could not rely on a man to rescue her but I can't help but praise the comic element especially in this episode.
The way the differences in the personalities of Junaid and Farwa have been shown has been absolutely brilliant right from the get-go. Junaid is fixated with Asma and the biggest attraction in getting engaged to Farwa is that she is Asma's cousin. Junaid's parhi likhi choices put Farwa to sleep and Junaid finds Farwa's colorful preferences nauseating!! Farwa does not want to marry this man any more because she cannot bear to live with a man who she has nothing in common with! Junaid on the other hand is only doing what his mother asked him to do and he thinks that Farwa is pretty – not the best reasons to get married to someone!! I found Junaid's fixation with white very amusing and I couldn't help but notice that Asma was wearing white in this entire episode too.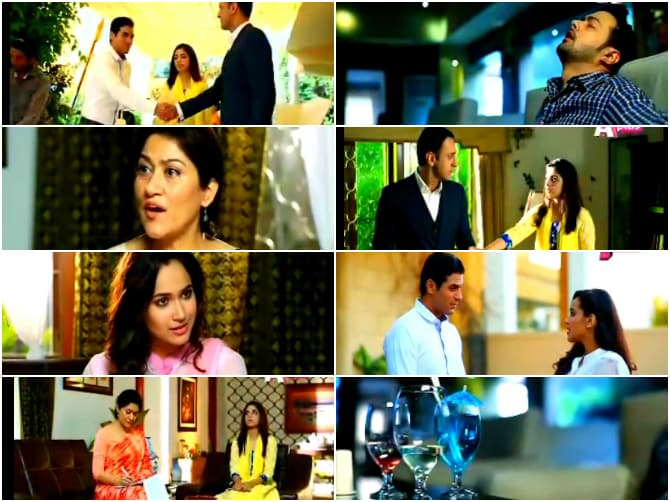 Asma's reaction to this engagement came as a complete surprise to me. Farwa might not be the best student but she is confident and she will never be jealous or envious of anyone. Asma might hold degrees but what she did today went to show that she is not as good a person as her nalaik cousin is!! She kept on judging Junaid, she does not even like the man but she wants him to continue trying to woo her even though she knows that he is going to be engaged to his cousin very soon. Asma is clearly one of those people who like someone more when they know they are about to lose him not because she really likes him but because she does not want that person to move on!
Changez's character is OTT but he makes me laugh every time he is on screen. Ahmed Hassan has nailed this character right from the first episode. The scene in the restaurant in particular was hysterically funny!! The best scene of tonight's brilliant episode however was the one in which Farwa asks her teacher to marry him. I was expecting this scene to be sickening but it had me in splits!! The reaction of the teacher and the way Farwa tried to stop him was comedy at its best! Farwa's teacher it seems has a woman in his life as well and I am waiting to find out more about his character.
I must say that this episode made me fall in love with Farwa Ki ABC today, I am not sure for how long this feeling will last but I will be watching this particular episode a lot of times before the next one goes on air!! I laughed until my stomach hurt today and I must thank the entire team of this play for putting this hilarious episode together. If every episode of this drama focuses on the main characters and the story and is this comical then we are in for a joyride we will remember for a long time! All the characters in the play are brilliantly etched out, all of them have a personality all of their own and if shown intelligently they are all very interesting people to watch on screen because all of them might be funny but they have a story to tell too! All of them are in search of something but they are not sure where their happiness lies. All the actors are doing a brilliant job which makes this drama even more fun. The only distraction today was the make-up, I wish the make-up artist was little more generous while using the foundation because everyone's faces looked too white and the necks were an entirely different story;) I can't praise Sonia Hussain and Ahmed Hassan enough for breathing life into characters that are not easy to translate on screen, making people laugh is much more difficult than making them cry and they made me laugh today the way I haven't laughed in a very long time!!
Did all of you enjoy tonight's episode as much as I did? Do share your thoughts about it.
Fatima Awan