Ohkay so, Writing of Syed Wasih Shah, Direction of Sakina Samo & Production of Moomal Entertainment; 'Tumhare Siwa' hit our TV screens tonight. To be honest, even though the very first episode was pretty straight forward, it did give this drama a decent opening where they succeeded in establishing the plot properly, but yes, I definitely will say that the direction at times did seem to be a bit over the top & a lot of things could've been toned down & for that I am hoping that as the drama will progress, the direction will become a lot less intense. Other than that, I didn't have a hard time watching the very first episode (except a scene or two) & that definitely means I will be tuning again to this drama for sure.
Tumhare Siwa is a story of two best friends; Aazar & Arsal. Aazar (Ahsan Khan) is happily married to Rania (Ayesha Khan) & they both have a son Daniyal. Arsal (Noor Hassan) is married to Samra (Mansha Pasha) & they both have a daughter Neni. Just like Aazar & Arsal, Rania & Samra share a very cordial relation too & both these couples are more like a family to each other.
Aazar has a sister Tania (Saleena Sipra) who is also married & has a son Numair. Tania's husband Babar (Tahir Jatoi) definitely has some grudges against Aazar & Rania & he keeps on reminding his wife that she doesn't hold much important in her brother & sister in law's life because that slot is already taken by Arsal & Samra. Tania also thinks that Rania is the one who has turned Aazar against his sister & she agrees to whatever her husband says because she is of the same opinion too.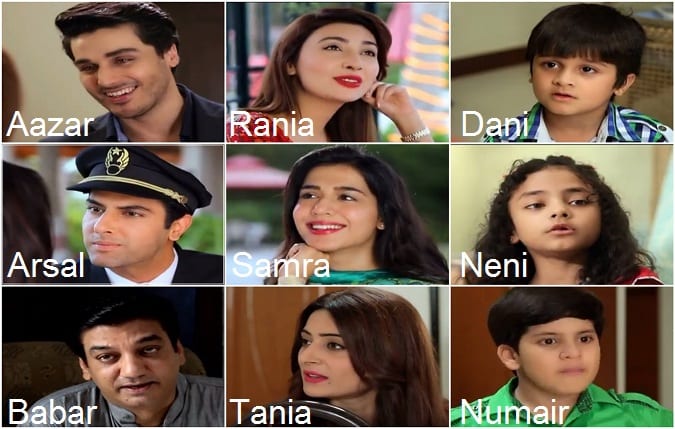 Aazar is having a small get together for his birthday & he invites Arsal & Tania along with their families to his home, that is when Rania & Tania have an argument over their kids & Tania leaves, making Aazar feel bad for his sister but then Rania tries to explain that everything that happened was only because of Tania's son Numair. That is when Babar once again gets a chance to speak against Aazar because he felt unwelcomed at his place. Babar also thinks that Aazar & Rania look down on him & Tania & he will be the one who will be there if they will face any difficulty.
Things are actually too perfect to be true where Aazar & Rania, Arsal & Samra are living a life of their dreams. They all are completely happy in their little worlds when they are shaken with terrible news of Samra's terminal disease. She happens to be a leading a normal life but suddenly she faints & on getting admitted to the hospital, Rania finds out about her sickness & gets to know that Samra has a very little time left. The preview of the next episode suggested that all these guys will come together to find a way to bear the burden of Samra's medical expenditures. I think they will take a little time in getting started with the actual story but for now it does seem a little simple & predictable but let's see what more do they have in store for us.
To be honest, I was taken aback by the coverage the kids got because I really think kids should be there to complete a family picture & then they should vanish & never show up again. To stir an argument over what happened between the kids was quite awkward & that was the scene that I didn't enjoy because neither the direction nor the acting was great. Also, the whole cake cutting scene was made unnecessarily awkward as well where Aazar & Rania were shown to be quite pally with Arsal & Samra & Aazar conveniently ignored his sister & husband, who by the way weren't uninvited guests. As far as I could see, Aazar has been shown as a considerate person, so his awkwardness with his brother-in-law & sister was quite unconvincing. Also, the very first scene of the couples was quite cheesy until it was made clear that they were married with kids, which I feel wouldn't have made the guys look overly chummy if it had been toned down a couple of notches as well. Other than these situations, the rest of the episode was good but yes, there was a lot of unnecessary coziness shown between the couples which I think could've been easily avoided & it didn't work for me at all. Yes, we get the drill, they are 'happily' 'married' & are 'very much' in 'love' but then, there definitely wasn't a need for relying on more actions & lesser words to elaborate their love.
Ahsan Khan managed to look the same & I must say, this guy deserves an award for his consistency & also for never experimenting with his styling. Noor Hassan looked like he jumped from Muqaddas's set to Tumhare Siwa's set, so no change in his get up as well but yes, he has grown so much as an actor that he makes his scenes seem pretty good. Mansha looked vibrant & nice & Ayesha Khan managed to look older to all three of them. Yes, even though she is a good actress, I think she should be a little more conscious in choosing who her co-star should be because honestly, her effortless acting can't put a lid on that fact at all. Anyhow, please let us know what you guys thought about Tumhare Siwa's first episode. :)
Keep Supporting,
Cheers,
Zahra Mirza.