I guess all of us know by now that Asma can do no wrong and nothing can ever go right in Farwa's life!! Although it appears to be that the drama is not about Farwa learning the ABC's of life till now but I have a feeling that at some point we will see a change in Farwa's character. Some of the situations and dialogues in tonight's episode were exceptionally funny. For the first time I felt for the poor teacher! He should've known better of course but now that he is married to Farwa he thinks of it as a life long commitment therefore listening to the truth wasn't easy for him. We learned that Sir Mustansar sees his lost love in Farwa therefore he is not going to let her go at any cost!! Farwa cannot go back to her parents house now firstly because she cannot stand Asma Ghaznavi and secondly because her mother told her upfront that it was not an option. I do feel at times that Farwa's parents are being very unfair to her. The way Farwa reacted every time Sir Mustansar tried to get close to her was absolutely hilarious!! That dialogue about Candy Crush was the cherry on top!! Although this was a sad situation but Farwa definitely managed to make me laugh and while I felt for her husband I enjoyed this particular scene the most.
The way Changez expresses his love to Farwa is also another comic element in the play. Changez's grand plan and the reason behind it went to show that he has complexes of his own. The way he described parhe likhe log to his friend made me laugh. I must say that Changez and Farwa do have a lot in common although people like them are not common at all!! The manner in which Farwa described Changez to her husband said a lot about why she thinks she should be with him and not with someone like Sir Mustansar. She wants to get married to someone who is ordinary like her and not someone who is an intellectual and of course someone who listens to Urdu music and does not read English books!! It is funny how in this drama people are being divided not on the basis of class like we see in most dramas but on the basis of how intelligent they are!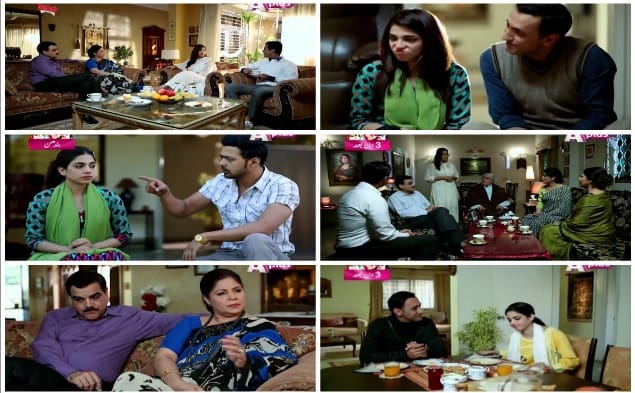 Asma's obsession with Farwa and the way she is always trying to put her down is beyond me!! Everyone listens to Asma as if they have no brains of their own and even Farwa's father is convinced that Asma did them a huge favor by getting married to Junaid!! It is ironic how this man can see all the faults in his own daughter but cannot see what Asma has done. The truth is finally out thanks to Asma but I do feel that Farwa's character has been portrayed as that of a girl who does have some mental disorder of a mild nature therefore it would've been far more convincing if Farwa had actually been diagnosed with some disorder of this kind by an expert.
The preview of the next episode suggested that things will go from bad to worse for Farwa. We have yet to see how she will cope with the problems that might be coming her way. I must say that all the actors in this play have given outstanding performances and the chemistry between the characters makes up for the flaws in the way these characters have been introduced to us. Sonia Hussain definitely stands out in the play more than anyone else. It is refreshing to see her playing a different role with such brilliance. This episode was interesting and funny. The only problem was with the make up, I find the white faces and the not-so-white necks very distracting!
How many of you watched this latest installment? Please share your thoughts about it.
Fatima Awan