After the last two episodes which were rather shocking and somewhat abrupt, with this episode the story moved forward in a more convincing manner although there were bits which still made you wonder about the issues Imroze has and also it seemed like everything was happening at once.
Shams' reunion with her mother couldn't have been shown in a better way. I had a bad feeling that the storyline may get even more complicated from here on but Tabbasum and Shams are off to a great start. Tabbasum tells one last thing which she thinks Shams should know before they start over again. The scenes between Tabbasum, Haider and Shams were very touching. Tabbasum will play a pivotal role in bringing Shams and Sara together, I am waiting to find out if Shams changes his stance regarding having children. I cannot help but praise Mazhar Ali's convincing and natural acting over and over again. I really hope that we get to see him in dramas more often. Uzma Gillani like always was brilliant while showing how happy she was and how much Tabbasum has changed.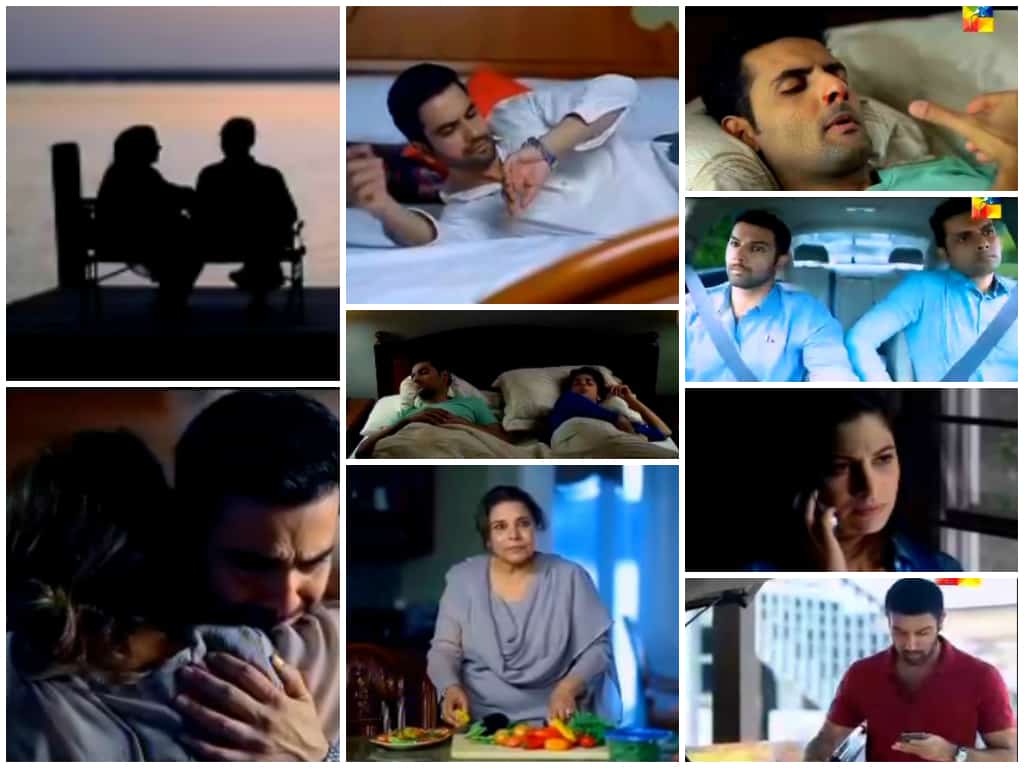 Imroze and Paymaan looked like husband and wife for the first time today, we definitely needed to see more of such scenes in the previous episodes as well. Paymaan finally discovered the marks on Imroze's body and questioned about them – better late than never! It was strange that everything happened at the same time, the reunion, Roomi realizing that people were using him and change in Imroze's behaviour. Roomi realized that people treated him like a door-mat, he does not want to solve anyone's marital problems or pick someone's kid from school. This particular scene actually made me laugh! I am glad that Roomi finally showed some emotion other than being kind to people all the time, it's about time that he got tired of playing the agony aunt! The second Imroze talked to Roomi, he was back to being a husband to Paymaan although in the last episode he was doubting his wife just as much as Roomi but for some odd reason which the viewers were not shown Imroze does not blame Paymaan for anything any more. He wants Roomi out of their life and start over again. I wish we could know the reason behind this sudden change in Imroze's behaviour. We were shown Imroze thinking out loud over and over again about how his wife had cheated him and now all of a sudden without any thinking whatsoever he is convinced that Roomi is the only one to be blamed. Roomi's lectures to Imroze regarding how he should be spending more time with his wife did not help at all! I must admit I did feel for Roomi after watching tonight's episode.
The way Imroze felt about the change in Paymaan's outlook and the scene on the beach went to show that Imroze is a very conservative person which could also be because of his insecurities. He tells Roomi that he never wanted to marry someone modern and then later on the beach he says to Paymaan that everyone was looking at her. Well, at least we know now why Imroze fell for Paymaan!
The preview of the next episode was a big blunder because it practically showed everything that is going to happen in the next episode. I am not going to share the details here so that the viewers who have not seen this episode yet have the option of not watching the preview because if they do then they surely will have very little reason to watch the next episode! The only mystery is finding out which disease Imroze has otherwise we pretty much know now what turn the story is going to take from here.
Fatima Awan