A very well put together second episode which showed everything in detail without putting me to sleep. All the scenes and happenings added to my knowledge about the characters and I must admit that until now I think all these characters and the story is very refreshing. What I like about this play the most till now is that all three women in the play have a personality of their own, they come across as intelligent and thinking human beings. Paymaan's conversation with Sara right after her mother called Shams went to show that even though Paymaan was raised by an over-controlling mother in a very strict environment but her social skills were not affected by it. Paymaan is an intelligent girl; she may live under the same roof with a woman who thinks that intimidating people is the only way to interact with them but Paymaan knows better. She is apologetic about her mother's attitude and is concerned about her bhabi because her brother and bhabi are the only family members she has besides her mother. Paymaan also shares how she feels with her mother and as a result of that her mother gives Sara a call in order to make sure that Sara never visits them again. This went to show just how insecure Tabbasum is, she does not want Paymaan to interact with anyone at all because she is fearful that someone may take her away from her.
Tonight's episode showed how close Roomi and Shams are. Roomi knows his friend only too well because he has seen him struggling when he was going through the worst phase of his life. Not only this Roomi has great influence on Shams too. Shams comes across as a very emotional and impulsive person. He went to his mother's house to meet his sister but decided to take her with him when he saw what was going on. Our therapist was perhaps right after all Shams is afraid to face problems; he wanted to leave Sara forever when he found out that she had gone to meet his mother although there were many other ways to solve this issue. Shams' concern for Sara and Roomi went to show what a good friend he is.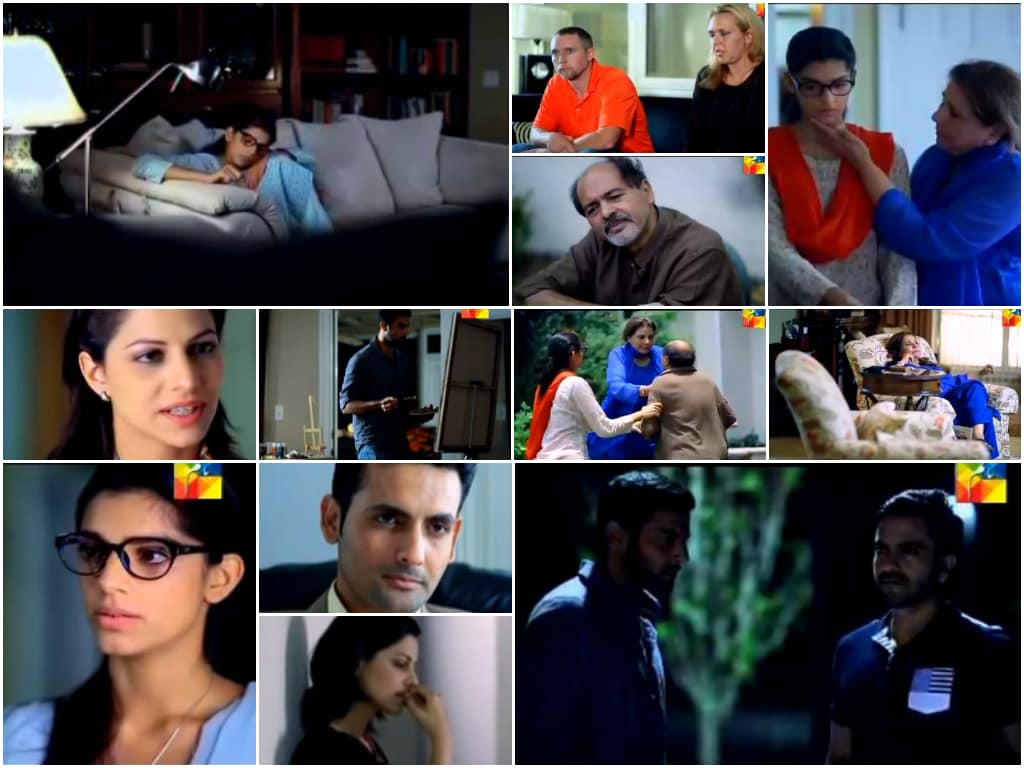 Mohib's character will probably be revealed more in the next episode. There wasn't much of him in tonight's episode. The lyrics of the OST playing in the background just before the scene in which Roomi was making Imroz's portrait made me laugh!
Uzma Gillani was absolutely brilliant as Tabassum, the dialogue " tum yeh kamra chor kr nahi ja skti" went to show how desperately she wanted Paymaan to stay confined in those four walls. Tabassum changes her tone and attitude when she knows that her intimidating tactics are backfiring. In the preview of this episode we were shown Paymaan leaving the house but I guess we will get to see that in the next episode.
Overall, this episode was well-paced, intelligently directed and very well-written. For now the focus is on Sara and Shams but I am quite sure that the story will focus more on Imroz, Paymaan and Roomi in the upcoming episodes. The casting appears to be flawless so far. Cybil Chaudhry was perfect for playing the simple yet intelligent Sara. Sanam Saeed has been wonderful till now, the scene in which she is sitting and thinking about how her mother's behavior might have affected Sara and Shams was very well directed and acted out. I am really looking forward to finding out how Paymaan grows as an individual once she has the freedom of living her life according to her own wishes. Syed Mazhar Ali's character and his acting leave their marks even though he is given very little screen time. Paymaan and her step-father's conversations are like that of two prisoners in a prison cell, one of them has given up hope but the other one wants things to change for good. I really liked the way the flashback scene was shown; it gave the viewers all the information they needed to know about what transpired between Shams and Tabassum many years back in a very short time.
Do share your thoughts about tonight's episode.
Fatima Awan