Tabbasum and Haider continue to be the stars of the show even though they are not the main protagonists but their characters and the relationship between the two is such that I can't help but look forward to their track more than any other. Tabbasum has turned a new leaf, she has learned to value Haider because he is the only person who has stood by her through thick and thin. Although, we found out today that Tabbasum blackmailed Haider into getting married to her perhaps because she needed a man in her life after her husband passed away. Uzma Gillani's brilliant performance coupled by her unique acting style makes her character stand out. Haider is a savior, he did not only save Tabbasum and Paymaan but he has rescued Shams too. Shams has accepted Tabbasum as Maa ji and he wants closure. Imroze may have been right after all, Shams needed to mend his ties with his mother and break free from his past before starting a family. I cannot praise Syed Mazhar Ali's performance enough, he is an exceptional actor and watching him on screen after such a long time is a pleasure. The entire scene between Tabbasum and Haider was the highlight of the episode for me; Tabbasum's confessions and apology and the way Haider reacts to it was honest and touching.
I am not sure what to say about Imroze's character or the entire track, while I find the unpredictable developments in the story intriguing but they are disturbing at the same time. Imroze's negativity has been shocking for me and I am certain for many other viewers as well. He is convinced that he has AIDS and he got it from Paymaan…I really did not see that coming! The viewers have not been shown much of Paymaan and Imroze's life together after marriage, whatever we have seen till now goes to show that there is still a strange distance between Imroze and Paymaan even after being married for two months. Imroze does not trust his wife at all, I am guessing that is because he is lonely and insecure. After overhearing Shams say that Roomi loved Paymaan he is fully convinced that Paymaan is the sort of person who would conveniently have an extra marital affair and he is also doubting a person who has been his friend all his life. Since we do not know much about Imroze's character it is very difficult to relate to his state of mind. The mysterious phone calls suggested that he is avoiding someone close to him but whom?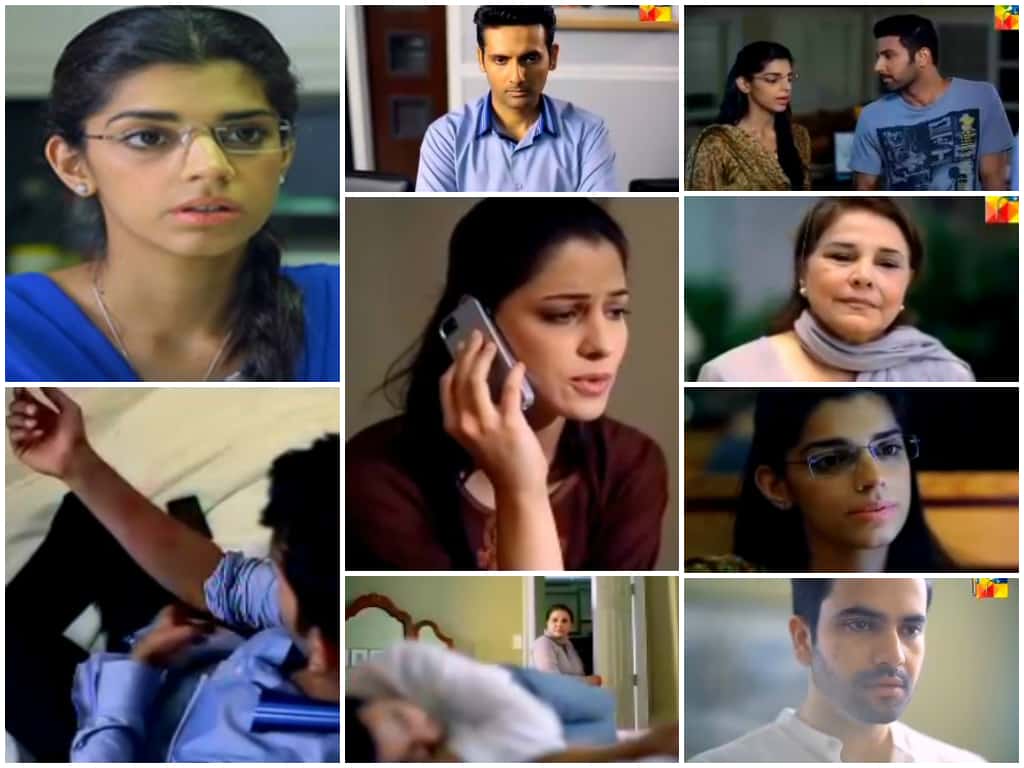 Roomi is sweet but sometimes I wonder how he manages to find so much time for friends? He has always been there for Sara and Imroze and now he is always there with Paymaan. What does he do for a living? Sometimes I feel like there is too much of him in the play but I guess that is because he has a big role to play in the story. Paymaan's character seems to be falling flat at the moment. There is no spark in her personality any more, she is so sidhi sadhi but her husband still doubts her! Paymaan had a very strong personality even when she was living with her dictatorial mother but getting married has changed her and I am not sure if I like her this way. She still looks unhappy but we don't see her complaining much. Paymaan has not yet discovered the marks on Imroze's body and has no clue what her husband is going through or putting himself through! I really want to find more about Imroze's background, the curiosity is killing me and not knowing about his past is confusing me too.
Sara's reaction to Shams' call was very surprising since in the last episode she wanted to get back with him and when Roomi told her that Shams will get in touch with her she was very happy to hear that. Sara wants a child and unless Shams wants one too she is not going to go back to him. I have never liked Junaid Khan much but he makes me feel for his character in Firaaq. Shams is like a lost child who has finally found his way back home. I hope that this track takes a happy turn because the preview of the next episode gave mixed signals. Tabbasum and Shams both deserve to be happy.
Overall, this was a rather depressing episode! I have no idea what turn the story will take but Imroze's character is confusing yet intriguing. I am really looking forward to seeing more of Tabbasum, Haider and Shams in the next episode.
Fatima Awan