The episode begins with Adil's mum overhearing him talking about keeping both the girls at a farmhouse. I was surprised at how he had a sinister smile on his face after such a heinous act. He is turning out to be a purely psychotic character. His mother becomes worried. Adil tells his friend Yousuf to take away Geeti's body from the farmhouse. Aamna, Faiz and Moiz discuss the situation and Moiz can't understand why there's so much hesitation on Ubaid's part to go to the police. Faiz says Moiz doesn't know all the hassle that goes into dealing with the police. Aamna agrees and Moiz gets frustrated. I feel even though both Aamna and Faiz come across as insensitive at times, they are the ones that actually give a reality check to the other characters.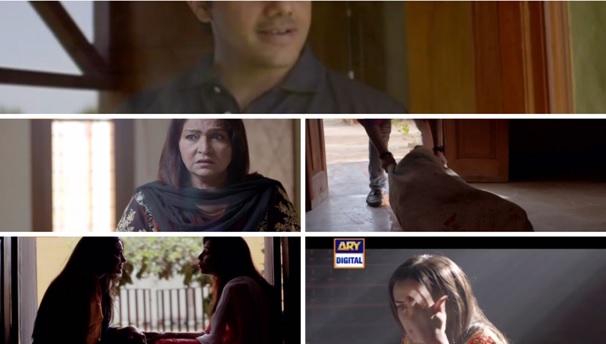 Tooba is traumatized and remembers all the happy times she spent with Geeti. She remembers one incident when Tooba volunteers to convey Geeti's feelings to Adil but Geeti tells her she's not in favour of using a messenger between them. In Tooba's mind, Adil likes Geeti as much as she does. Geeti says she's so in love with Adil that she can die for him. The irony of it all makes Tooba more upset.
Salma can't stop thinking about what she had overheard nor can she share it with anyone, not even her husband. She keeps wondering what her son is actually up to and thinks if her son is behind Geeti and Tooba's kidnapping. I really wanted her to ask Adil directly or at least talk to Waqar but it didn't happen.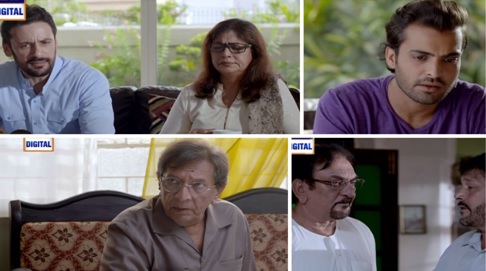 While praying with Maira, for Tooba's safe return, Khadija faints. Tania calls their father to take her to the hospital. The doctor comes to see Khadija and says her health has deteriorated due to stress and advices rest otherwise she would be in the hospital. Breaking news comes on TV and everyone gets to know that a dead body has been found in a dumpster which is recognized as Geeti's. Akhtar falls ill. Adil's mum can't believe it's her son and thinks he can't be so ruthless.
I felt the scenes from taking Akhtar in the ambulance to the hospital were too elaborate and long. The doctors try really hard to revive Akhtar but he passes away from a sudden heart attack due to shock and immense grief.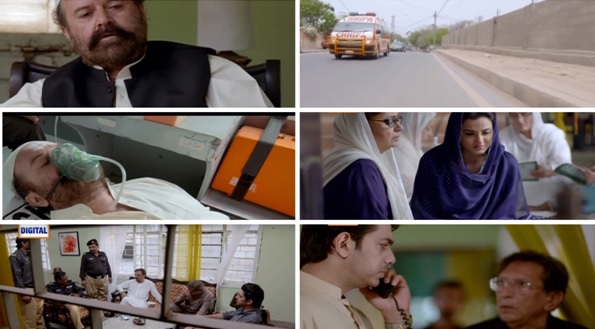 Adil comes to the farmhouse and Tooba gets very scared. He threatens her not to speak to anyone about Geeti's murder so that there's no witness. He warns her that if she tries to speak he'll kill her or her sisters and her father will end up like Akhtar.
Aamna tells Maira not to inform Khadija about the deaths. She also says maybe Tooba will have the same fate. Neighbors gossip and want to know what has happened but Aamna doesn't tell them the truth about Tooba or about her mother's poor health.
The family doesn't want to file a case but the police agree to investigate the incident. Ubaid has become very depressed and Waqar tries to comfort him and give him some strength.
Adil's friend has been instructed to call Tooba's home and terrorize them so they don't contact the police or else she'll have the same consequence as Geeti. Adil doesn't want to keep Tooba at the farmhouse any longer and asks his friend to help him.
Faiz wants to spend some time alone with his wife. Although Maira is with Faiz, she keeps tense and concerned about her mother and sister. This makes Faiz very annoyed and blames Tooba for spoiling his marriage. I couldn't understand his sudden outburst and really couldn't believe that Faiz would be portrayed as an inconsiderate character. I'm hoping there is good reason for this later on in the story.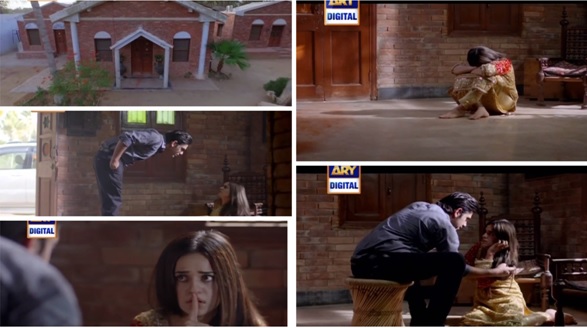 Yousuf and Adil are such cheapsters, saying all horrible and disgusting things to threaten Tooba into keeping quiet. I am surprised at how a suave, apparently well-bred person like Adil who has such a wise and morally strong father like Waqar can behave like this. Adil tries to reason Geeti's murder, saying he was provoked by her and lost his temper. Both of them plan on allowing Tooba to go home.
Let's see how Tooba manages to go home and face everyone's comments and questions in the next episode.
Have you watched this episode and what are your thoughts about it?
Mahjabeen