And finally- the much awaited drama by ARY, written by Mohammed Ahmed, produced by Six Sigma and directed by Farrukh Faiz, Goya is here! Go do something constructive- you're wasting my time and your time! Welcome to the world of Rahat Hashmi (Usman Peerzada)- successful businessman, public figure, jo hamesha ya toh kuch baich rahein hotay hein ya phir kuch khareed rahey hotey hain. A man who thrives on control to the extent that he has conditioned his only son, Omar aka Jr. Hashmi (Osman Khalid Butt) into responding in the following three ways- Yes Sir, Okay Sir, Sorry Sir. Omar, who routinely graces the covers of various magazines is one of the most sought after bachelors in town simply by virtue of birth. But his feelings aren't that of any stereotypical ameerzaada– on the contrary, he feels suffocated with the burden of being a public figure. Omar's only outlet is his buddy Ali (Furqan Qureshi) and Mrs. Imtiyaaz (Shamin Hilali) who is tasked with the responsibility of carrying out the orders given by the Sr. Hashmi. Rahat has married a second time to Tara Mehmood but so far she hasn't shown any inclination towards being a riwaayati soteli maa. In fact, she seems to be the voice of reason and reminds her husband azaadi bhi koi cheez hoti hai.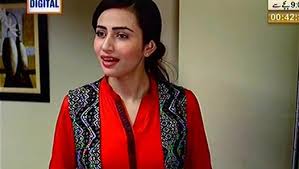 Rahat strongly believes that he has done right by his son by keeping him in a controlled environment and safeguarding him from the ayaashiyan that are common of the rich and famous. He has chosen a suitable match for his son- the daughter of his friend Saleem. He is confident that his son won't refuse him to which his wife questions- Aaap ne apney bete ko inkaar ka haq diya hai? Omar wants to go to the USA and pursue an MBA but is predictably shot down by his father- jo students bahar parhney kaatey hein wohh uss position ke liye jaatey hein jis position pe tum already ho! In his eyes, Omar needs to settle down although seeing how his mind works, I'm certain there's more to this match than meets the eye. Knowing full well that his father won't take no for an answer, Omar does what any rational 20something would do- plan an escape!
We are also introduced to a mother-daughter duo of Asma (Farah Shah) and Mohini (Sana Javed). These two share an impossibly casual relationship so much so that Mohini often refers to her mother as Asma. Mohini is a news reporter and seems to be the mature one out of the two while Asma is a drama queen with a filmy fascination. Some of their conversations circled around finding a suitable match for Mohini- a man who would double as a handyman. It seems like these two women have been living on their own but fortunately there's no melodrama here- not just yet. Both these women are independent and self-sufficient. They work respectable jobs to make a decent living and are a huge contrast to the father-son relationship shared by the Sr and Jr Hashmi.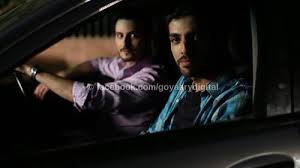 How do two people who are poles apart cross paths? Well, as luck would have it, Omar happens to be at an art exhibition where Mohini is covering the event. In their brief encounter, Mohini is seen as a strong, confident woman whereas Omar appears to be socially awkward. Will this turn into love at first fight? Who knows? But we do get a glimpse into a growing attraction- Omar shares as much with Ali after he meets the annoying Ayeza. Does anyone know the name of the actress? I hope we really, really, really don't get to see anymore of her.
Some of the scenes that stood out were the ones with Omar and Ali- be it their man-to-man way of settling an argument by resorting to rock-paper-scissors or Ali's sincere advise to Omar- Tu khudkhushi karley bhai- apni mari hui machli jaisa moun lekar please mere paas mat aana. Even the scene of those two referring to Sr Hashmi as Undertaker while playing a WWF game was amusing. Other than that, some witty one liners by Mohini like Raam Leela ki Amma reminded me of her role as Lubna in Pyarey Afzal. As far as the actors go, I felt Farah Shah was a bit OTT. I wasn't particularly fond of Hina Tareen either. But the rest of the cast more than made up for the shortcomings. Osman Khalid Butt was amazing as Omar; Sana Javed has yet again nailed the role given to her; Usman Peerzaada – naam hi kaafi hai; Furqan Qureshi is another one to watch out for- he makes his presence felt everytime and Shamin Hilali was spot on as Mrs. Imtiyaz. However, I couldn't help shake this movie feel- maybe the print had something to do with it? Another rant- for someone as high and mighty as Rahat Hashmi, his home was a huge letdown. Budget interior designer anyone? For a first episode, it was intriguing but definitely didn't make me go- Wow! Isn't it mind-blowing? What about you? What did you think? Yay or Meh?
Yours in watching,
Kanwal Murtaza