Shayad meri shadi ka khayal dil mein aaya hai, iss hi liye Daddy ne merey tumhey chai pe bulaaya hai… When Omar broke the news to Sr. Hashmi that he has no intentions of going ahead with the wedding, Sr. Hashmi asks to meet with Mohini Mirza. Somehow, even though Omar is fully aware of his Undertaker father, he holds on to the glimmer of hope that maybe, just maybe, the man has a change of heart. As expected, the meeting was nothing more than to intimidate Mohini into leaving Omar. Sr. Hashmi thinks Omar is simply going through a rebellious phase and once he's over it, he'll get back to being the obedient son. Demaagh toh tumhara sahi kaam karta hai, yahan tumhari logic kyun fail hogayi? Do we really use logic before we fall in love? If only we did, we'd save ourselves the pain and heartache that we so often experience at the hands of love. Rahat Hashmi is void of human emotions- he has built a wall around himself. He treats everything as a financial transaction- apki yeh adat hai har cheez paise se khareed ne ki- biwi, bahu… Omar confided in Mohini that when Sr. Hashmi married Hania, she had nothing to offer- maybe she was not of the same financial status but nevertheless, Rahat took her as his wife- was Hania an opportunist? Did she marry Rahat for his money or did she get pressurized into marrying him?  Can money ever buy love? Or even happiness? Rahat's arrogance has made him a cold, bitter man who can't see beyond the P & L statements. Yeh mera maamla hai, meri commitment hai, meri deal hai, meri business hai, meri future hai…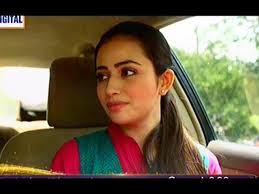 Having met Sr. Hashmi, Mohini finally understands why Omar was enamoured by her- uskey saath meri zindagi asaan hojati hai. She is determined to be with Omar but what I really admired about her was how she left the final decision to her mother- yeh ikhtiyaar sirf aapkey paas hai. I think when parents empower their children with the right to make their own decision, children respect their parents faith in them and ultimately end up trusting them to make their life choices. Here again, even though Asma knew Rahat Hashmi would never accept Mohini, she encouraged Mohini to go ahead and meet him for herself and then think long and hard. Despite her pain at his cruel words (Tum kyun shaam-e-ghareeba bana rahi ho?), she confided in Asma that she feels she wants to be a part of Omar's life and Asma is ready to stand by her.
The most powerful scene was the confrontation between Omar and Rahat after meeting Mohini-
Tumse mera naam aur yeh rules cheen liye jayein toh peechay sirf ek bewaaqoof insaan bachey ga jiski networth zero hai… mutaalbey aur muzaakaraat jo hain baraabari pe hotey hai… Tum mere baraabar nahin ho! After that jolt of reality, Omar vents out by thrashing his room and once he gathers himself, asks Ali to help him find a place to stay. Ali tries to knock some sense into him- it won't be as easy as Omar thinks but seeing his determination, Ali offers his Nani's apartment. I like Ali- he understands Omar but offers practical solutions. Like Sr. Hashmi, Ali also feels that Omar is just going through a phase and once he has had a chance to get over it, he'll be back home living the life the way his father dictates. Omar announces his decision to leave, but not without rubbing it in Sr. Hashmi's face- aapka yeh ghuroor bhi mein ek din toronga… Please koi choti harkat nahin ki jiye ga… I think for the very first time, Omar is not afraid to lose anything since he is foregoing the luxuries he grew up with and is finally heading towards a real goal. All those years of being submissive have pushed him towards retaliation and he is looking forward to being in a rule-free environment. Let's see what the future has in store for Omar- one thing's for sure- it is not going to be a cakewalk and Sr. Hashmi will only add to his troubles. What do you think?
Yours in watching,
Kanwal Murtaza