This episode marked the begining of another marriage that is bound to be a very complicated one! The actual marriage ceremony was completely skipped but the viewers were shown clearly how the nikkah took place in the beginning of the episode and the way Adeel managed to "convince" Gul-e-Rana to accept him as her husband only after he forced her into a nikkah. There was absolutely nothing new about the troubles Gul-e-Rana faced today. She was helpless just like any other girl who would go through something like this in any other drama. She probably thought of her Taya before anyone else therefore she did not talk to him about whatever transpired between her and Adeel. Asking him to get Adeel married to Maria and everything else that happened after that had been-there-seen-that written all over it too.
Once again we saw a "strong" girl who has enough common sense to know better fall prey to the evil designs of a man because she could not think of a way out. It didn't take much to convince Adeel's father or Rana's mother that they were having an affair – another example of how men always are trusted more than the women because the women in our plays fail to plead their case. Rana's conversation with Alia when she went to talk to Asher about her troubles reminded me of Rameen's character. Rameen was also someone who had tons of advice for everyone around her but was completely helpless and clueless when it came to solving her own problems.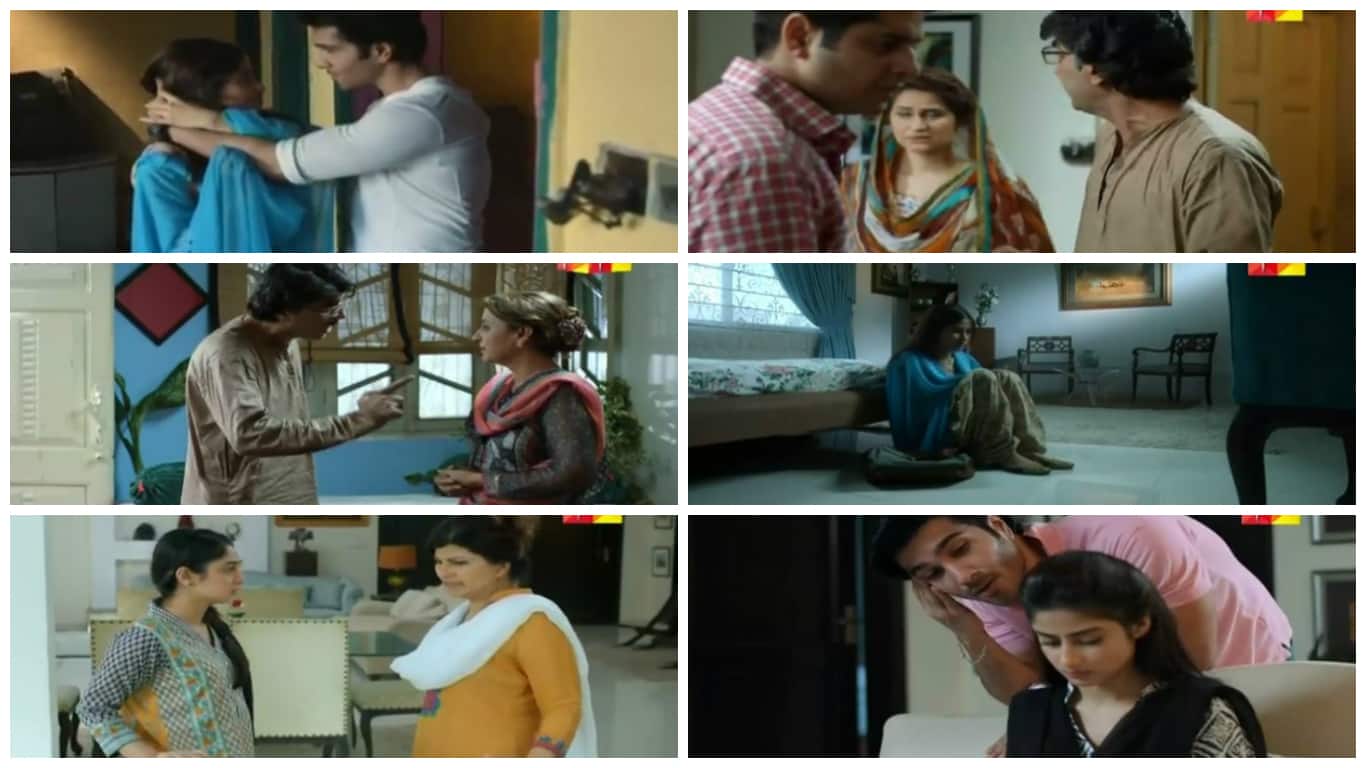 I completely understand though why Rana could not share anything that happened with her Taya or mother – she lives in her Taya's house, she feels indebted to him and would probably not want to hurt him by telling him what a monster his son was. Munira is a weak woman who will not be able to do anything to help her daughter and she is already sick therefore Rana would not want to give her more to worry about. Adeel's threats and intimidating behavior left Rana with no choice and therefore she decided to accept this relationship. The only problem I have is that if a heroine is going to be shown as someone who cannot muster up the courage to take all these chances then she should not be portrayed as someone who is capable of being very strong. Adeel promised Rana that he would change if she accepted him as her husband but at the same time he did not want to hurt Maria's feeling either which obviously suggested that he had no intentions of changing. I am still unable to understand why Alia's track and misery has been added to this drama. Watching one woman in the drama going through so many problems is enough, why show two such women and another man who likes to belittle women and has no respect for them. Perhaps the writer is trying to show that whether it is a affluent household or a poor one men always have the tendency to abuse women but I must say that I find Rana's khaloo's character terribly annoying!
This whole episode lacked consistency. We jumped from one scene to the other and it was not easy to figure out how much time had elapsed in between these scenes. The marriage was too sudden, one minute we saw Rana considering what Adeel had said and the other minute she was shown as a bride. If the director wanted to end the drama at a thrilling note to keep the viewers wondering if Rana had done something to herself, he shouldn't have shown her well and alive having a conversation with Asher in the preview of the next episode!
This drama is full of clichés and has nothing new to offer and the overacting by few of the actors doesn't help either. Dialogues like "tumhari khamoshi tumhara gunah sabit krne ke liye kafi hai" and many more which were a part of this episode should officially be banned from dramas because they have been done-to-death. Gul-e-Rana is the story of another "strong" girl who is not likely to do anything to help herself and like every such girl in our dramas, there is a helpless and mistrusting mother behind her who will only make matters worse for her.
How many of you watched this latest episode? Do share your thoughts about it.
Fatima Awan