So finally here with a review of the probably most read novel in Pakistan, Yes you are right its about Nemrah Ahmed's new novel Haalim.
This novel could be categorized as Science Fiction because it is more like a fantasy world or a world that only existed in the Einstein's time equation in addition it has that gems of wisdom we usually taste in Nemrah Ahmed's novels. I am sure this gave you a lot of her characters to remember in retrospect. I know this novel is more like a fantasy or a superficial kind of world but the lessons from each character's story gives you a whole new dimension to think about and the time theory makes it very interesting.
Number 10 is out and I ought to say it had a lot of events that capture your attention and refresh your mind and give you a reality check in terms of your thoughts and believe me that is the speciality of the writer. I cannot resist to say this because every episode has a title and it unfolds with scenarios and conditions which are most likely happening in our country nowadays and it always touches those topics which are faced by many people these days. Let's jump in the ocean of this beautiful and thought provoking world.
TITLE- SANAM TARAASH
Well, the title was quite captivating but it wasn't something new as we already experienced this in Namal But surely the story had. For me this title hinted the two main aspects of the episode.
1- The ''fan fever'' moments that were magically explained by our favourite Fateh Ramzel. I can not even explain those moments in words that how beautifully he made clear the idea of being easily impressed by others. As a matter of fact I thought I was reading a psychology book. So thumbs up for that therapy Wan Fateh Ramzel or Ghulam Fateh Ramzel.
2- The Statue of Wang Lee. Atleast here they showed some ''Good'' talent in Taaliya or Should I say Shehzadi Tasha.
TAALIYA'S JOURNEY SO FAR IN THIS EPSIODE
The episode took off with Taaliya's dream that she was in an office cabin and wearing a symbolic ring. Taaliya's dreams are actually visions that come true exactly how she sees it so there are no hidden meaning or symbolic gestures behind it. So good news for all Haalims that Taaliya will go back to Malaysia But the question lies … Alone ? or with Adam or Fateh Ramzel or both? That was the sacriest question of Adam That I am sure left all of us wondering and guessing.
Despite being called a chor and dhokebaaz by our favourite Fateh Ramzel ( a politician ) I still don't dislike her character. I don't know why but when you read about Taaliya's actions and her justifications you could feel for her. I didn't know Taaliya would speak about these matters. The first one that actually stood out the most for me was the ''Work Place Ethics'' and the second one ''Victim Shaming''.
I was surprised to read how seamlessly the writer linked the Rishta of Sultan Mursal with the Work Place Ethics and made it very clear that what should be the status of a ''Boss'' and ''Employee'' and the true meaning of Harrassement.
I just appreciate the determination of Taaliya, even when she knew her father knew everything she wasn't shattered but tried to make plans to escape and it was good to see our Taaliya back jiske paas hamesha plans hote thay! Now coming to the most Shocking and Eye Popping Event of this episode.
Mehndi hai rachne waali, haathon pe gehri laali…..Lol the shaadi part. I honestly remembered Datan when she messed up the plan of Taaliya by calling Asra and telling her that a girl will steal ur husband. Does she really knew Taaliya or she could foresee future? Never mind, the most weird shaadi happened and I don't know what I felt. Taaliya's fans maybe Happy but I still don't know what to say about this.The reaction was shocking then neutral….Lol if it makes sense but the circumstances made the decision quite satisfying as there was no other way to get rid of Sultan and his proposal.
Taaliya finally knew what Treasure was awaiting for her and why she visited Sanbao, At first it looked as if she will visit that place for Fateh Ramzel but then the puzzle was solved by Taaliya herslef and it was exactly in accordance with her nature….Yes, Yes it is choari but different kind of choari. ''The Antique Shop'' whose inauguration will be done by Adam and Taaliya in the future. What a thought!
FATEH BIN RAMZEL'S JOURNEY
This episode marked the unexpected shaadi of Fateh Ramzel and literally this man is a born politician you know jis ke rag rag main siyasat basi ho…duh even at that crucial moment where he had to marry Taaliya to save her he was looking for brownies.. I know his plans were for all par hadh hoti hai…khair
We also knew that Fateh Ramzel was upset about the distorted history written by our Shareef Moarikh Adam but the reason was not what Taaliya assumed. She accused him of fame, and wanting to stand out as Best. He just wanted to meet Taaliya's father that's why he was upset when Adam didn't mention him but Fateh Ramzel is a politician after all he knows other ways to make his job done.
Fateh Ramzel was also seen encouraging the slaves and teaching them about ''Zehni ghulami''The Entry of Aariyaana and the history of Tea, Fateh Bin Ramzel always proves to be a ''Mr.Know it all''
COUNTRY'S ECONOMIC STATE
Economic Hitman a disease well explained to common people by Nemrah Ahmed. I just keep wondering how a single novel could touch so many important topics to educate everyone. The suggestion which was put forth by Taaliya was for the well being of the country but the Chinese ( Wang Lee ) idea won the argument and Sultan because of his moti aqal couldn't grasp the disaster behind it.
DREAM MYSTERY
I swear I wouldn't have known about these treasures as my guesses about Namal were exactly like this.The Mystery of the treasure revealed so far was that there were 3 treasures, The first one was the treasure of ''time'' the second is going to be the '' Antiques'' and the last one is still unknown.
ADAM'S JOURNEY SO FAR
Adam's participation in this episode was little but whenever he appeared he did something really important and gave the basis to progress the story.
He found out the book about the Three moons and discovered that island and collected his location for different maps.
Adam loved Taaliya and this line explains it all…haaye Adam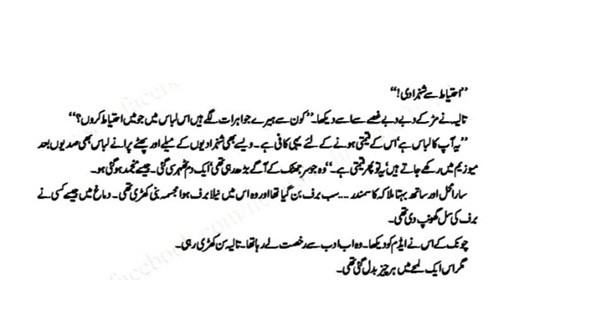 END OF THE EPISODE
What a true politician Fateh Bin Ramzel is, he easily convinced Raja Muraad that he knows everything about the future but what was awaiting for us as readers was shocking….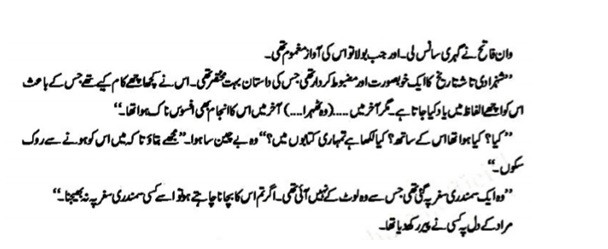 I think FATEH Bin Ramzel lied but if he didn't then Taaliya must discovered the key and travelled back to her time.What are your thoughts about this episode and what are your guesses? Pardon me if a missed something as the episode had a lot of happenings.
Asma Jamali