Habs has been on air for 13 weeks now and it is the kind of drama that grows on you. Even though the characters are flawed and some of the scenarios not too convincing but there are certain aspects of the drama which are appealing enough to keep you engaged. Most importantly it keeps your interest alive. Initially, I did not tune into the drama because of the way it was promoted by ARY. Firstly, the writers' names are not mentioned specifically which gives the impression that the script is somehow a product of "team effort". This definitely makes you wonder if the content creators actually took the storyline seriously. I am guessing that Aliya Makhdoom wrote the script based on the directions given by the producers therefore they have given some credit to their content team as well. Secondly, the one-liner used by ARY to introduce the storyline is misleading. "Is love really needed for marriage" isn't the best way to explain the content of a drama that rests on much more than just that. This particular line seems to be a way to sum up Basit's mother's decision to leave his father more than Basit and Ayesha's own track so far.
More than once I felt as if the writers have taken inspiration from not just the Bollywood film everyone is talking about but also Pehli Si Mohabbat. Not sure if I am the only one who is getting those vibes. The script overall lacks originality even though such a story could have been written without taking ideas from other dramas or films. The one good thing about the script is that, unlike many other dramas which are designed for commercial success, this one does not bank on the bechari aurat or the toxic man for ratings.
This flawed script has definitely been given the right treatment, the credit for which goes to Musaddiq Malik, who aced his directorial debut by putting everything he has learned about drama making till now to good use. He has not only relied on presenting a visually pleasing set-up overall but he has also made sure that the actors give their best. Nothing about the drama or the scenes is overdramatic but almost all the emotions are translated and captured convincingly by the director.
The Story So Far & Relationships
Habs' story mainly revolves around Ayesha (Ushna Shah) and Basit (Feroze Khan). Ayesha was introduced as a practical young woman who always spoke her mind. Her mother (Saba Faisal) is a widow and an opportunist for whom survival comes before everything else. Her daughters' happiness is secondary to her right from the get-go. Basit (Feroze Khan) also belongs to a dysfunctional family. His mother (Irsa Ghazal) left his father when he was really young and married someone she loved because she felt her marriage was loveless. This left Basit questioning the institution and sanctity of marriage. His father passed away and according to his will Basit had to get married in order to get access to his accounts. Ayesha ends up working in Basit's office and eventually out of sheer desperation Basit asks her to marry him in order to get access to the money which he needs to run his business. Ayesha's mother manipulates the situation and takes money from Basit in a tactful manner in order to make the most of the circumstances.
The sidetracks are sometimes more interesting than the main track with Bano's (Dania Anwar) character taking the lead. Dania Anwar has acted superbly throughout. She is Ayesha's older sister, the wisest in the family, and her bond with Ayesha, in particular, is a breath of fresh air. Ayesha's phupo Bobby (Hina Rizvi) is another interesting character that tends to go overboard at times. She never got married and runs a business of her own. She breaks the typical phupo stereotype. Zoya (Janice Tessa) the younger sister is a complete rebel unlike the other two. Fahad (Mussadiq Malik) is Basit's only friend who continuously gives him much-needed advice.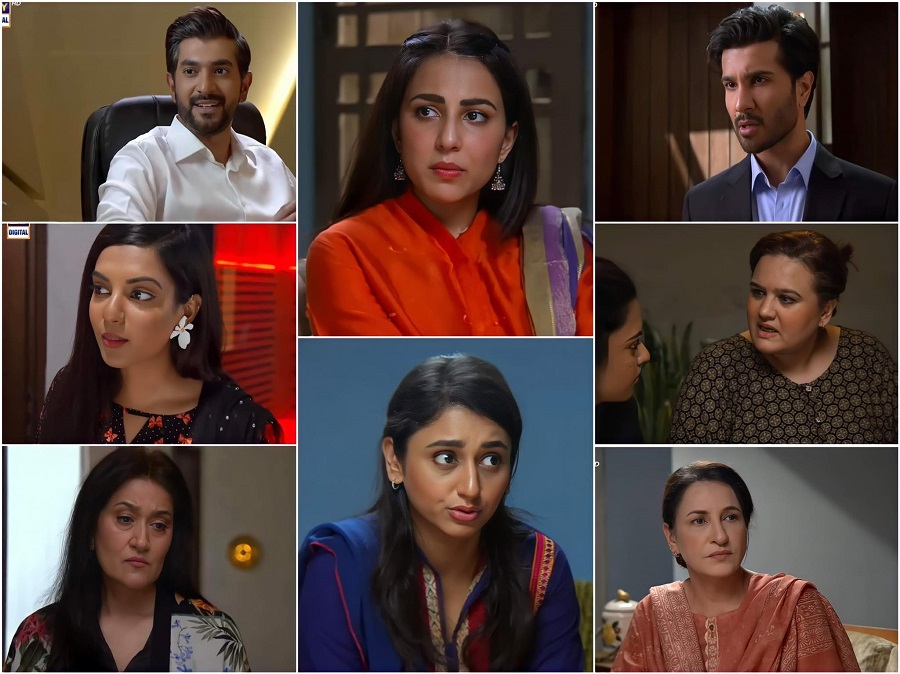 My Thoughts
Initially, Ayesha's character reminded me of the character Ushna Shah played in Aakhir Kab Tak but that was definitely a better etched-out character than that of Ayesha. As the story progressed, Ayesha's character confused me more than once. I was especially surprised when she decided to marry Basit to "help him out". There was definitely a reason to believe that she was slightly swayed away by his charm but apparently that was never the case. Also, Ayesha's expectations from the marriage did not make a lot of sense either. A character that was introduced as a really wise one gradually started making such "dumb" mistakes right after getting married that you couldn't help but question her moves. The only relatable aspect of this character that made me root for Ayesha even after everything was her constant confusion being translated on screen brilliantly by Ushna Shah.
Basit's character is equally confusing, especially after the marriage. While it is easy to understand why he is scared of working on his relationship with Ayesha, I am still wondering why he acts like he respects the institution of marriage! This nikkah was like a business contract therefore his reaction in the latest episode when Ayesha asked for a divorce made absolutely no sense. If he respects Ayesha, he has definitely not shown it except for the basic courtesy which has also not been a constant. Basit's relationship with Ayesha can be termed as toxic and perhaps a mellowed-down version of the rich spoiled brats who want their way. His mannerisms and Feroze's acting, in particular, make this character acceptable. Basit's mother expects Ayesha to "fix" him but so far Ayesha is not too keen on that. All these characters have strange expectations from each other.
The relationship dynamics in Ayesha's household make perfect sense and add interesting side tracks to the story. I find myself completely involved in Bano's story and enjoy watching her on-screen. Even the greedy mother's character has been acted-out so well that her scenes are entertaining to watch. All these characters and the performances add to the entertainment value of the drama.
Final Remarks
Even though Ayesha and Basit's track and their characters make little sense at times, the performances and the treatment given to the drama make it worthwhile. Every actor has given the role that they are playing their best which makes such a big difference. It is one of those dramas I look forward to watching and even if the story developments frustrate me at times, it always entertains.
Are you watching Habs? Share your views.