Ohkay so, these two episodes of Hum Kahan Ke Sachay Thay were intense & gripping. I will give credit to the director for making Hum Kahan Ke Sachay Thay so engaging even at this stage of the drama. I will have to say that after a long time, I am getting to see a drama that is going to have a proper wrap-up. Usually, the endings are either rushed or half-baked but this is definitely turning out to be the kind of ending where the viewers will have all their questions answered. I thoroughly enjoyed watching these episodes & I am glad that they have given every single scenario the time it deserved to establish how things were now for Mehreen & how she is getting a chance to tell her side of the story.
It Was Too Late
Aswad is now playing his part in making amends & rectifying the situations. He understands how much damage he has caused & only because he was confused, it ended up ruining Mashal's life. Although, he is apologetic & now fully understands where he went wrong I still think Mehreen is better off without him. It is understandable that Aswad being Umera Ahmed's hero will end up getting a second chance but in all honesty, he deserves to dwell in his guilt without Mehreen, trying to bring him out of his misery. Obviously, he will rely on Mehreen emotionally but I still don't think he deserves a chance.
This entire episode belonged to both Mehreen & Mashal. I must commend the writer for salvaging Mashal's character & although her story was told in such a manner that I always understood why she was like that, this episode reiterated that in the middle of darkness, Mashal on her own still found the light in her heart to be above what she thought she was. During that particular conversation, I was taken back to where the drama began stating how upbringing & hatred instilled by the adults in the minds of children leave lifelong scars & imprints. Mashal turned out to be this way because her mother chose not to accept her the way she was.
Mashal & Mehreen had so much to say to each other. I loved how their conversation started with bitterness & they navigated through the resentment they felt for each other & found themselves rekindling through those emotions where they truly loved & cherished their friendship. It was truly heartbreaking that by the time Mashal found out how Mehreen felt for her, how even the perfect Mehreen Mansoor envied her for having all those things she yearned for – it was too late. Mashal couldn't live with the satisfaction that even she was special & that she had some niceness in her too. All her life, she felt bitter, negative & was simply angry for not being the way her mother wanted her to. If Mehreen & Mashal had this conversation some time back, it would've saved Mashal from at least feeling all these negative emotions that literally consumed her & deprived her of the peace she was entitled to. I am glad that during their conversation & also when Mehreen spoke to Aswad, there was a repeated mention of Shagufta – Mashal's mother because, in all honesty, she is the first person who pushed Mashal to this limit. Sadly, even after this incident if Mashal had survived, she still wouldn't have forgiven herself for attempting to kill Mehreen. It is hard to say but in all honesty, Mashal truly found peace after her death because if that wouldn't have been the case, she would have to do all the heavy-lifting, all the unlearning herself – which would've taken a lifetime.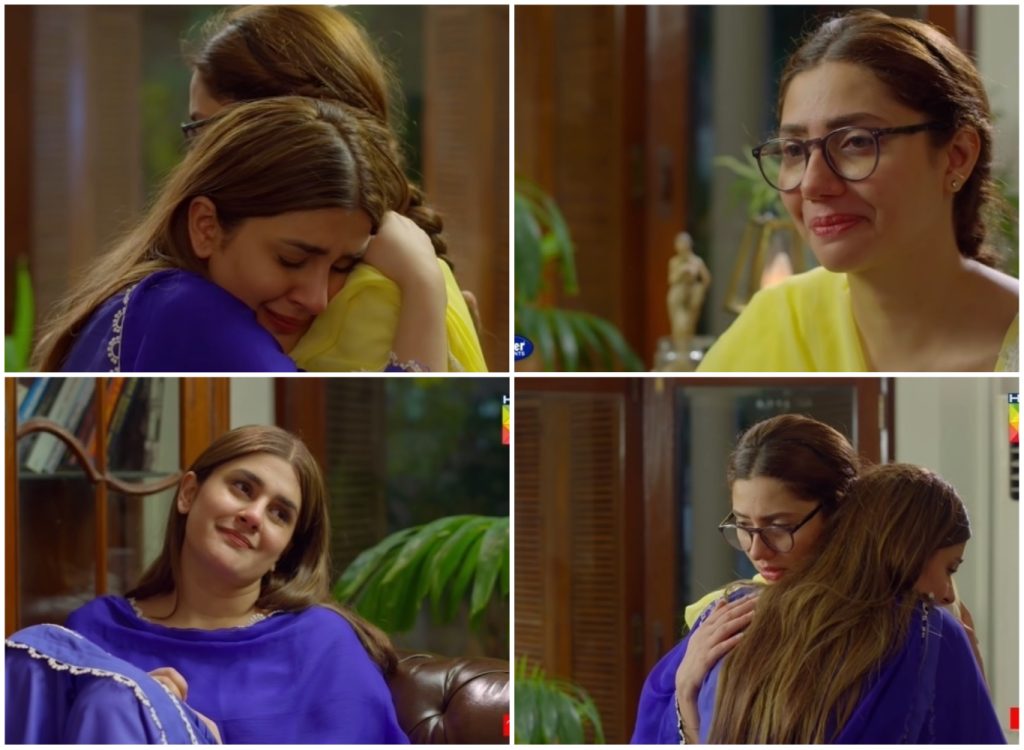 Mashal & Mehreen also revisited the happy memories they created as kids – it was interesting how both of them remembered so many details from the past, from their childhood. It was as if they both were on the same page & in the middle of this rough patch, they always thought about the good times, almost wanting things to go back to how they were. It broke my heart when just after having a sip, Mashal tells Mehreen that no one told me I was special. She never knew the things Mehreen felt about her. It was heart-breaking yet beautiful seeing how they both were equal in terms of insecurities, vulnerabilities & complexes. Mashal wished to have everything that Mehreen had & Mehreen longed for all those things that Mashal had.
Then came the conversation about Aswad. Mashal knew that despite all her attempts, Aswad was always in love with Mehreen, the idea of how she was & all that she did. Mashal knew she was just chasing after him by becoming Mehreen's shadow but in reality, she was not. All the things Mehreen said to Mashal after getting engaged made much more sense now because Mashal knew what Aswad meant to Mehreen, that is why Mehreen didn't feel guilty accepting his proposal. Mehreen knew that Mashal also liked Aswad but she was oblivious of the fact that Mashal was lying to Aswad too.
Mashal saved Mehreen & Mehreen's expression showed that she knew why Mashal threw her cup. She couldn't believe but wanted to once again give Mashal a chance because at that moment it occurred to her that Mashal was trying to redeem herself. Instead of making Mashal feel guilty, Mehreen decided this was not the time to embarrass her. Sadly, she didn't know that it was Mashal who will end up losing her life, hence the regret.
Brilliantly Performed
These two episodes of Hum Kahan Ke Sachay Thay were thorough & well-executed. Each & every scene, each & every frame was crafted in detail, which added more to the drama-watching experience. I must commend both Mahira Khan & Kubra Khan for their flawless performance in these scenes. It was only because of their convincing portrayal that all of this felt so real, touching & heart-breaking at the same time. Kubra Khan's expressions when Mashal started to feel drowsy were spot on & Mahira Khan's expression when Mehreen cried while pouring her heart out were simply phenomenal. I am looking forward to the next episode. Please share your thoughts about these episodes of Hum Kahan Ke Sachay Thay.
Keep Supporting,
Cheers,
Zahra Mirza.