Intezaar – An Overview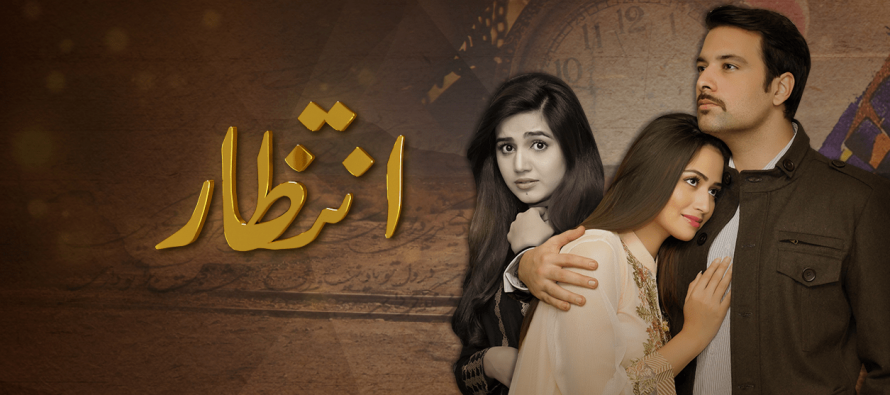 Well! Directed by Kashif Nisar and written by Asma Sayani, Intezaar airs on A-Plus every Thursday at 8pm. When I first saw the OST and the cast, I was interested enough to think I would watch and review it. However, I came across an article online which gave the story away a bit stating that the play touches upon the issue of child abuse. Given that it took me ages to get round to watching Udaari, I decided to give this serial a miss. However, hearing how popular the drama has become and thinking I could stop watching if it got a bit too depressing – I began to watch.
Intezaar is initially the story of two cousins, Zoya (Sana Javed) and Azmeer (Azfar Rehman) who are in love and are getting married soon, with their respective families' (reluctant) blessings. Their fathers are brothers but they do not get along very well rather Azmeer's father and Zoya's mother have short tempers and are not exactly overjoyed by the match. Things move along and the day of their nikkah arrives and the two are married but an argument erupts over the jewellery given to Zoya by Azmeer's family which is declared fake by Zoya's mother which in turn angers Azmeer's father. With tempers and egos pitted against each other, Azmeer's father demands that Amzeer divorce Zoya on the spot – to which Azmeer reacts by walking away from the whole scenario. Egged on by her mother's taunts and Azmeer's obvious disappearance from the scene, Zoya feels he has left her in the lurch and not stood by her. Wanting to escape from it all, she asks to be allowed to go back to her hostel where she stays while working as a doctor. Azmeer comes to visit her there and manages to convince her that at the time the only thing he could do was walk out and the two begin to see each other and meet on weekends.
While the two live in their secret, happily married bubble, Zoya's mother wants to see a proper end to Zoya's nikkah and asks her to sign khula papers. Azmeer tells her to sign them so as to get her mother off her back. Zoya learns she is now pregnant with Azmeer's baby and they decide to go back home and face their families so that they can stop meeting in secret and move on with their lives. A medical emergency at the last minute prevents Zoya from getting on the train with Azmeer – the train that crashes and kills Azmeer. Zoya's parents are shocked to learn she is pregnant but Azmeer's father refuses to believe the baby is Azmeer's and rejects the idea of the very obvious DNA test as well. Zoya's mother then feels that the step forward is to have Zoya abort her baby and marry her nephew, to which Zoya balks and runs away from home to the hostel. One thing leads to another where she ends up staying with a friend's cousin who turns out to be a creepy man who tries to make a move on her and she ends up at a train station where she meets Shariq (Mikaal Zulfiqar). He convinces her that it is unsafe for her to be alone and brings her to his house.
Shariq is the DC of the area and we learn that his father dies when he was very young and he and his mother go to live with his mamu. Mamu bears the responsibilities of his sister and nephew, giving them room in his house and bears their expenses including Shariq's educational expenses. Mamu has a daughter Saba (Anam Fayyaz) who is a victim of child abuse at the hands of their household servant. Although her parents eventually found out, but the abuse has left its mark on Saba who at times seems to live a fairly normal life but then at times has fits due to flashbacks from her horrific ordeal where she lashes out at everyone and is uncontrollable. Psychiatric sessions have had no effect and the psychiatrist throws in the ultimate trump card saying only marriage could possibly cure Saba otherwise nothing else can be done. Maami thinks Shariq is the ideal candidate for Saba knows him well and is comfortable with him and also because he 'owes' them for all the favours they have bestowed on him. Although Shariq's mother balks at the idea at first, she gives in to the pressure and visits Shariq to convince him to marry Saba. Emotional blackmail prevails and Shariq returns to his mamu's house to go ahead with the marriage to Saba.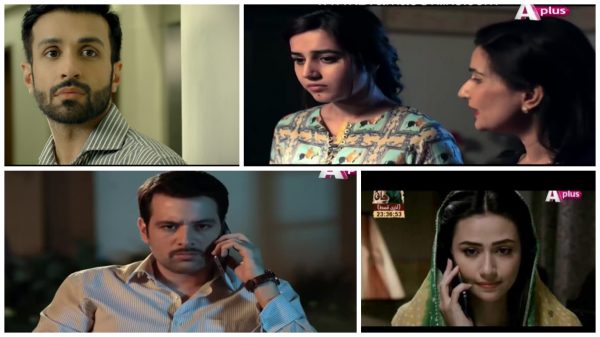 I actually enjoyed the first few episodes which focused on Zoya and Azmeer. With Saba's entry, even though I was aware what her basic story was, the flashbacks do give you goosebumps. However sickening it may feel, I suppose this is a much more common occurrence than we care to admit for children are often left at the hands of servants and pedophiles are unfortunately a very horrifying reality. While we see Zebu in Udaari react to her ordeal differently and grow up to be a strong individual although tormented by her past at times, Saba in Intezaar seems to have let the experience engulf her to the extent that she rarely leaves the house and is scared of any male presence except for her father and Shariq. To be honest I really can not comment on her mental state for God knows how such children are impacted and each individual is different. We do not know how long the abuse went on, and how it finally ended but well, the result is a very frightened, young girl who gives in to moments when she is unable to control herself or her emotions and is trapped in her past. Come to the psychiatrist's advice – I am no psychiatry major, thankfully have not known of anyone or heard of real life child abuse victims that was cured by such advice – but really, marriage? The psychiatrist does not even suggest that she be married to someone she knows well or anything. Just that marriage is the only (if at all) cure to Saba's state of mind. Why? So that she may be 'given' away to another man to go through what she went through earlier? Boggles the mind – so I will leave it at that.
Anyhow, once Saba learns she is to wed Sherry Bhai (God, not another Sherry Bhai!), she is uncomfortable around him and also gives into her emotions and gets up at the scene of the nikkah. Shariq has fallen in love with Zoya who does not reciprocate his feelings but he convinces her that he will put a lid on his feelings but she must not leave his house. I have to say, there's a lot of 'convincing' going round in this drama. Azmeer convincing Zoya they are meant to be, Mamu convincing Shariq's mum, she in turn convincing Shariq, etc!
To be honest, I am not sure where this play will lead with Saba's track. Whether she is truly cured, how Shariq is able to make this marriage work for as he rightly says that he can take care of her as a brother but does not feel he will be able to do justice as a husband. Mamu and Maami are unaware of Zoya's existence but next week's promo shows that Maami learns of Zoya and that she is pregnant. Shariq seems very adamant not to let Zoya leave from his house or life so I suppose he will take a stand for her. The dialogues between Shariq and Zoya although cheesy at times, still do seem to fit in well with the play and the characters such as when Shariq says to Zoya that she has done her share of 'mohabbat' but he has not so she can not stop him from feeling what he does.
The scenes between Meekal and Sana are done well and I like how we see he is shown to care for her but I do have to say I miss Azfar. I find he performs such characters well and he was very convincing as Azmeer, the young engineer in love with his wife and bent on making things work. I know some of us find Meekal lacking in his acting at times, but I for one like his acting and find he has not disappointed her either- so far. Sana Javed in most of her plays is either an outspoken, bubbly character (Zara Yaad Kar to name one)- as Zoya was when Azmeer was alive or a monotonous bechari (Paiwind) – as she is now, but I have yet to watch a drama where she plays a balanced character. While I found Shariq odd deciding to go ahead with the marriage with a 'Zoya you left me no choice' when she does not come to the phone, but the pressure on his mother and the pressure imposed by Mamu on Shariq seemed very real where people are forced to give in to pressure thinking it is their 'farz'. Shariq must apparently choose between his 'farz' and his 'mohabbat' but his farz being that he must marry his Mamu's daughter because the Mamu raised him does make you question the real definition of 'farz' but sadly, such situations (bar the abuse element) are in abundance in reality.
I will say that the constant flashbacks Saba has do make me uneasy especially as there are different scenes, with the door locks, the swing, the sweets etc. It is hard to sit through such scenes no matter how short they are and my heart does break for children who have had to go through such living nightmares. So far, Anam Fayyaz has acted well and does make you believe her character is real.The play is visually easy on the eyes, not to mention the OST which is extremely catchy and I have found myself crooning, rather belting it out loudly for a while after watching an episode, LOL!
I am very curious but at the same time, very wary as to how this drama moves forward and how much screen time is actually spent on Saba's journey to being 'cured' and how convincing that may be. Does Zoya finally begin to feel more for Shariq and is she aware of his marriage to Saba? Do Saba and Zoya eventually meet? How does Saba react to her marriage? I wonder how many of you are watching this play, what your thoughts are and whether you would like to have weekly/fortnightly reviews.
Kunwal Javid
---