Tonight's episode of Ishq e Laa was relatively slow-paced. It showed more of what we watched in the previous episode therefore some of the scenes were highly repetitive. I hope that the drama picks up the pace because it is going forward in an interesting direction, especially Azlan's track. Azaan Sami Khan's performance in this episode was better than last week. Shanaya made regular appearances in this episode as well. This makes me wonder if such scenes are going to be a permanent part of the drama from now on. Azka's track has disappointed me the most and for the first time, I feel that Yumna Zaidi's performance falls short in some scenes. Azka has not once taken responsibility for what happened to Shanaya and she comes across as a self-absorbed individual at times although her mother's dialogues suggest that she is a sensitive and caring person! Watching her ask Abid to bring the proposal hoping he will pay her fee was something quite unexpected from the girl who held her self-respect so dear and most importantly for someone who claims to have faith in Allah's plan! This character is really confusing and so far it has got nothing going for it at all. Azlan's track is relatively more interesting when compared to Azka's.
Azlan's Track
Azlan was yet again shown struggling to go on with life without Shanaya. His state of mind made perfect sense with the exception of his regular ''meetings" with Shanaya. He is otherwise in touch with reality, he knows Shanaya is no more and he also understands why his parents are concerned, yet he does not see this as a problem at all since he wants to continue "meeting" Shanaya and vowed to not let her die. Had obviously said this metaphorically as well but his mother's reaction to his statement was confusing. The opening scene of this episode suggested that just like the previous episode, Azlan was going to make another one of Shanaya's wishes come true although when she was alive, he did not agree with her at all when she went all out to help people. There was always a shallow side to Azlan's personality and it seems as if Shanaya after her death will fill that vacuum up, making him more like her. Azlan never had the kind of spiritual strength which Shanaya had therefore it will take him some time to get there. Right now he is taking up one cause at a time and is determined to follow in her footsteps to some extent. Azlan's grief in this episode as well was relatable and it made me feel for the character even though some of the scenes were too slow. Also, it would have been apt had Azlan gone to meet Shanaya's mother.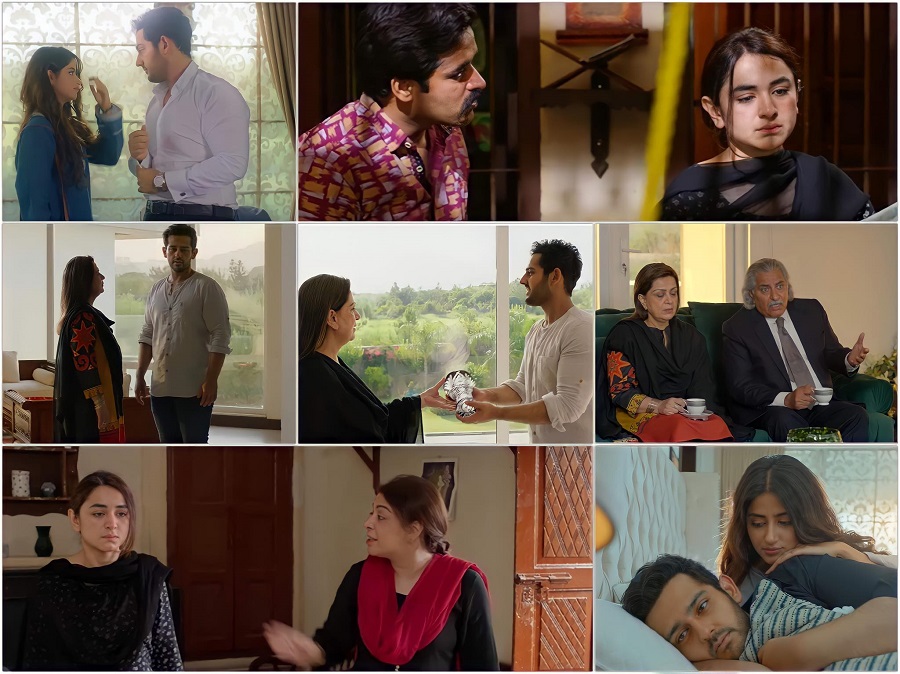 Azlan's scenes with his mother have definitely been praise-worthy throughout since they are always very organic. The apology scene in this episode when his mother reminded him that it was her birthday was one such scene tonight. Azlan's parents continue to feel the guilt but they are just as helpless as Sultan's family was when he got killed. I expected Azlan's father to try harder, the preview of the next episode did suggest that his father might try to pursue the case once again and end up being yet another victim!
Azka's Track
Azka's family was shown going through a financial crisis after Sultan's death in this episode as well and unexpectedly she shared her problems with Abid! The 'rashan' he brought made Azka go from 'bhai' to bring your rishta which was actually quite disappointing since Azka was introduced as a headstrong girl who did not believe in compromising on her principles. Kanwal turned out to be more resilient and sensible than Azka. Right now taking admission in the medical college is her first priority and even though she seemed to be relying on Allah by the end of the episode, her basic reason for agreeing to marry Abid was quite lame. Azlan and Azka's paths will cross once again; it remains to be seen when. Not once have either of them thought about each other in the present situations in any context although I felt that there were a few instances when Azlan could have been reminded of the time Azka broke his perfume. Azlan was shown thinking about Shanaya's wish for her but nothing related to their direct interactions with each other. Azka and Abid's track has been going around in circles and I don't find myself interested in it at all!
Final Remarks
Am I the only one who felt that there was an overdose of Shanaya's scenes in this episode? I liked the fact that the writer has decided to keep her in the picture even though her character has technically exited the story but there were too many flashback scenes and the scenes covering her meetings with Azlan in this episode. I hope that Azlan's track moves forward and honestly speaking after this episode I have little hope that Azka's track will ever take off! Will Arbab Haroon get Azlan's father killed as well? The preview of the upcoming episode suggested just that!
Did you watch tonight's episode of Ishq e Laa? Do share your thoughts about it.